Tom Williams looks at the latest search engine optimisation news, including new Google penalties for improper schema markup use, Yahoo testing with Google, and tips for taking on China's eCommerce market
Google Penalises Sites for "Spammy Structured Markup"
Search Engine Land has reported that Google has begun issuing penalties for the improper implementation of structured data markup (schema markup).
Schema markup is often used to improve search engine content discovery, indexation and organic search visibility. Some schema markups feed into Google's Knowledge Graph, they can show in local results and generate Rich Snippets, which improved organic search visibility and CTR.
However, schema markup can now have an adverse effect on your site, thanks to the "spammy structured markup" penalties from Google. The search engine has updated its rating and reviews Rich Snippet policies, saying these snippets can only be placed on specific items and not on category or list of items landing pages.
Yahoo Tests with Google Search Results
Yahoo has been testing using Google's search results, according to Aaron Wall of SEO Book. He spotted Yahoo using Google's results last week. Yahoo is now allowed to test with any search partner, following a renegotiated deal with Microsoft, which loosened the hold Bing had on Yahoo's search content.
Search Engine Land developed the story further, with Yahoo telling the industry news site: "As we work to create the absolute best experiences for Yahoo users, from time to time, we run small tests with a variety of partners including search providers. There is nothing further to share at this time."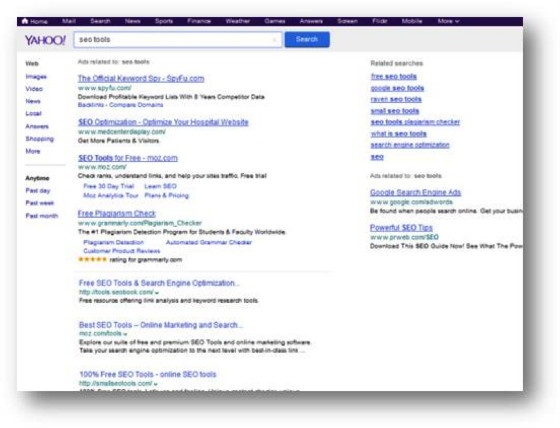 Yahoo's new deal with Microsoft has enabled it to increase its flexibility on desktop search. The new deal states that 51% of Yahoo's desktop search traffic has to carry Bing ads, while the remaining 49% is free to carry ads from anyone.
Search Engine Land surmised that the Google testing may indicate that Yahoo is looking at another non-exclusive deal with the search engine. Watch this space!
Google Survey: Do You Want Search Console to Combine Sites?
Google wants your opinion. The search engine has posted a survey asking webmasters if they would like Google Search Console (Google Webmaster Tools) to combine sites in order to let users compare data more easily.
Google asks:
If Search Console allowed you to group together sites to view a combined report, would you use it?
The answers include:
No
Yes, I'd use it to combine different URL versions of my site (i.e. https/http and www/non-www)
Yes, I'd use it to track my subdomains (i.e. desktop/mobile sites and international subdomains)
Yes, I'd use it to track my entire brand (i.e. all subdomains and apps)
Other
Here are two examples of how this might work:
To view a combined Search Analytics report that includes different URL versions of your site (http and https).
To view a combined Search Analytics report that includes different subdomains (mobile and international subdomains).
China Now Open for eCommerce
China has relaxed its regulations on allowing foreign companies to operate eCommerce businesses in the country, which means the floodgates are now open to access one of the world's largest retail markets.
Search Engine Land's Chris Liversidge took a look at the opportunities open to businesses considering expanding into China.
He noted that, with Google's hreflang attribute solution, webmasters can launch a China website without risking their existing organic traffic. Using the hreflang annotation, webmasters can change their content language declaration in HTML to denote that this content is targeting English speakers in China.
Liversidge recommends that, once Chinese traffic starts landing on your page, you review your analytics to find your least engaging pages and localise the content for the market. Similarly, use Search Console to gather impressions and clicks data to find your most successful pages.
However, eCommerce managers should beware, China is not new to eCommerce, and local sites such as Alibaba and JD.com will give newcomers a run for their money.
Android Wearable Apps Now Always-On
Android has announced the latest improvements and innovations in it wearable technology, as Joe LaPenna, software engineer and watchmaker, detailed in his blog.
LaPenna covered the latest always-on developments, including always-on fitness apps, such as Endomondo, MapMyRun and Runtastic; always-on productivity, such as the Bring! Shopping List and Google Keep, which lets you manage your weekly shop. Always-on travel apps from American Airlines, Delta, and KLM can show flight status, gate, and seat info right on your wrist.
Happy 10th Birthday to Google Earth
Last week marked the 10th anniversary of the launch of Google Earth. Sean Askay, engineering manager at Google Earth, looked back over the decade in a blog post that detailed yet further innovations from the virtual global map.
Amongst the innovations highlighted by Askay were Voyager, a new layer which allows desktop users to jump into the most interesting imagery from around the world. Voyager provides Street View, Earth View, 3D cities created in photorealistic 3D with tilt capability, satellite imagery updates and Highlight Tour – which provides thousands of locations to take a quick tour in.
Earth View provides a library of landscape satellite images, sourced by Googlers, which have since been featured on Chromecast and Chromebooks.
More Search Engine Optimisation News and Advice
Read last week's SEO news roundup: Matt Cutts Extends Google Leave
Want to Discover 15 best-practice technical tips for solid SEO? Download your free Technical SEO Best Practices eBook and learn from the experts.