Tom Williams brings you the latest in search engine optimisation news, including Google's plan to penalise sites that feature intrusive ads, Google's update to local review schema guidelines, and Google's plan to drop the mobile friendly tag from search results.
Google Warns Sites Against Using Intrusive Adverts
Google has warned site owners that as of 10 January 2017, websites that feature "intrusive interstitials" will be penalised, likely causing them to rank lower in the search results.
An example image of intrusive interstitials was released by Google.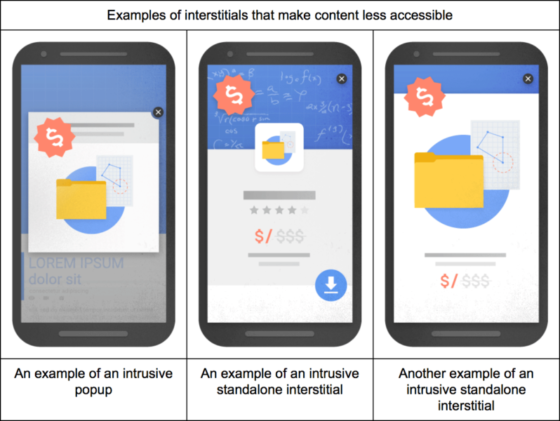 An intrusive interstitial is an advert that opens up while a page is loading, blocking the users view of the pages main content. Meaning the user cannot view the site until the ad is manually removed.
Google did however make it clear that some interstitials are allowed, as long as they are used carefully. The interstitials that are allowed are:
Cookie usage interstitials
Age verification interstitials
Reasonably sized banner interstitials
Read our full coverage to learn all about the upcoming advert ban.
Google Removes Mobile Friendly Tag
Two years ago, Google added a mobile friendly tag to search results, showing users which pages are optimised for mobile. This update was closely followed by a huge mobile-friendly algorithm change that led the majority of site owners to optimise for mobile.
Here is an example of what the mobile friendly tag looked like: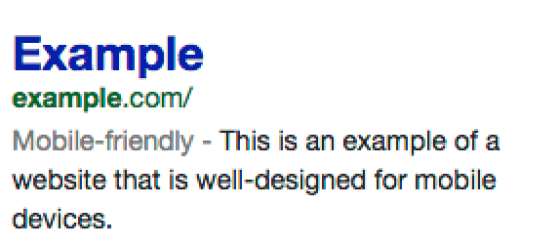 In the official Webmaster Google blog, Google said that 85% of all pages in mobile search results are now mobile friendly, and therefore announced that the mobile-friendly tag will be removed from the search results.
According to Google, not only is it now not needed, but removing the mobile friendly tag will work towards creating a simplified mobile search results page.
Google Updates Schema Guidelines for Local Reviews
Google has updated its local business review guidelines around when you can and can't use schema markup on the reviews.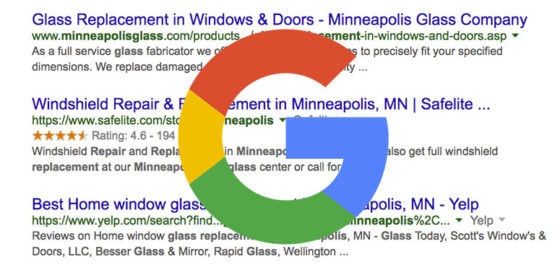 A list of new guidelines brought into place by Google as part of this update can be seen in Mike Blumenthal's report.
The biggest change brought in as a result of the updated guidelines is that third-party reviews that aren't produced from your site should not be marked up with schema. Only reviews that are directly produced from your site should be marked up.
It is now a requirement to allow users to post positive as well as negative reviews, rather than holding back negative feedback and only showing positive reviews.
Google Introduces Search Live Coverage Carousel
On 29 August 2016, Google announced their newest upcoming feature, the Search live coverage carousel.
The idea of the live coverage carousel is to allow Google to surface content quicker than it currently can. It's designed to allow users to find live content about events such as "sports, elections, and breaking news as soon as it's available on your site."
The new feature is currently open to publishers as a pilot feature, and there are some certain requirements that must be followed by publishers in order for them to take part.
A list of requirements, as well as more information on the feature, can be found at the official Google Developers blog.
More Search Engine Optimisation News and Advice
Read last week's SEO news roundup: Google Adds New Feature To The SERPs
Find out how you could improve your website's rankings with a Technical SEO Audit from our team of experts.