Tom Williams brings you the latest in search engine optimisation news, including a new SERP test from Google, eBay tries AMP, and Google My Business introduces a new Navigation Experience feature.
Google Runs Another SERP Test
Google is running a test that drops the estimated number of search results from the top of SERPs. Normally, when you run a search through Google, you are presented with a line of text that tells you the estimated number of search results. Here is an example of the estimated number of results bar:
And here is an example of the search results pages without the estimated results bar:
As of yet it is unclear whether or not Google will keep this interface. Google has told Search Engine Land that the estimated results are just estimates, and nothing more, and so they should not be used for accurate reporting.
Breaking Head Section makes Href Lang Unrecognisable to Google
John Mueller stated in a Google Hangout that if the header section of your HTML is broken, your href lang will not be picked up. Google will not warn you of any href lang code errors, as it does not understand that there is even href lang code there. Here is an extract of what John Mueller said during the Hangout:
For example, what might happen is we can crawl and index those pages, but when we render those pages, something in the head section of the pages is added early on, and that kind of breaks everything within the head, which includes the href lang markup.

So that might theoretically be happening. And if we can't find the href lang markup at all, we won't flag it as an error, because we think there is nothing wrong with a page that doesn't have href lang.
Google My Business Releases New Feature
Google My Business has received a new feature that allows users to edit their business information in the My Business login area. The new feature has been named "navigation experience".
The Google My Business platform now allows users to filter their locations by a variety of options including published, unpublished and duplicated. Here is an image that Naman Dwivedi posted on Twitter of the new layout: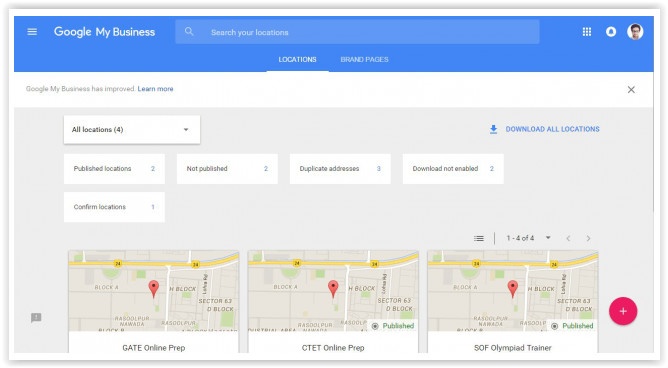 The new feature will make it easier for businesses to make sure their address is registered and ensure there are no duplicate addresses.
eBay Tries AMP
On 31 June 2016, eBay announced it is experimenting with Accelerated Mobile Pages (AMPs). After some minor challenges, the e-commerce site managed to convert all of its pages to AMP compatible pages.
When asked about AMP pages in a Google Hangout, John Mueller said:
If you ask the AMP team they will tell you all websites should be using AMP. To some extent, I can see that making sense. It is definitely one way to make really fast websites, or websites that load almost instantly. I think it is a technology that is not really going to go away any time soon. So if you are holding off because you are saying my website doesn't need this, then maybe it makes sense to kind of look into it again and see what it does now.
Whiteboard Friday – Managing the Tensions & Tradeoffs Between UX & SEO
In last week's episode of Whiteboard Friday, Rand Fishkin covered the topic of managing the tensions and trade-offs between UX and SEO.
More Search Engine Optimisation News and Advice
Read last week's SEO News Roundup: Google Changes the Way Keyword Planner Works
Lay the foundations for organic search success. Ensure that your website is SEO friendly with a Technical SEO audit from our team of experts.