Tom Williams runs through the latest search engine optimisation news, including Google's reversal of the 10 November update, Google's plan to give webmasters recommendations for the upcoming mobile-first index, additions to the Google Knowledge panel, and more
Google Reverses Update from 10 November
On 10 November, it seems Google launched an unconfirmed update that affected thousands of SEOs and webmasters. Little over a week later on 18 November the update was reversed by Google.
The 10 November update went unconfirmed, as did the 18 November reversal. Whether or not the plan was to reverse the update is unclear, as the changes in ranking seen by SEOs worldwide could have been caused by a number of different factors.
These images show the effects of the update and its reverse.
RankRanger:

Mozcast: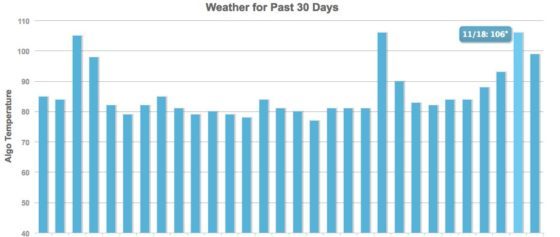 Until Google releases official information on the 10 November update, it remains unclear what caused the fluctuations. Stay posted for more on this story in the future.
Google to Give Further Mobile-First Recommendations to Webmasters
On 4 November, Google announced its roll out of the mobile-first index, and since then it has been the centre of thought for many SEOs.
There has been much chatter about the slow implementation of the mobile-first index since its announcement almost a month ago. One of the biggest questions for webmasters is just how will the full roll out affect their site's rankings? Many webmasters have been asking Google to give recommendations on how to deal with the changes that will take place, and Google has agreed to help.
News of a recommendation blog post from Google was confirmed by Gary Illyes on Twitter.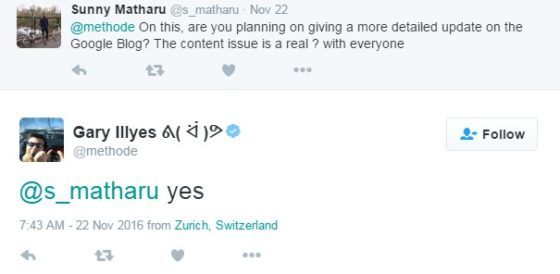 From this we know that Google is going to release a blog post in the future that gives webmasters recommendations and tips on how to deal with the implementation of the mobile-first index, and how to transition smoothly into it without negatively affecting rankings.
AMP Reporting Made More Granular In Google Search Console Analytics
Google's Search Console Analytics section has been updated to make reporting for AMPs more granular.
The new update to Google's Search Console Analytics feature gives AMP publishers the ability to filter between AMPs in the core mobile search results and rich snippets in order to get a more granular look at the performance of each. The update is very simple, bringing a normal drop down box to the Search Analytics section of Google Search Console.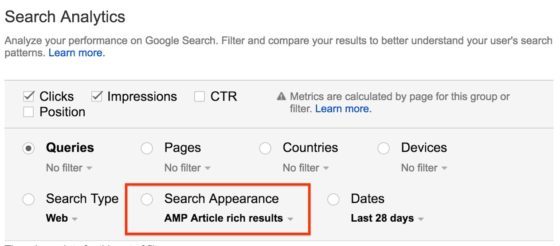 Google Search Console has actually had an AMP filter since May 2016, but it was implemented before AMPs were available throughout all mobile search results, so it wasn't quite so granular.
Live Busy Status Added To Local Knowledge Panel
Thanks to a recent new feature, Google now shows how busy a business is within map results. This feature is likely an addition to the already existing "popular times" feature that gives a rough guide on how busy a business normally is at different times throughout the week.
The feature can be found as a 'Live' tag in the local results.

In order to have a 'Live' busy status featured on your map results you need to opt in to Google location history so Google can use the live data
Like and Dislike Buttons Come to Google's Knowledge Panel
Google has added Like and Dislike buttons to the Google Knowledge Panel in the search results.
The new feature adds thumbs up and thumbs down icons to the Knowledge Panel for television shows and movies, like a rating system. The feature takes up quite a large space in the Knowledge Panel, bringing the buttons close to the top, just under the title and picture of the TV show or movie.
Here is the Knowledge Panel before the update:
And here it is after the update (as posted by Dan Leveille):
We were unable to replicate the feature on our side, suggesting that it is not yet rolled out globally.
Whiteboard Friday – Backlinks from Client Sites, Sites You Own, Widgets & Embedded Content: How to Maximise Benefits & Avoid Problems
In this week's episode of Whiteboard Friday, Rand Fishkin talks about backlinks – how you can maximise the benefits and avoid problems.
More Search Engine Optimisation News and Advice
Read last week's SEO news roundup: Google's Mobile First Index Will Choose Desktop over AMPs
Discover our specialist SEO and Content Marketing services to find out how we can help you improve your website's organic search performance.