Tom Williams brings us all the latest search engine optimisation news, including a new Search Console feature, third-party reviews in map results, Google's latest test, and new Search Analytics features.
Google Search Console Introduces Property Sets
Google has released a new feature for its Search Console, called property sets. The property sets feature allows users to group together multiple sites in the search console and aggregate the data in Search Analytics reports.
Before property sets was introduced, capturing a snapshot of all Search Analytics data in one report was a lot harder. Search Analytics data such as clicks, click-through rate and impressions were collected on a property-by-property basis, and all properties had to be individually entered into the Search Console. Thanks to property sets, it is possible to enter multiple properties into a set, and view all Search Analytics data in one report.
Google Search Analytics Gains New Features
Google will be bringing featured snippets and rich result filters to Search Analytics reports. This was revealed by Google's Richard Gingras on 19 May 2016 in an I/O presentation. Shortly before, Google released an AMP filter to Search Analytics reports, and at this same time revealed they are tracking Knowledge Graph, local and rich snippets in the Search Console.
Along with Google hinting that more filters could be on their way, Richard Gingras posted a screenshot of the new filters.
Google Tests Real-Time Indexing API
Google is beta testing a real-time indexing API. Just like the new Search Analytics features, this was announced by Google's Richard Gingras in a talk at Google I/O. According to Google, the reason for this test is to give trusted publishers a way to send content to Google instantly, without the delay that usually occurs where Google has to discover the content. When the content is sent to Google, it can be surfaced to searchers immediately in real-time, without the usual delay.
According to Google, there are plans to extend the beta test in the close future.
Google Local Map Results Showing Third-Party Reviews
Google has begun displaying reviews from third party review sites in the local knowledge panels that appear in maps results. The results only appear on the local knowledge panel in map results, and do not appear in normal organic search results.
According to The SEM Post, significant amounts of people have reported seeing these third-party reviews in the map results. However, the first to see it was Conrad O'Connell, who posted it to a site called serptests. Below is a screenshot of the third-party reviews.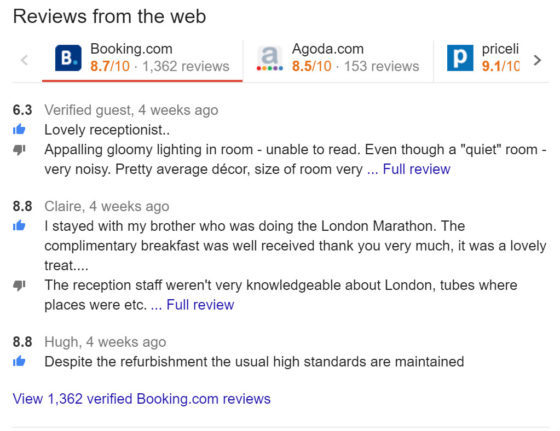 Google Carries Out Trillions Of Searches Yearly, Over Half Are Mobile
Google has announced new stats on how many searches it carries out each year, and it reckons there are trillions per year. Google also announced that more than 50% of these searches are carried out on mobile devices. Google said:
Every year, there are trillions of searches on Google.com and over half of those searches happen on mobile. And across the millions of websites using Google Analytics today, we're seeing more than half of all web traffic now coming from smartphones and tablets.
The SEM Post asked Google to clarify whether this included searches done on country Google sites, including Google.ca, Google.fr, Google.co.uk – and Google confirmed that this is a global stat.
Since the last set of numbers was released, Googles searches have significantly increased, the last set publicly released in 2012 stated that Google carried out 100 billion searches a month.
Whiteboard Friday – Researching The Path To Customer Purchase

In this week's Whiteboard Friday, Rand Fishkin covers the topic of the path to customer purchase.
More Search Engine Optimisation News and Advice
Read last week's SEO News Roundup: Google Launches New Mobile Friendly Test.
Our SEO Management services have helped businesses big and small to succeed online. Find out how we could help you improve your rankings.