Tom Williams looks at the latest search engine optimisation news, including the disappearance of local search snippets, the impending roll out of AMPs in search by early 2016 and a look at why Disney's pre-launch marketing of the new Star Wars movie is possibly the best ever example of successful content marketing.
Google Drops Local Search Snippets
Google has stopped showing the local details of a business in the SERPs when a search has local intent, Search Engine Land noticed last week.
Previously, if you searched for a local business, in this example 'barbara oliver & co Williamsville', Google would show the address, phone number, map pin and other local details under the first result listing on the left, in addition to showing the local box on the right. Here's an example of how listings used to show:
And here's how the results now show:
Fast-Loading AMP Pages To Debut Early 2016
Google has confirmed that Accelerated Mobile Pages (AMPs) will be integrated into its search engine from February 2015. The fast-loading pages are likely to provide a ranking boost and there's even speculation they may get a 'fast' label too.
AMP improves load time and page speed, meaning that publisher with AMP pages may be prioritised in search results. Google has not confirmed this, but has underlined the importance of page speed.
Google Rewords Reconsideration Request Responses
Google has changed its language in response to reconsideration requests. Webmasters who have their request accepted are now receiving a message saying: "Reconsideration request approved," while the old language read: "Manual spam action revoked."
Here's an example of the new terminology.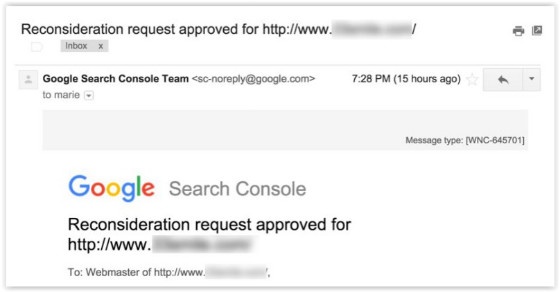 Unsuccessful responses now seem to imply that Google is potentially penalising links. The Google terminoloy in this case reads: "When determining your site's ranking, we will continue to demote links to your site as a factor in our calculations."
Do Clicks Influence Local Results?
There seems some confusion over whether or not Google Local results are influenced by links in local listings, after a blog post from a Googler said they were, but then changed their message.
The message, posted to a Google forum last week, listed several factors Google uses to rank local results for Google My Business listings.
This is how the post originally read:

And this is the edited version:

Google Place Actions Rich Snippet Disappears
The mystery of the disappearing Place Actions Rich Snippet has caused a stir among webmasters this week. The markup, which will enable browsers to place orders, make appointments and complete reservations, has been in testing phase since August.
Google released the developer documentation on how to add the structured markup to webpages on 4 December, but by December 7 the information had disappeared from the developer docs and the links to pages that were there returned a "page not found" status code. Cache versions were, however, still showing.
May the Content Marketing Force Be With You
And finally, David McSweeney provides a detailed appraisal of why Disney's two-year build up to 'The Force Awakens' is possibly the best example of content marketing – ever.
Read on, you will….
More Search Engine Optimisation News and Advice
Read last week's SEO news roundup: Penguin Update Paused
Learn how to ask your web developer the right questions with our free Technical SEO Best Practices eBook. Download your copy today.