Tom Williams runs through the latest SEO news, including details on Google's Penguin 4.0 algorithm update, Google dropping 50% of images from SERPs, and Google's addition of a new search based schema markup.
Google Yet To Confirm Penguin 4.0 Launch Date
Almost two years ago, on 17 October 2014, Google launched its most recent update to the Penguin algorithm. Now, Google has confirmed that it has a release date for Penguin 4.0.
This was announced by Google's Gary Illyes, when he responded to a Tweet confirming that Google does have a date for Penguin's next update.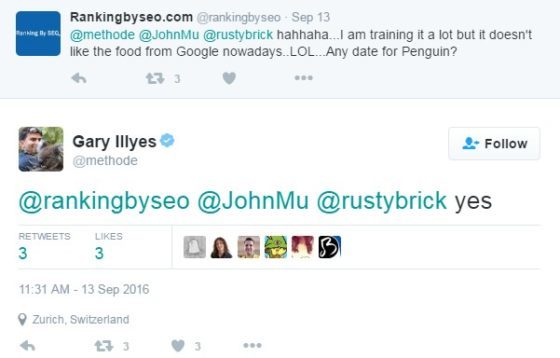 Although he said there is a date, he did not clarify what that date was. Until a Google official confirms a specific date, we will be unsure of when Penguin 4.0 will be released.
We will keep you posted when more news arises.
Unconfirmed Google Search Algorithm Causes Industry Chatter
Since the beginning of September, SEOs everywhere have been seeing a change in rankings as the result of a mysterious algorithm change. At first, it was thought to be the expected Google Penguin update, but John Mueller said otherwise: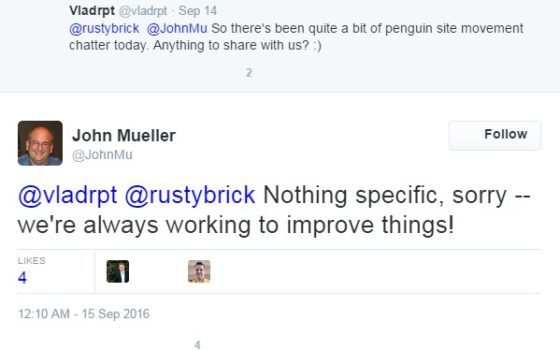 People have been reporting spikes in rankings, and MozCast showed spikes of very hot weather - with Tuesday 13 September hitting 111°C - which signifies ranking changes.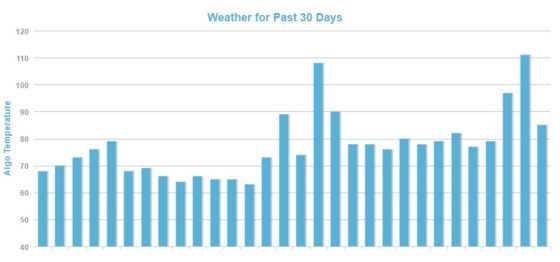 Other forecast style graphs, such as Accuranker and RankRanger, showed fluctuations in rankings too.
As of yet it is still unclear what caused the fluctuations that everyone is seeing, and until something is announced by Google, we cannot be sure. For more on full extent of the fluctuations, and how many people it has affected, see Barry Schwartz' post on Search Engine Roundtable.
Google Cuts 50% of Images From SERPs
According to data collected by Moz and RankRanger, Google used to show images in roughly 20-35% of desktop search results pages.

Now, both of these tools are showing a 50% drop in the frequency of images shown in SERPs.
This is the Moz feature graph, showing a recent 50% drop in the frequency of images.

It is unclear whether the drop we are seeing in the frequency of SERP images is a new update purposefully rolled out by Google, or instead just a bug with either the tools, or Google itself. Google is yet to confirm whether this is an update.
Google Releases New Schema Markup
Google has recently added a new type of schema markup to developer documents.

The new type of schema markup is designed specifically for courses, and it is designed to show up in search results in the above format, including a title, course provider and a small description.
Along with details of the schema markup, Google has released examples of some of the schema markup used to create a 'course'.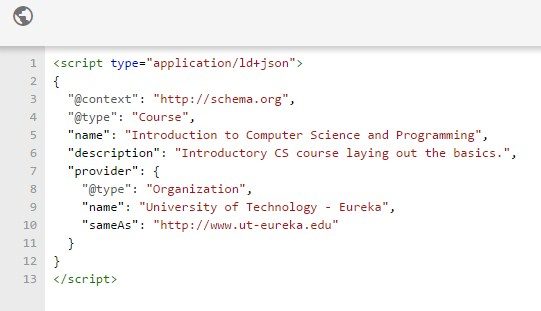 Not much has been said about the new markup, but from what Google has shown, it will be bringing a new type of result snippet to the search results, under 'provider-specific' lists.
Whiteboard Friday – How To Support Data with Real-Life Interviews
In this week's episode of Whiteboard Friday, Rebekah Cancino talks us through the process of supporting data with real-life interviews.
More Search Engine Optimisation News and Advice
Read last week's SEO news roundup: Widget Warnings and Possible Penguins Keep SEOs on Their Toes
Find out how you can improve your sites rankings with a Technical SEO audit from our experts.