Adam Stokes looks at the latest search engine optimisation news, including disruptions to Google Search Console data, the introduction of live blogging updates, and a reimagined Google+.
Google Trials App-Only Content on Mobile SERPs
Google is currently trialling the introduction of app only content on mobile SERPs. Currently experimenting with nine apps on the Android platform, the beta will index app-only content so that it is visible on mobile when relevant to the search query – even though the content does not have a corresponding web page. Instead, it will then allow the app to be streamed to you via Google's new App Streaming feature to take you to the content.
The trial is on English US apps only at this stage. We'll keep you posted when Google brings this feature to the UK.
Google Search Console Data Delayed
Google Search Console data has been delayed over the past few weeks, with Search Analytics reports failing to be updated, Search Engine Land reported. The Google Search Console Screen is currently showing impression and click data that is more than a week behind.
Here's a screen shot showing the feature stuck on 11 November: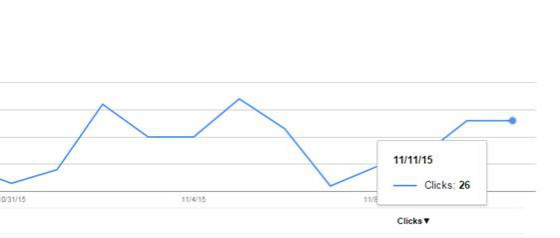 Though the problem occurred and was resolved earlier this month, it has now returned. Google say it is due to a bug and that they are working on a fix.
Live Blogs Label Now Running on Google
The red live label that Google was testing in October has now officially gone live via the live blog schema. The live label will allow publishers to mark up their content as live, allowing it to then be displayed in the publisher carousels section of the SERPs.
Several global news agencies are already participating, including the Guardian, the Washington Post and the Telegraph.
New Look for Google+
Google+ has been updated and fully redesigned to provide more focus on the Communities and Collections features. It is designed to be much simpler and easier to use, with part of that aim achieved through mobile-friendly updates that have seen it rebuilt across Android and iOS.
Users need to opt-in to the new version of Google+ on the web in order to see the new design and features.
Bing App Redesigned With New Features
New updates have been released for the Bing App, with a redesigned homepage as well as the ability to access search history and bookmarks when browsing offline, according to Search Engine Land.
Bing assures users that all previously saved info, including bookmarks, search history and Bing Rewards Credit, is all still present and found within the menu.
More Search Engine Optimisation News and Advice
Read last week's SEO news roundup: Bing Gets Mobile Friendly
Get more from your website. Discover our 15 best-practice tips for building an SEO-compliant website. Download your free Technical SEO Best Practices eBook.