Tom Williams details the latest in SEO news, including the return of review stars, why AMP is not a ranking signal, Bing's new interactive solar system, and the latest Whiteboard Friday video.
Is a Google Update Underway?
Barry Schwartz took to the Search Engine Roundtable to discuss a potential Google update at the end of last week. It seems a number of sites have been seeing changes to their Google Search results leaving Barry to ponder is this the start of Penguin? Perhaps not.
It seems none of the automated tracking tools are showing signs of an update, but this doesn't necessarily mean an update isn't underway. Check out his blog to see what the SEO world is saying about these changes.
Review Stars Make Comeback
After reporting that review stars had dropped out of Google Search results, Search Engine Land has now noticed a return to form for the ratings feature. Review stars are back.
Google's John Mueller confirmed that the stars were returning and that a bug had been the reason behind their disappearance.
Here's a screen grab from Mozcast showing the SERPs returning to normal:
AMP Not A Ranking Signal - Yet
AMP, which went live on 23 February, is not a ranking signal – yet. John Mueller from Google confirmed to Search Engine Land that AMP is not a ranking signal yet, but that it can help a sire become mobile-friendly, which in itself can help boost your site's rankings.
At the moment, AMP only shows in the mobile search top news box. When it expands beyond this then it is expected that it may become a ranking signal.
Searching By Colour
Google image search results are now trialling a new colour filter system. The new format, visible on desktop image results for some, shows different coloured backgrounds with filter options.
First introduced to mobile search, the new filter system is now trialling on desktop.
Here's a screengrab from @WolfOfSEO showing the colour filter options for an image search for 'business success quotes':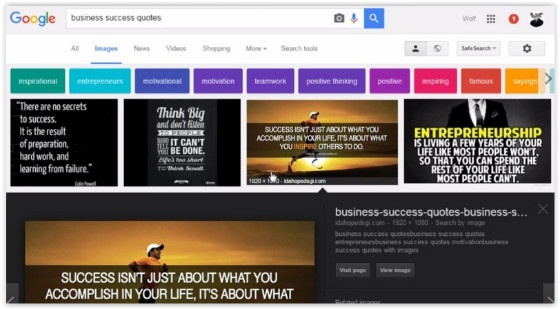 Google Takes Action on 23,000 Spam Reports a Month
Talking at SMX West last week, Google's Juan Felipe Rincon tackled the subject of user generating spam reports. According to Rincon, Google receives around 35,000 user generated spam reports each month, and acts on 65% of those, or around 23,000.
According to Rincon, Google only takes action on 65% of them because some are not spam and only 65% of them require a manual action.
Rincon also mentioned that Google prioritises some user generated spam reports over others if they have a proven track record for submitting solid spam reports. Google also considers the page, the site, the industry and the site's owner before deciding on assigning manual actions.
Bing Launches Interactive Solar System
Next time you are on Bing search for [solar system] to find an interactive solar system map. Users can speed up the map, pause it, reverse its trajectory and rotate the solar system. You can also click on different planets or stars to see extra information on them, such as radius, mass and age.
Whiteboard Friday – How To Reach Your Target Community

In last week's Whiteboard Friday, Rand Fishkin took to the web to outline his five-step process to reach and market to your target audience.
He explains how to discover what sites your target audience are visiting, and how you can target your marketing more effectively to attract them. He covers link building, advertising and how to use social media to target your community.
More Search Engine Optimisation News and Advice
Read last week's SEO news roundup: AMP Now Live
Avoid costly technical SEO mistakes when managing your website. Follow our best practice technical tips for building an SEO-compliant website. Download your free Technical SEO Best Practices eBook today.
Want to maximise on your search engine marketing? Discover how our SEO Management services can help you.