Tom Williams looks at the latest search engine optimisation news, including a stark warning for those not adhering to Webmaster Guidelines, HTTPS gives ranking edge and Google My Business App positively impacts on local commerce.
Google Webmaster Guidelines – Repeat Offenders Will Be Punished
Repeated violations of Google's Webmaster Guidelines will place webmasters in hot water, Google has warned in its latest blog post.
Google's Search Quality Team explained how manual actions can be revoked by putting in a reconsideration request, but that repeat offenders will be punished:
Some sites violate the Webmaster Guidelines repeatedly after successfully going through the reconsideration process. For example, a webmaster who received a Manual Action notification based on an unnatural link to another site may nofollow the link, submit a reconsideration request, then, after successfully being reconsidered, delete the nofollow for the link. Such repeated violations may make a successful reconsideration process more difficult to achieve. Especially when the repeated violation is done with a clear intention to spam, further action may be taken on the site.
You have been warned!
HTTPS Ranking Boost Could Decide Ranking Tiebreakers
Google's Gary Illyes has reiterated that the company's HTTPS ranking boost could serve as a tiebreaker when weighing up the quality of two otherwise equal websites.
Illyes expressed his preference to see more sites using HTTPS because of the importance of privacy, amongst other considerations, but did stress that it's "perfectly fine" for sites not to adopt HTTPS.
In his Hangouts update, he also repeated that Google is still trying to run Penguin in real time, and that there are plans to integrate Panda into the core ranking algorithm, but that for now it will continue to roll our "really slowly" – we had noticed!
Google My Business App Drives Local Trade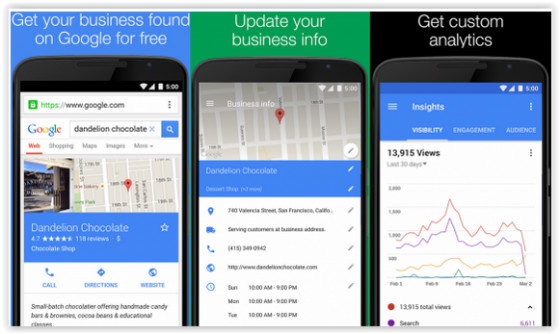 According to Practical eCommerce the new Google My Business App is making local search easier, driving customers into physical stores.
Google has recently launched a redesigned app, complete with new features, to make managing local information easier. Improvements include:
Managing locations open 24 hours
Creating city, postal code or radius zones
Monitor how a business is represented in Google search, Maps and Google+
View analytics on Google+ post performance
Detailed feedback on location information
Position 2 With Rich Snippets Beats Position 1
A recent study by Blue Nile Research has proved that rich snippets can lead to a 26% increase in clicks on position 2 search listings.
The Blue Nile Research showed that rich snippets, such as stars, images and videos, used in position 2, generate a 61% click capture rate, compared to just 48% for a position 1 result not using rich snippets.
For more, visit our Industry News post, Rich Snippets More Valuable Than Position 1 in Search
Effective Content Marketing Increases Organic Search
Search Engine Land contributor Eric Enge took to the site last week to offer his reasons why content marketing works. His top tips include:
Engaging with clients and using content to add value
Publish to sites or platforms you know your prospects use
Build a strong social media channel
Integrate public relations and use outreach to promote your content
Appeal to bloggers and influencers
Build reputation and visibility
For more on how content marketing can drive your integrated digital strategy, download your free eBook – The Best-Practice Guide to Content Ideation
More Search Engine Optimisation News and Advice
Read last week's SEO news roundup: What's Happened to Panda 4.2?
Discover 15 best-practice technical tips for solid SEO. Download your free Technical SEO Best Practices eBook and learn from the experts.