Tom Williams runs through this week's search engine optimisation news, including the dramatic effects of Google Possum, AMPs causing monetisation issues, official news on disavow links and more.
Google's Unofficial Possum Update Changes 64% Of Local SERPs
SEO columnist Joy Hawkins carried out a study with Bright Local that showed just how significant the effects of Google's unofficial Possum update were.
On 1 September 2016, SEOs and webmasters saw significant fluctuations in local rankings worldwide. Since Google hadn't given any warning or explanation of the update, these spikes were unexplainable. Even after the update, Google never released an explanation, and claimed that the changes were "normal fluctuations that always happen."
Other than a few SEOs on public forum chats, the SEO community was reasonably quiet about the update – despite the noticeable changes to rankings and spikes on algorithm forecast tools like Mozcast.
SEO columnist Joy Hawkins ran a study with Bright Local, where she found that 64% of Keywords saw ranking changes after the unofficial update. Although search results can change daily, they hardly ever do so at such a large rate, with 34% of keywords seeing a significant change (a site shifting 3 or more positions in the SERPs, or coming forward 60 positions to rank on the first page).
Joy Hawkins recommends that all SEOs using local search spend time analysing any changes in order to work out what caused their fluctuations so that they can then get their site ranking as it was before Google's 'Possum' update came into play.
Links Can Be Removed From Disavow File When Links Are Reprocessed
Google's John Mueller announced on Twitter that it's safe to remove links from your disavow file as long as those links have been cleaned up and reprocessed.
This means that webmasters should ensure that links are removed or blocked in some way and that Google is aware of this. When these changes have been made, the links can be removed from your site's disavow file.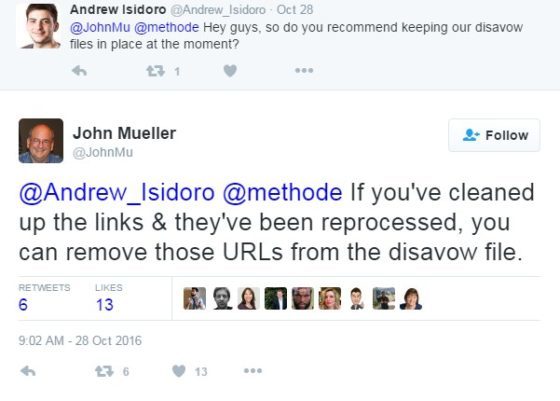 John Mueller also stated that any links that can't be removed that are deemed unnatural, yet still passing page rank, should be left in the disavow file.
Google AMPs Cause Monetisation Frustration For Publishers
Certain Accelerated Mobile Page publishers are getting frustrated with monetisation issues that they're bringing.
While some AMP publishers – including CNN & The Washington Post - are happy with the results they are receiving since adopting the new page format, other publishers are not so pleased. A report featured in The Wall Street Journal shows that some publishers aren't happy with monetisation issues brought about by the new AMP format.
For some publishers [preference for AMP in search results] is a problem, since their AMP pages do not currently generate advertising revenue at the same rate as their full mobile sites. Multiple publishers said an AMP pageview currently generates around half as much revenue as a pageview on their full mobile websites.
AMPs don't allow for some of the ads that responsive design pages allow, meaning many forms of interstitials are unusable on accelerated mobile pages, and ad customisation is minimal. Although lots of users object to intrusive adverts, publishers argue that it takes away a revenue stream.
Despite the frustration from AMP publishers, Google claims that, when properly implemented, AMPs should generate the same amount of revenue for publishers as their normal responsive design pages.
To find more information on the topic, visit Search Engine Land's coverage.
Chrome To Mark HTTP Pages Unstable
Google has announced that – as of January 2017 – any HTTP website pages that feature password or credit card fields will be marked as unstable.
In January 2017, Google Chrome will see their 56th update, which is when the new feature is due to land. The update is set up to affect only the page that includes the sensitive information fields, and not the whole site. When the update comes into play, all forms of password or credit card fields will be marked as unstable, including those that are presented via widgets, like 'login through Facebook' options on third party sites.
When announcing this information, Google stated that eventually all HTTP pages will be marked as unstable – however they didn't give a specific time frame as to when this will be.
Google Now Pulls Featured Snippets From Second Page Of SERPs
Until now, any featured snippets in the search results have been from the top ten results on page one of the SERPs. However Google now pulls information for featured snippets from as far back as position 14 on the second page of search results.
This was spotted by SEO Jennifer Slegg, and it was verified by SEMRush data.
Whiteboard Friday – How Can Small Businesses Compete With Big Players In SEO?
In this week's episode of Whiteboard Friday, Rand Fishkin explains how small business websites can compete with huge SEO players.
More Search Engine Optimisation News and Advice
Read last week's search engine optimisation news roundup: Penguin 4.0 Will Be Beneficial to SEOs and Webmasters
Looking to improve your website's rankings and push your site closer to the top of the SERPs? Our expert Technical SEO Services can help you to do so.