Tom Williams looks at the latest search engine optimisation news, including Google's latest core ranking change and Bing's move to TLS protocol with HTTPS
Google Implements Core Ranking Change
Google rolled out another update on June 17, one that was not Panda, Penguin or HTTPS-related. While Google remained evasive on the update, Search Engine Land confirmed it was a core ranking change, something Google does regularly throughout the year.
Google told Search Engine Land: "This is not a Panda update. As you know, we're always making improvements to our search algorithms and the web is constantly evolving. We're going to continue to work on improvements across the board."
Many automated tracking tools reportedly saw huge spikes in terms of changes happening to Google search results.
In addition, Search Engine Land reported that Google had said a core search algorithm update was on the cards for the future as the search engine continues to work on increasing search quality.
Bing Prepares for Move to HTTPS This Summer
Bing has announced its support of the industry's move to TLS with the news that it will shift to TLS protocols this summer. As part of the search engine's move to expand encryption across its network, traffic from Bing will begin to move from http://www.bing.com to https://www.bing.com in the coming weeks.
Marketers and webmasters will still be able to identify traffic as coming from Bing, but the search engine will not include the used query terms in its referrer string. This move mirrors that of Google, which took similar action three years ago.
Bing said that some limited query term data will still be available through its webmaster and advertiser tools, including its Search Query Terms Report in Bing Ads UI or through API; by adopting Universal Event Tracking to see performance metrics such as bounce rates, duration per visit and pages visited; and by signing up for Bing Webmaster Tools to see keyword and ranking data.
Duane Forrester, senior product manager at Bing, said: "While this change may impact marketers and webmasters, we believe that providing a more secure search experience for our users is important. With this change, you will still be able to see Bing as the origin (referrer) of the encrypted traffic, though analytics tools you are using to analyze your traffic generally have their own, proprietary way of including this information in their search reports."
Google Adds New Quotes Answer Box
Google's Direct Answers have a new addition – quotes from the rich and famous. The search engine is now showing quotes by famous people at the top of SERPs on desktop and mobile.
The quote box will appear if you search for a famous person and add "quotes" to the end of your query.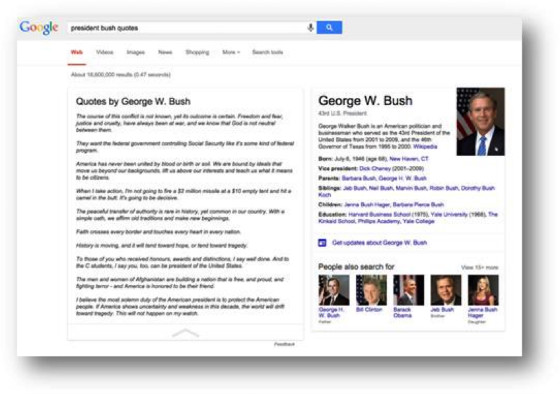 Google does not link to the source nor does it attribute the quotes, which is likely to hit the CTR of websites that offer this type of content.
EU: Right To Be Forgotten Appeals Work Just Fine
12 months after the landmark case concerning Google Spain SL and Google Inc. v Agencia Española de Protección de Datos (AEPD) and Mario Costeja González, whereby the EU's Court of Justice handed down a judgement enabling data subjects to request to search engines, under certain conditions, the delisting of links appearing in the search results based on a person's name, and six months after European DPAs adopted common guidelines on the implementation of the CJEU's Judgement, a survey has found that the Right To Be Forgotten appeals system is working efficiently.
WP29 – the working group charged with overseeing the appeals process - launched the survey to evaluate its practice regarding the delisting requests. Some 2,000 people were surveyed and the results found there to be consistency of decisions and that in the great majority of cases the refusal by a search engine to consent to the delisting request is justified by the fact that the information is directly related to the professional activity of the individual or that it relates to current events.
Not surprisingly, the majority of complaints concerned Google, which is the largest search engine in Europe.
More Search Engine Optimisation News and Advice
Read last week's SEO news roundup: Mobile Innovations as Siri Suggests and Google Now Drops Formal Search
Want to discover 15 best-practice technical tips for solid SEO? Download your free Technical SEO Best Practices eBook and learn from the experts.