Tom Williams has the scoop on the latest SEO news to hit the web…
Google Panda and Penguin Algorithms Still Rely on Manual Data Pushes
Google's Panda and Penguin algorithms are still updated through manual data 'pushes', a Google employee has confirmed.
Some had speculated that the webspam algorithms were now fully integrated with Google's search processes, and didn't require data to be manually uploaded (or 'pushed') to perform an update.
Google said in December that Penguin was moving to 'continuous' updates, implying that manual intervention was no longer required.
It was webmaster trends analyst John Mueller who broke the news. In a Google+ hangout, he revealed the algorithms were "not updating regularly" and "kind of" needed to be pushed out manually.
For a deeper analysis of this story, read our recent news post.
Google Could Be Hit With £4.4 Billion Fine in EU Antitrust Case
A long-running EU antitrust inquiry into Google's business practices could see the search giant shell out more than four billion pounds in fines and charges.
As Sky News reports, the firm has been the subject of a five-year investigation examining whether it abused its enormous market power to push its own products.
If, as expected, the EU files formal charges against Google, it faces a maximum fine of £4.4 billion.
Google has already offered to provide more visibility for competing products, in an effort to avoid a formal finding of wrongdoing.
Answers, Not Queries, Now Appear Bolded in Some Google Search Results
In a step forward for semantic search, Google is now bolding answers in search results for some queries, rather than the queries themselves.
As Search Engine Land (SEL) points out, the queries [what colour is the sky] and [the average age of a college student] now result in the words 'blue' and '25' being highlighted in results. The bolded text appears in both answer boxes and standard organic results.
This feature hasn't been rolled out across the board – here's the answer box for [what is the average iq], showing the words 'average' and 'IQ' highlighted, as opposed to the word '100'.
Google Mobile Search 'Lite' Launches For Slow Connections
Google has launched a stripped-down, fast-loading version of its mobile search interface, designed for users with slow connections.
Announced and launched on Wednesday, the new version of mobile search promises to offer "all the information you need in a simpler format that's beautiful and easy to use".
Google says the new version will load automatically when a fast connection isn't available.
Here's Google's image of the new version in action:
New Google Patent Reveals TV Spoiler-Blocking Technology
Still haven't finished watching Breaking Bad? You'll be pleased to know Google has your interests at heart – the company has just been granted a patent to block television and film 'spoilers'.
According to The Telegraph, the system "would hinge on users regularly logging their progress through a TV series or movie, which could be achieved by linking the tool with streaming services like Netflix".
But if you're expecting an end to ruined storylines, we're going to have to spoil it for you – Google has made it clear that this isn't necessarily going to be incorporated into search, or any other product for that matter.
A spokesman for the company, quoted by The Telegraph, said:
We hold patents on a variety of ideas, some of those ideas later mature into real products or services, some don't.
Google No Longer Highlighting In-Depth Articles in Search Results
Google has dropped preferential labelling for in-depth articles from its search results pages.
Previously, in-depth articles were marked in search with a headline, and each result featured an accompanying image. Now, as SEL reports, both features have been dropped, making the articles appear more-or-less as normal organic results.
The only element left highlighting the in-depth articles is a grey horizontal rule, as illustrated here:
Google told SEL that the change was made as part of an ongoing effort to streamline search results.
DuckDuckGo Launches More Instant Answers
DuckDuckGo has added new Instant Answers for online education courses, nearby parking, and UV risks.
In its monthly 'friends' newsletter, emailed last week, the privacy-oriented search engine said it had launched "many new Instant Answers developed by our community". However, it only provided examples of the three query types mentioned above.
Here's an example of the Instant Answers provided for the query [parking near radio city music hall]: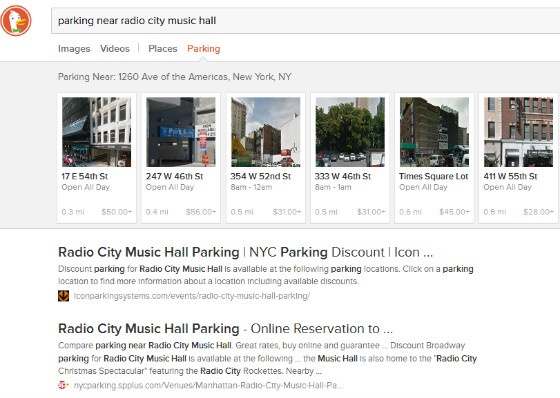 Instant Answers are DuckDuckGo's equivalent of Google's direct answer boxes, providing context-specific answers to users' queries without them having to click through to a search result.
Bing Updates Image Search to Help Users "Be Inspired, Learn More and Do More"
In the Bing versus Google battle, few would side with Microsoft's search engine in terms of pure search quality. However, with a new update to its Image Search, Bing looks to have built a better, more user-centric image discovery product than its main search competitor.
Bing's new Image Search now displays lots of relevant information alongside the image. For example, the search engine now looks for the "most relevant description of the image that we can find on the web" to provide clear contextual information.
Users can scroll to see related searches, pages featuring the image, Pinterest collections containing the image, and places where users can buy products featured in the image.
Along with the new features, Bing has updated its mobile Image Search interface with a slightly more refined look. Additional information now appears on top of an image, rather than below it.
The update is rolling out globally now, and will be available across all devices "over the coming weeks".
Open Site Explorer Now Features 'Spam Score'
Paid Moz subscribers can now access a new metric in Open Site Explorer, allowing for analysis of spammy links.
Announced last month, the new metric is called 'Spam Score', and works by analysing 17 factors common to low-quality websites, which Moz has dubbed 'Spam Flags'.
Moz says nearly every subdomain in its index now has an accompanying Spam Score. The metric is not yet available for pages or root domains.
Rand Fishkin, co-founder of Moz, wrote:
Our correlations showed that no particular flag was more likely than others to mean a domain was penalized/banned in Google, but firing many flags had a very strong correlation.
He added: "[Spam score] does a solid job with the most obvious, nastiest spam, and a decent job highlighting risk in other areas, too."
You can access Spam Score in Open Site Explorer's left-hand tab. Fishkin says the feature will launch in Mozbar "and other tools" soon.
More Search Engine Optimisation News and Advice
Read our previous SEO news roundup: Google's Mobile-Friendly Algorithm Revelations, Safari Troubles and Colourful Experiments
Download your free technical SEO guide, and learn best-practice techniques to improve on-site SEO.