Tom Williams looks at the latest search engine optimisation news, including Panda 4.2, Microsoft's new Revenge Porn reporting site, and Apple App Search updates, plus more
Panda 4.2 Slowly Rolling Out
It's here – finally. Google pushed out its Panda refresh on July 18, 2015. However, webmasters need not get too excited just yet, Panda 4.2 is going to take months to fully roll out.
What this means is that, while the changes are happening, impact to ranking could be slow to show. This has had mixed reviews as those penalised by Panda 4.1 are obviously keen to see their sites improve, while others may be happy for the refresh to roll out slowly.
Google has reportedly said that 2-3% of English language queries will be affected.
Panda 4.2 follows the Panda 4.1 update, which took place in September 2014.
Microsoft Launches "Revenge Porn" Reporting Page
Search Engine Land has announced that Microsoft has launched a new "Revenge Porn" reporting page where users can request for links to be removed from nude and explicit photos and videos showing in Bing search results.
Microsoft's new revenge porn reporting page requests users to submit their name and email address and provide the URL to the offensive content. Users also have to say if they have ever agreed to the content being distributed.
The move follows that of Google, which announced in June that it was taking action to help eliminate revenge porn from appearing in its search results pages.
How Will Google Search Handle New Top Level Domains?
The arrival of many new generic top level domains (GTLDs) has led to lots of questions as to how Google will handle these in search. John Mueller, webmaster trends analyst at Google, took to a blog post to answer some of the FAQs surrounding this topic. In summary:
Google will treat the new gTLDs, such as .guru, .how and .BRAND the same as it does .com and .org.
Internationalised domain names (IDNs) that use language-specific script, such as Arabic, Chinese or Latin, will also be used the same as other TLDs
Geographic TLDs, such as .london and .bayern, will also be treated the same as other gTLDs
Google will use ccTLDs (country code top level domains such as .uk, .ae, .es) to geotarget a website
Google has also provided a site move document in its Help Centre for webmasters moving sites to a new TLD
Apple Tweaks App Store Search Algorithm
Apple has reportedly updated its App Store search algorithm, affecting the ranking of many apps in the system. According to TechCrunch, the update has only impacted iPad app developers in the US App Store.
However, the ramification for some apps was huge. Facebook's iPad app reportedly dropped from a No. 2 position down to No. 858 in less than a week. Top apps such as Facebook, Twitter, Instagram, Minecraft, YouTube and Snapchat all showed large changes to their keyword rankings beginning July 17.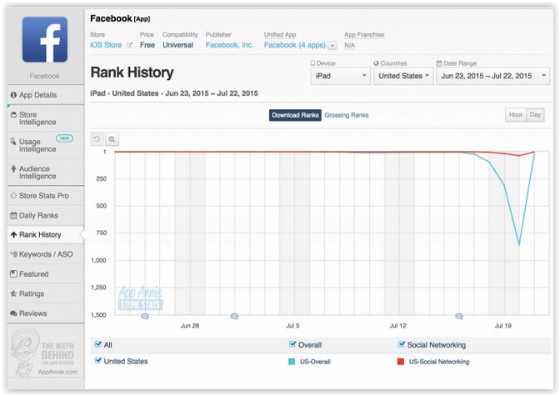 Most of the apps recovered their positions. However, with iPad applications the most affected, industry analysts are surmising that the change could be part of a larger strategy by Apple to reward app developers who are building apps specifically for Apple's tablet.
Google+ Retires App Download Interstitials. Here's Why
Google+ has decided to permanently retire its app download interstitial after a case study proved that the interstitial ad caused too much user friction. The use of interstitial ads has long been identified as presenting a poor user experience, and the Google+ cast study underlined this.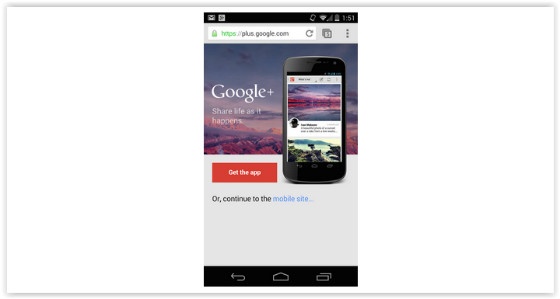 David Morell, software engineer at Google+ reported on the case study in a blog post on webmaster central. He reported that early analysis showed:
9% of the visits to the interstitial page resulted in the 'Get App' button being pressed.
69% of the visits abandoned our page.
While 9% is a great CTR, the area for concern is the 69% of users abandoning the page. Therefore, Google+ replaced the interstitial with a Smart App Banner to continue promoting its native app in a less intrusive way. The results were instant with one-day active users on the mobile website increasing by 17%, while the number of G+ iOS native app installs was unaffected, at -2%.
Based on this, Google+ decided to retire the interstitial in order to provide a better mobile web experience.
Google to Restrict Access to Autocomplete API
Google's Peter Chiu announced on Friday, July 24, 2015, that Google Search will be restricting unauthorised access to the unpublished autocomplete API as of August 10, 2015.
He said:
We built autocomplete as a complement to Search, and never intended that it would exist disconnected from the purpose of anticipating user search queries. Over time we've realized that while we can conceive of uses for an autocomplete data feed outside of search results that may be valuable, overall the content of our automatic completions are optimized and intended to be used in conjunction with web search results, and outside of the context of a web search don't provide a meaningful user benefit.
Publishers and developers who still want to use autocomplete on their sites can use the Google Custom Search Engine. Partners already using Google CSE will be unaffected by the change.
How to Optimise your YouTube Presence
YouTube is the third most visited site on the web, and arguable the second largest search engine. Google has reported a 70% year-on-year growth in "How To" searches on the video sharing site. Naturally, video content is more engaging that a page of text and this, coupled with its expanded reach via Google Web and Video search, makes it an important search proposition.
Tony Edward presented his guide to getting ranked on YouTube in his post on Search Engine Land last week. He offered up these tips for optimising your YouTube channel:
Make sure your channel name, branding and vanity URL reflect your brand
Use channel keywords and targeted country
Link to your website to establish brand authority
Fill your description with branded and keyword-rich content
Use the featured video feature to automatically play when someone visits your channel homepage
Use links on your website and social profiles to drive traffic to your YouTube page
Above all, ensure you are providing great video content
More Search Engine Optimisation News and Advice
Read last week's SEO news roundup: Changes to Webmaster Notifications, Chromecast success, Penguin Update and more
Want to improve your search performance and avoid ranking penalties? Download your free Technical SEO Best Practices eBook and learn from the experts.