Tom Williams brings you the latest in search engine optimisation news, including Google's warning to webmasters, more data confirmed for Search Console and an update on mobile traffic increases.
Warning Webmasters! Your Forms Are Not Secure
As of October 2017, webmasters will receive a notification from Chrome if their web pages have forms, login fields and other input sections - marking them as 'not secure'.
A member of the Google team wrote:
Beginning in October 2017, Chrome will show the 'not secure' warning in two additional situations: when users enter data on an HTTP page, and on all HTTP pages visited in Incognito mode.
The search engine giant released an announcement around the beginning of May this year, encouraging webmasters to switch from HTTP to HTTPS by October in preparation for this update.
This is all part of a larger plan to improve the way Chrome executes its connection security communications to users. Navigation to HTTP pages data from previous Chrome versions has been closely analysed to formulate this plan of action, which will reach full implementation in just over a month's time.
Rumour Has It – Another Google Algorithm Update?
Another Google algorithm and ranking update?
That's the whisper, according to Barry Schwartz. On 22 August, 2017, he wrote:
Starting over the weekend, mostly Saturday and Sunday on August 19th and 20th, there was some chatter in the webmaster channels around Google fluctuations in the search results.
Mozcast, Algoroo and other experimental tools tracked algorithm activity and did report some minor fluctuations around that weekend. If the tools correspond with the rumours, there's a strong likelihood of another algorithm and ranking update.
Although the 'chatter' has since died down, it was linked mainly to larger updates. Have you noticed any changes since last weekend?
New Data For Search Console
Speaking of whispers, Google's John Mueller dropped a few hints about a data increase for Search Console earlier this month.
Forecasted to launch in-line with Search Console's new beta release, this new data has no hard dates for going live as of yet.
Both John Mueller and Gary Illyes have responded with "soon" when queried. Gary attended an event in Japan and announced the nature of this data is simply extended periods.
Here's Gary's response from the panel to a question regarding this:
Q. When will you extend the period in Search Analytics?

"It's coming. I don't want to pre-announce the exact timeline because I've got burned at Penguin before." (laughter)
Mobile First Index Onto A Winner
In Google's webmaster hangout on 22nd August, John Mueller was asked to give an update on the mobile first index.
He noted that "things are looking good", and that there's no major updates to speak of at the moment.
The Google team are constantly running tests and evaluations to make sure the switch for sites to mobile first indexing is as smooth as possible.
John noted that things aren't "as crazy" as he first anticipated, which can only be a good thing.
Have Mobile Searches Taken Over?
A Google speaker mentioned that the "vast majority" of search queries are coming in from mobile, although this is yet to be confirmed.
Without this confirmation, third-party sites have stepped in to clarify exact figures. Take BrightEdge for example – the leading global SEO and content performance platform noted that 57% of its client traffic comes from smartphone and tablet origins.
But what does this mean?
As use of mobile devices continues to increase, marketers need to consider the different device channels in strategic plans. Page speed, responsive design, and user-friendly buttons should all be factored into a mobile-friendly approach to optimising your site for the best possible performance.
That's not to say that desktop should be disregarded. Although traffic has increased via mobile, conversion rates remain at a healthy level on desktop and tablet. Monetate recently reported on retail clients in the UK, stating that in Q4 2016 conversion rates on mobile were 3.05% while conversion rates via desktop were at 5.67%. So a balanced approach to optimisation is key even as mobile search continues to increase.
Whiteboard Friday – Identifying Quality From Google's Viewpoint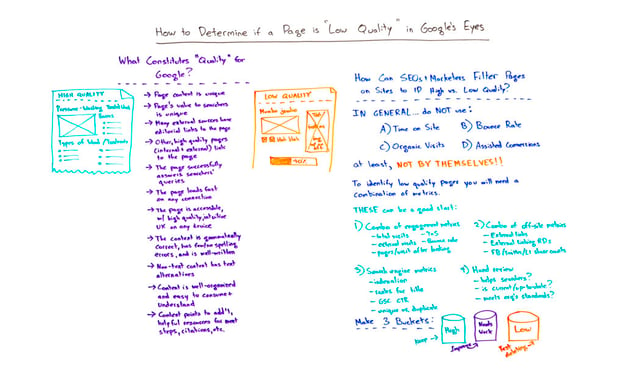 Last week, Rand Fishkin gave us a 'laundry list' of what to look for when determining whether or not your pages cut the mustard.
But what does Google class as quality?
From unique content and external linking to high value for searchers, Rand takes us through a journey defining the factors Google considers when deciphering the quality of your pages.
More SEO News and Advice
Read last week's SEO News Roundup: Latest Google Test Sees Q&As In Local Results
Maximise your search engine marketing with improved rankings and industry-leading reporting tools. Learn more about how our SEO Management Services can help you optimise your strategies and lead generation. Contact us today.