Tom Williams brings us all the latest search engine optimisation news, including changes to local packs, PageSpeed updates, mobile-friendly alerts for site owners, and the latest Whiteboard Friday discussion.
Is Penguin 4.0 Finally on its Way?
Speculation was rife at the end of last week that Google could be finally testing the Penguin 4.0 algorithm.
According to Search Engine Roundtable, webmasters started to see changes on 6 April, with Google search rankings fluctuating, keywords dropping and decreases to traffic.
Have you seen any changes? Let us know.
Is Google Extending Text in Local Packs?
Google Search is reportedly testing an additional line of text in the local packs you see in web search results.
The packs often include review stars. However, it seems that Google is now adding in random review quotes as well. Here's an example from Peter Meyers from Moz, as shown on Search Engine Land:
Google Now Advising on PageSpeed Updates
Google has started sending out notifications via its Google Search Console for PageSpeed tips. The alerts also advise if you are running an older version of the Google PageSpeed module, and will notify you to update.
According to Search Engine Land, the message reads something like this:
The notifications are similar to those send by Google to alert you to updates in your WordPress Install or other CMS programs.
Google Warning Site Owners if Site Not Mobile-Friendly
Google has started showing warnings to site owners if their site is not mobile-friendly. The warnings show up in search and are only visible to the site owner.
Jennifer Slegg has an old site that is not mobile-friendly. She shared the search results she sees when searching for her own site. As you can see, the search returns a snippet saying 'Your page is not mobile friendly'. This message is a hyperlink to a Google help page on making sure your site is mobile-friendly.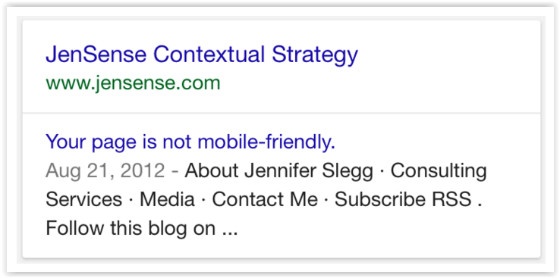 The new warnings come ahead of an impending Google mobile-friendly algorithm update, due in May 2016. So, if your site is not mobile-friendly yet, now is definitely the time to get started.
Find out more – download your free eBook on The Ultimate Guide to Google's Mobile-Friendly Algorithm and learn how to make sure website mobile-friendly.
Google Advises on Localised Content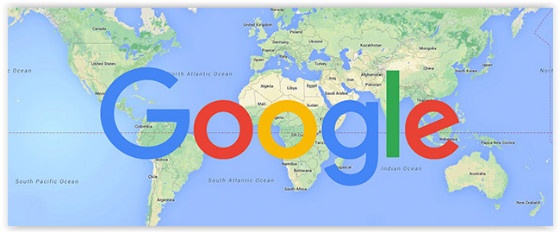 Google's John Mueller recently offered his advice on the localisation of content, saying that all content on a page, including image alt tags, should be localised.
Responding to a question in StackExchange, Mueller explained that all content, including static image title tags, should be consistent in language. Therefore, a German language site should use German language alt tags.
Alt tags are seen as text on a page by Google, and therefore using different languages can potentially cause confusion.
Google Updates Search Quality Raters Guidelines
Looking for a little light bedtime reading? Google has updated its Search Quality Raters Guidelines. Previously published in November 2015, the new, updated edition was published on 28 March, 2016.
While the original November 2015 document ran to 160 pages, the slightly condensed revision is 146 pages long.
If you've already read the original Search Quality Rates Guidelines then Jennifer Slegg has summarised the changes between to two. Here they are:
De-emphasis of supplementary content
More emphasis on local, which Google has renamed "Visit-in-Person"
Increased emphasis on Your Money Your Life and E-A-T (Expertise, Authoritativeness, Trustworthiness)
Continued push for mobile, with more mobile examples.
Whiteboard Friday – How Google May Evaluate Your Content

In last week's Whiteboard Friday, Rand Fishkin looked at some of the tactics used by Google to evaluate and analyse the quality, value and rank-worthiness of your content.
Learn how to use synonyms, word uses and intent matching to make your content stand out.
More Search Engine Optimisation News and Advice
Read last week's SEO News Roundup: Google Search Analytics Missing a Day of Data
Discover our 15 SEO best practice tips. Download your free Technical SEO Best Practices eBook and learn from the experts.
Find out how our SEO services can help your business. Visit our Technical SEO & Audits to learn more.