Tom Williams brings us all the latest search engine optimisation news, including information on when Google will release Penguin, Google displaying user comments in SERP snippets, and news on the text to HTML ratio.
When Will Google Launch the New Penguin Update?
Google has announced that a new Penguin algorithm update is on its way. There has been much chatter about when the Penguin update will be released, however, so far no one has seen or heard anything that hints at the launch of Penguin 4.
Google had stated that the update would be released in early 2016, perhaps January or February. However this has since changed, with Google saying the Penguin 4 update is likely to be expected at some point within the first quarter of 2016. It is unclear whether or not this is still the case.
On 15 April 2016, a Google Hangout with John Mueller, a Google Webmaster Trends analyst, tells viewers that Google will post an announcement when Penguin goes live.
John Mueller said:
I am pretty sure when we start rolling out [Penguin] we will have a message to kind of post but at the moment I don't have anything specific to kind of announce.
At the moment there is no sign of a Google Penguin update coming soon, stay posted for more news on the Penguin 4 update.
Google Displays Featured Snippet from User Comments in Search Results
In late April 2016, Head of SEO at Bankrate, Inc. Bill Elward noticed a snippet that Google had pulled from the user comments section of the Bankrate website that was being displayed in the SERPs as an answer to a search query.
The search query was: 'How much is gap insurance?' and when Bill searched this, he was presented with a link to the Bankrate website, and a snippet taken from the user comments on a 'discuss comments' section of a blog post. Bill later posted the snippet on Twitter. Here it is: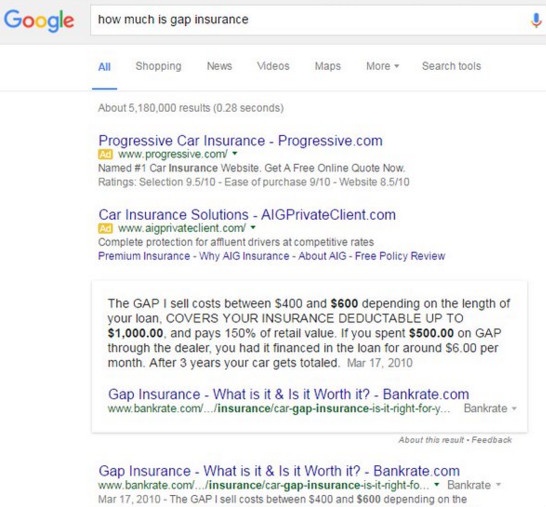 The snippet is taken from a piece of the user comment that you have to click 'read more' to view. This is a strange snippet of information to be displayed in the SERPs for multiple reasons:
The snippet is taken from user comments, rather than actual information posted by the company.
The snippet is taken from the hidden click to expand section of the comments, which, according to Google, doesn't rank well.
It is strange to see Google use a snippet from user comments in the search results as an answer to a query. As of yet it is unclear whether Google will fix this issue, or even if it is a test in progress.
Google to Expand TV Show Search Features
Google has announced that it will be expanding its TV show search, and is adding some new features. At the moment, when you search for a television show, Google will present you with apps and websites that stream the show. In the new update to be released, Google plans to incorporate new features, including the television network and channel the program will be aired on, and even what time the show airs live on TV.
Daniel Alegre, President of Global Partnerships, Google, said:
Coming soon, Google Search will have live TV listings. So now when you're looking for The Big Bang Theory, we'll not only show you the apps and sites where you can find the latest episode, but also show which channel you can turn your TV to later in the evening or week to catch it live.
Google will also be launching personalised TV ads with DoubleClick dynamic ad insertion.
Google Notification Causes 75% Of Site Owners to Clean up Hacked Sites
According to Google, it detected 800,000 hacked sites alone in 2015. Sites registered in Google Search Console were sent out email notifications to alert owners of hacked sites.
As a result of Google's email notifications, up to 75% of hacked sites were cleaned up. Google also tried to alert website owners via search browser and search alerts ('this site may be hacked') with only 54% and 43% cleaned up through these alerts respectively.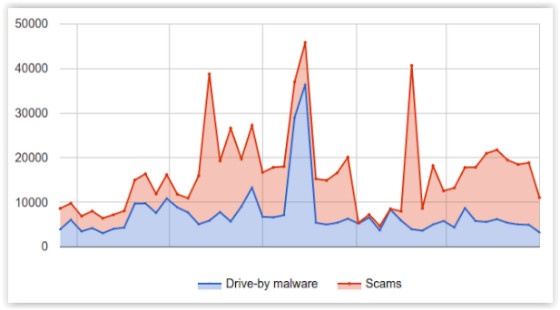 After the clean-up, 12% of sites were re-infected within the space of 30 days. This is only a small amount relative to what it could have been if site owners had failed to fix exploits on their site such as outdated versions of WordPress or out of date plugins that allow hackers to compromise the site in the first place.
Google Confirms Text:HTML Ratio Not Part of Algorithm
On 15 April 2016, during a Google Hangout, a question was asked to some of Google's experts regarding the text to HTML ratio, and its significance in influencing rankings.
Here is the question asked in the Google Hangout:
We have an online-Shop. What about the text/html-ratio. Sometimes we have just 4% Text, but there are more than 800 Words on a Site. Will it influence the Ranking negatively?
John Mueller, Google Webmaster Trends analyst quickly responded to let us know Google's take on text to HTML ratio:
As far as I know, we don't use the text to HTML ratio for anything. So this is something that some SEO tools came up with at some point. But from our point of view we don't use that at all.

I wouldn't focus on a metric like that unless there is something of value you can pull out of that for the users. Maybe what you could be looking at there is seeing that these pages are bloated HTML and when you serve them to users, especially on mobile, it slows everything down. That's one aspect that could be playing a role there, which is more between you and your users.

But at least from a search or SEO point of view, we don't look at the text to HTML ratio at all.
Whiteboard Friday – Using Branded Search To Good Effect

Rand Fishkin took a closer look at Brand Vs Non-Brand Search in his Whiteboard Friday presentation at the end of last week. He detailed what SEO tactics to use to drive search volume via brand, how to use content marketing and PR, and creating keyword associations, as well as other pertinent topics related to branded search.
More Search Engine Optimisation News and Advice
Read last week's SEO News Roundup: Google Expands Safe Browsing Protection
Improve search performance and avoid penalties with an SEO-compliant website. Download your free 32-page eBook on Technical SEO Best Practices to avoid costly SEO mistakes.
Keep ahead of the next Penguin algorithm update, with regular backlink audits. Find out about our Link Reputation Management services today.