For this week's SEO news roundup, Tom Williams shares mobile content discovery insights, Google News updates, and a whole lot of Knowledge Graph…
Google Knowledge Graph Now Reportedly Showing for 25% of Searches
Google's Knowledge Graph is now showing on roughly 25% of searches, according to Steven Levy, writing at Medium.
In an in-depth article looking at the evolution of Google Search, Levy claims that "Google won't say officially what percentage of queries evoke a Knowledge Graph answer, but appears comfortable with a ballpark estimate of about 25 percent".
Google's Knowledge Graph powers some of the search engine's semantic search capabilities. It is an 'engine' that works unseen to improve Google's search functionality, and is also used as shorthand for the Knowledge Graph boxes and answer boxes presented to users who submit certain search queries.
Knowledge Graph has seen a mixed reaction from online publishers, as it aims to provide information to searchers without them having to visit a publishers' site – thus potentially depriving these websites of revenue.
If the 25% figure cited by Levy is correct, it's significant because it's, well… a lot. Barry Schwartz puts it smartly over at Search Engine Land, where he asks:
If 25% of the queries show information from the Knowledge Graph, it makes you wonder if that leads to [approximately] 25% less traffic for publishers?"
More Google Knowledge Graph Updates: Social Links for Brands; Improved Events Markup
Even more updates to Knowledge Graph? Hold on tight…
Social links for brands
As Search Engine Land points out, the Knowledge Graph box is now displaying links to social profiles for certain brands. Here they are on a search for Amazon: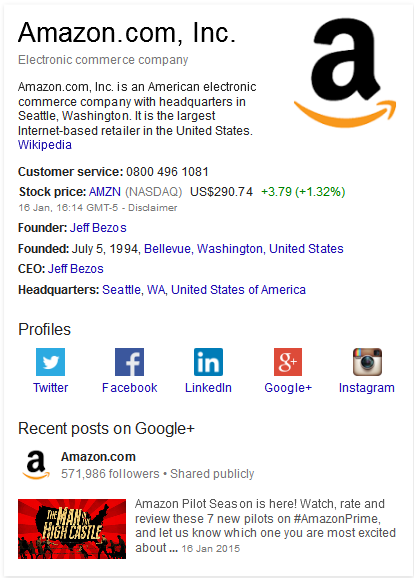 You'd be forgiven for asking: "You mean Google wasn't doing this already?"
As it happens, social links to networks other than Google+ are very, very new. Google began acknowledging third-party social platforms in Knowledge Graph in November. But while these links would appear for bands, politicians and actors, brands have had to wait until now for in-search social exposure.
Events markup gets an overhaul
In March last year, Google announced it was trialling a 'new approach' to listing music events. Instead of pulling gig listings and the like from third-party, possibly inaccurate sources, it would instead look to an artist's official website to check for schema.org structured data markup relating to that event. If the markup existed, Google would assume these listings were official.
Well, it seems the trial has gone well, because Google has announced a raft of improvements to the way it handles the markup and displays it to users in Knowledge Graph boxes.
Here are the changes in summary:
Ticketing links: Artists can now include a link to their favoured ticket provider in their markup. Google will then link to this preferred provider in an expanded answer box, as well as pulling ticket availability and on-sale data for display.
Delegated listings: Artists can choose to delegate evnet listings information to another, trusted provider instead of updating the listings themselves.
Funny people: Comedians, as well as musicians, can now take part in the fun!
Venues: Google says it is "starting to show venue event listings in Google search." So if you run a venue, you should take advantage of the increased exposure by adding the relevant markup to your site.
Google Launches Improved Structured Data Testing Tool, New Documentation
If you were reading the last point and worrying that you don't have the foggiest idea how to implement schema.org markup, you'll be pleased to know Google has launched a new improved tool to help you out.
The new Structured Data Testing Tool, announced on Thursday, allows webmasters to input source code or the URL of a webpage, and Google will fetch all the structured data it detects in the source. It also displays any errors it finds, and points out how to correct them.
The new tool adds the following features:
Validation for all Google features powered by structured data
Support for markup in the JSON-LD syntax, including in dynamic HTML pages
Clean display of the structured data items on your page
Syntax highlighting of markup problems right in your HTML source code
Along with the tool, Google has launched 'clarified' documentation for structured data, as well as a 'simpler' structured data policy.
Search is Still King for Mobile Content Discovery
Despite a recent ComScore study claiming that US smartphone users spend 88% of their usage time on apps, the mobile web is still a driving force in content discovery, claims the Internet Advertising Bureau (IAB).
In a new report titled Apps and the Mobile Web, the IAB states that "only 18% of [US] mobile internet users perceive their usage as heavily skewing towards apps."
Crucially for mobile SEO, the majority of user surveyed (54%) cited web search as a primary way of finding mobile websites. 26%, meanwhile, said the same of social media apps.
The report says the gap between ComScores actual-usage data and users' perceived usage may come from "mobile web use in disguise" – in other words, users clicking links in apps that take them to mobile websites.
Google News Will Crawl for Images Not Hosted On Your Domain
In Google News' first Publisher Center newsletter, the company announced it would now crawl for images that aren't hosted on publishers' own domains. This means that even publishers who use content delivery networks can (hopefully) expect to see their chosen images alongside their stories in Google News.
As Google put it:
In the past, if your images were hosted off your website's domain, it was very unlikely we'd crawl them for Google News.

"We recently implemented an update to our image crawl algorithm, and are now able to crawl off-domain images. If it works better for your team to host your images on a different domain than your news website, you can now feel free to make that change!"
Source: Search Engine Land
Webmasters: Google Wants Your Feedback!
On Thursday, Google's Webmasters team posted on Google+ asking for feedback and suggestions "on the kinds of things you'd wish to see being added, improved, removed, or changed by the Webmaster Tools and websearch teams".
Want to share your thoughts? Google has set up a page on Google Moderator where you can submit suggestions and vote on recommendations made by other webmasters.
The top five most popular suggestions, at the time of writing, are below. Needless to say, the prevailing theme is 'more visibility please Google':
I would like to see in WMT [Webmaster Tools] data from 12 months, not 3 as it is now :)"

Sebastian, http://blog.seo-profi.pl
An automated action viewer, so webmasters can see if they were impacted by an algorithm such as Panda or Penguin."

Barry Schwartz, New York
Update Disavow tool and provide live status if we requested to remove some URL so we can see the status that you received and processing or archived."

Furqan, PeakTech, Pakistan
Bounce back measuring tool. Did the user go back to Google for a similar search or did they find what they needed?"

Donnie Strompf, Boca Raton, FL
Alongside the manual penalty notices, a message to say whether or not an algorithmic penalty is applied to a website, and if so, what type of penalty and what action might help resolve it."

Jon, England
More SEO News and Insights
Read last week's SEO news roundup: Google to Trump Car Insurance Providers in Search?
Download your FREE technical SEO eBook, featuring 32 pages of expert advice to boost your on-site SEO.