It's SEO roundup time, where Tom Williams collects the biggest SEO news stories of the last week, so you don't have to! This time, he's looking at Google's big ambitions for 2015, including reliable rumours that the search giant may be moving into the US car insurance market…
Google Car Insurance Comparison Product Set to Launch in US?
These days, one of the most pressing concerns in SEO is that Google is attempting to 'cut out middle men' by providing information and services directly in the search engine results pages (SERPs).
Features like Knowledge Graph answer boxes use complex algorithms to recognise information-seeking search queries, and retrieve and present that information to searchers. This means Google users often don't need to click a result – Google does the work for them.
Naturally, many businesses are worried that these features – although undoubtedly user-friendly – may be snatching revenues from their sites, and undoing years of careful SEO.
Take the recently introduced lyrics answer box, for instance, which seems specifically designed to direct users away from lyrics sites – and thus deny these sites revenue.
The thing is, answer boxes are limited to these information-seeking searches. They're not targeting people who are obviously looking to purchase a product or service.
That's not to say Google isn't interested in doing this. Here in the UK, businesses in the car insurance, credit card, travel insurance and mortgage industries have had to contend with Google's own SERPs-native comparison product – Google Compare – since 2012.
Now, according to outlets like Search Engine Land and the Daily Mail, Google may well be looking to introduce its car insurance comparison functionality in the US too.
The rumours are being fuelled by a Forrester blog post, in which analyst Ellen Carney points to a number of signs that Google is moving into the US car insurance market. For example, the company is licensed to sell insurance in 28 states, and is authorised to transact on behalf of several insurers.
In short, it looks very likely that this is happening.
This raises lots of questions. For instance, what does this mean for the insurance providers that aren't working directly with Google? (We can't find much information about the impact of Google Compare on UK businesses.)
And does Google have an obligation to provide a fair and free marketplace for all businesses? Or can it curate which businesses get optimum exposure?
Perhaps these are questions for another blog post.
In the meantime, here's what a 'car insurance' search looks like in the UK, with the Google Compare result highlighted. We can naturally assume the proposed US version will be similar:
And the Google Compare service itself: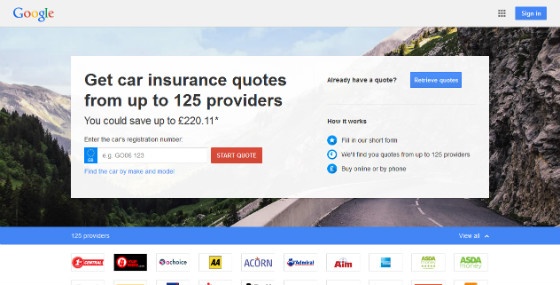 Google Was Asked to Remove 345 Million Links in 2014
Is the era of a piracy-free web on the horizon? With the number of link removal requests Google received in 2014, it looks like it may well be.
According to Sky News, Google received 345 million requests to remove links to copyrighted material last year. That's an astonishing increase of 556,451,513% on 2008, when the search giant received just 62 requests.
Search Engine Land says this also marks a 75% increase on 2013.
The British Phonographic Industry made the most requests, bombarding Google with requests to remove more than 60 million links. Of all link removal requests, the majority were made in regard to just three file-sharing sites – uploaded.net, rapidgator.net and 4shared.com.
Google is something of a reluctant policy enforcer. Although it is bound by law to tackle copyright material – and since May last year in Europe, personally embarrassing material – it still strives for the ideal of a free and open web.
Accordingly, its own statement on the matter was guardedly critical. In 2014, in a report called How Google Fights Piracy, the company wrote:
Piracy often arises when consumer demand goes unmet by legitimate supply. As services ranging from Netflix to Spotify to iTunes have demonstrated, the best way to combat piracy is with better and more convenient legitimate services.

"The right combination of price, convenience, and inventory will do far more to reduce piracy than enforcement can."
That said, with its recent Pirate algorithm update, Google is moving to pro-actively and automatically downrank sites that host pirated materials.
More Digital Marketing Predictions for 2015
In our weekly news roundups, we've made something of a habit of collecting interesting predictions for the new year. Our latest batch comes from Moz's Rand Fishkin – one of the web's most recognised SEO experts.
Full article is here. Summary below:
A big US university will start offering Internet marketing courses, with SEO classes: Several for-profit universities already offer such courses, but Rand reckons the time has come for a not-for-profit like Stanford getting on board.
Google will expand the capabilities of answer boxes: Rand points to the calculator tool as evidence that Google is already moving beyond simply providing information with Knowledge Graph, and expects Google may partner with third parties to offer services like taxi reservations directly in SERPs.
Facebook will move into web search: After it severed its ties with Bing, Rand proposes that Facebook may develop its own web search capabilities, or choose another partner.
Google will index more of Twitter: Twitter's been doing lots of SEO, and as a result many more of its pages have been appearing in SERPs. Rand expects this trend to continue.
The EU will demand more changes to search: Following the 'success' of the Right to be Forgotten law in Europe, Rand expects the EU to demand more changes to search – but thinks it will stop short of breaking Google in two.
It's going to be harder to determine the source of traffic: Rand estimates at least 40% of traffic will be attributed as 'direct' in Analytics, but lots of this will come from social and search referrers that don't use the proper referral string.
Google, Facebook or Yahoo! will purchase a big content advertising platform: Technology like Outbrain and Taboola, which provide paid-for content recommendations on third-party sites, is ripe for acquisition, Rand says.
Pinterest will become a big player in paid social: We already looked at the challenges Pinterest faces in monetising its services this year. In Rand's opinion, the social platform will overcome these challenges and become a 'juggernaut' in 2015.
Foursquare will be bought out, or merge with someone: But it probably won't shut down entirely, writes Rand.
Google is not under threat from mobile search, or Amazon: Rand points to on-going theories that Google's revenue is under threat from mobile search (because users engage less with ads) and Amazon (because it is becoming the go-to destination for shopping-related queries). However, he believes neither will make much of an impact.
Google Now Gets New Feature, Bugs
Google Now has a new feature, and lots of disgruntled users.
As reported by Search Engine Land, the "intelligent personal assistant" suffered from a bug that causes users' cards to disappear. Though, according to this thread, the issue should now have been resolved.
As for the new feature, the tool now appears to be displaying geographically-relevant backgrounds to users. Presumably, this feature is still in the testing stages.
Google Plans to Make Use of Super-Fast Local Mobile Broadband
This isn't directly search-related, but we thought it was worth mentioning in light of Google's supposed interest in the US car insurance market.
If The Register's report is accurate, the search leader may be interested in entering the mobile phone service provider market too – in a sense, at least.
Google has reportedly met on numerous occasions with the US Federal Communications Commission (FCC) to discuss using the super-fast 3.5ghz spectrum.
The 3.5ghz spectrum allows for incredibly fast data communications, but only over short distances – hence the fact mobile phone companies have so far steered clear of using it.
However, Google may well be interested in it as a means to offer quick, cheap Internet access in cities, where the need for long-distance communication is less pressing.
Google has apparently submitted a proposal to the FCC suggesting the spectrum is opened up on three tiers – first, to the government, then to companies who would be granted exclusive access to a frequency, and finally to the public.
Kieren McCarthy, reporter for The Register, writes:
Taken together, it looks like Google is well positioned to gain access to cheap wireless spectra while also possessing the tools and technologies to make it work and supply a mass market with internet access."
More SEO News and Views
Read last week's SEO news roundup: Google in China, Pigeon in the UK, and the End of Yahoo! Directory.
Download your FREE guide to Google penalty recovery – with everything you need to know about link penalties like Penguin, and six steps to recover your rankings.