Tom Williams has dug up lots of fresh news this week, spanning the world of search engine optimisation.
While we're on the subject of SEO, why not download your FREE 32-page technical SEO guide? It's packed with tips to help give your website a search boost.
Matt Cutts Extends Leave, and Might Never Come Back
In news that's likely to bring a collective tear to the eyes of SEOs the world over, Matt Cutts has hinted he might not be returning to his role as head of webspam at Google.
Cutts first announced he was taking some well-deserved leave via his blog, back in July. Back then, he said he was going to take "a few months of leave" to spend more time with his wife.
However, last week, in a note appended to his original blog post, Cutts said he was extending his leave into next year, as his team was doing "a top-notch job" without him. Commentators began to speculate that the world's best spam fighter might not be coming back.
Now it seems those speculations are increasingly likely to be true. Whilst taking part in a 'This Week at Google' webcast, published on Wednesday, Cutts was asked about his leave, and whether he would return to his role at Google. He had this to say:
I loved the part of my job that dealt with keeping an eye on what important news was happening related to Google, but, it's not clear that having me as a lightning rod for unhappy black hat SEOs, or something, is the best use of anybody's time compared to working on other things making the world better for Google… so we'll see."
Whatever Cutts decides to do, we wish him all the best. You're awesome, Matt.
Apple Experimenting in Search? All Evidence Points to 'Maybe'
Something search-y might be happening at Apple.
On Thursday, Apple Insider reported that a web crawler had been detected, apparently operating from Apple's servers. The intriguing activity was first spotted by developer Jan Moesen:
Does anyone know why Apple is running a web crawler (written in @golang, no less)? http://t.co/5JDTZuplQp

— Jan Moesen (@janmoesen) November 6, 2014
Moesen apparently discovered hits from the crawler dating back to mid-October, and "others have discovered significant traffic to their websites from Apple's mysterious crawler," writes Apple Insider.
The crawler appears to scan HTML only, with no capacity to crawl CSS or JavaScript. So if this software stands as evidence of Apple developing its own search engine to rival Bing and Google, it's not nearly as sophisticated as these big players... yet.
Of course, this could all simply be evidence of an Apple employee messing around at work.
Greg Sterling at Search Engine Land reckons it's a bit more than that, but not quite evidence of big search ambitions. He wrote Friday:
My guess is that Apple is doing something purposeful with a webcrawler. I don't think that Apple will ever take on Google directly by trying to be a general or all-purpose search engine, but web search and related content capabilities are an increasingly important part of the virtual assistant experience."
We'll just have to wait and see.
Bing Introduces New Mobile Bots to Crawl Non-Responsive Mobile Sites
On Monday last week, Bing introduced its new mobile bots, designed to crawl mobile sites that don't use responsive designs.
Bing loves responsive design, and recommends it as "the way forward for future-looking sites". However, the announcement acknowledges that webmasters may choose not to use responsive websites, with Lee Xiong from Bing's Crawl Team writing:
We are cognizant of the fact that many sites still use different URLs for their mobile phone or smart phone customers or have varying levels of user experiences depending on the type of device.

"So, as true advocates for our users, we are very interested in understanding how your content 'renders' on these devices and if it makes a for a good user experience.

"To that end, we have started to probe websites with a number of new crawlers with the aim to give us the best representation of what our users can expect from your website when viewed on their favorite device."
Interestingly, Lee Xiong's comments about "good user experience" reflects recent murmurs from the Google camp suggesting mobile user experience may soon be a ranking factor.
Google says 'Right to Be Forgotten' Ruling Was 'Vague'
Since the 'Right to Be Forgotten' ruling was introduced back in May, Google has received 160,000 deletion requests, and has denied nearly 60% of them. However, it has called the terms of the ruling 'vague' and said it received no official guidance on how to deal with requests.
The remarks were made by Peter Barron, Google's head of European communications, at the Web Summit in Ireland.
Barron's remarks were backed up by Steve Wood, head of policy delivery for the UK Information Commissioner's Officer, also present at the conference.
Wood said "Even in the data protection community, we admit the [court's] decision didn't get into enough details."
However, Wood also promised official guidance criteria was being worked on, with a view to publishing it by the end of the month.
Microsoft Search Chief Says it's 'Unlikely' Bing Will Take Search Market Share From Google
Stefan Weitz, Microsoft's director of search, has admitted it's 'unlikely' Bing will be able to wrestle much market share from Google, reports The Register.
He said "it's unlikely we're going to take share in [the pure search] space", but was optimistic that Bing could triumph with other technologies such as natural language search and machine learning.
By means of an example, Weitz demonstrated Microsoft's multilingual search technology, and also said he believed Bing's image search was better than Google's offering.
He added: "For us, it's less about Bing.com, though that's still important. It's really about how we can instead weave the tech into things you're already doing."
Weitz also said he was 'committed' to ensuring Microsoft had "it's fair share of search in the future".
Baidu Triumphs as Mobile Searches Eclipse Desktop
According to Search Engine Journal, Baidu has seen more mobile traffic than desktop traffic "for the first time ever".
The news was published in the Chinese Search Engine's Q3 earnings report, in which it celebrated a "very strong quarter", mostly as a result of its push for mobile search share.
Commenting on the report, Search Engine Journal's Eli Schwartz pointed out that China is far more mobile orientated in its Internet usage than the US. He wrote: "In the US, Online business can still get away with not having a mobile strategy or even a mobile optimized website.
"However, in China it would be almost impossible to survive without a way of reaching mobile customers. In China, 99% of the online population use a smartphone to access the Internet versus 85% in the US."
US Midterm Election Results: Google and Bing Both Provide Interactive Maps
Searchers in the United States are being presented with interactive maps displaying midterm election results when they search for relevant terms on Google and Bing, reports Search Engine Land.
Though the feature doesn't seem to work here in the UK (even for searches relating to 'US election results'), US searchers are presented with quick answer boxes showing clearly which states voted Republicans, and which voted Democrats.
Here's what Google's version looks like: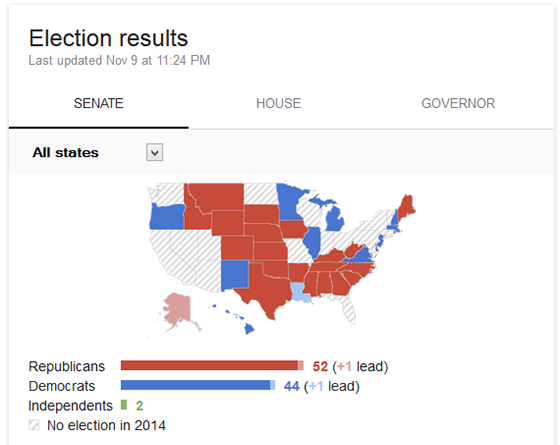 More SEO News and Advice