Welcome to our weekly roundup of search engine optimisation news, compiled by digital executive Tom Williams. First on the agenda this week: Google's decision to switch to 'continuous' Penguin updates.
Penguin to Switch to Continuous Updates
Google has confirmed that Penguin, its link-focussed webspam algorithm, is switching to continuous updates.
In other words, Penguin 3.0 – the latest update – will potentially never finish rolling out, as Google will now make tweaks to the algorithm as it goes along.
Previously, the search giant had said the update would have a "slow worldwide rollout". Not half.
Here's Google's statement on the matter, made in response to Barry Schwartz's investigations and queries:
That last big update is still rolling out — though really there won't be a particularly distinct end-point to the activity, since Penguin is shifting to more continuous updates. The idea is to keep optimizing as we go now."
As Schwartz pointed out, Google's new 'continuous update' philosophy may mean it is now integrating Penguin updates into its live ranking processes.
Up until now, Google has refreshed the algorithm by processing changes offline then 'pushing' the data live, resulting in heavy ranking fluctuations.
What Google means by "keep optimizing as we go", we don't yet know. Will there be a Penguin 4.0, or is Google simply going to tweak 3.0 for the foreseeable future?
It's also unclear how penalty recoveries will work. Potentially, each of these live updates could present webmasters with a recovery opportunity.
Google to Drop Out of Russia, Pulls Google News in Spain
Google isn't having much luck in Europe.
Late last month, the company was faced with a European resolution proposing the "unbundling [of] search engines from other commercial services."
In other words, Europe wants to be able to split Google in two.
Then on Thursday last week, the search engine announced it would be closing Google News in Spain, and pulling Spanish publishers from the service, in anticipation of a stringent new copyright law:
Sadly, as a result of a new Spanish law, we'll shortly have to close Google News in Spain. […] This new legislation requires every Spanish publication to charge services like Google News for showing even the smallest snippet from their publications, whether they want to or not."
The law in question will come into effect on January 1. Google is giving itself plenty of time to avoid potential charges by pulling its News service tomorrow (January 16).
The tears don't end there. According to Search Engine Watch, Google is closing its Russian engineering office. And again, the impetus for the exodus is related to legal matters.
Thanks to a bill passed earlier this year, foreign Internet firms will no longer be able to store data relating to Russian users outside of the country's borders. The law comes into effect on January 1, so Google is getting out.
Other tech firms, like Adobe, have already jumped ship.
What does this mean for Russian internet users? Not an awful lot, hopefully.
In a statement, Google said "We are deeply committed to our Russian users and customers, and we have a dedicated team in Russia working to support them," while pointing out that its other services would continue to operate in Russia.
Google's 'Mobile Friendly' Label Hits the World Stage
Google launched 'mobile-friendly' labels in its mobile search results on November 18, after dropping lots of hints about its new, mobile-focussed direction.
Users in the States saw them straight away, but international searchers had to wait until last Wednesday, when the company announced their worldwide rollout.
Here's the label on a UK mobile search: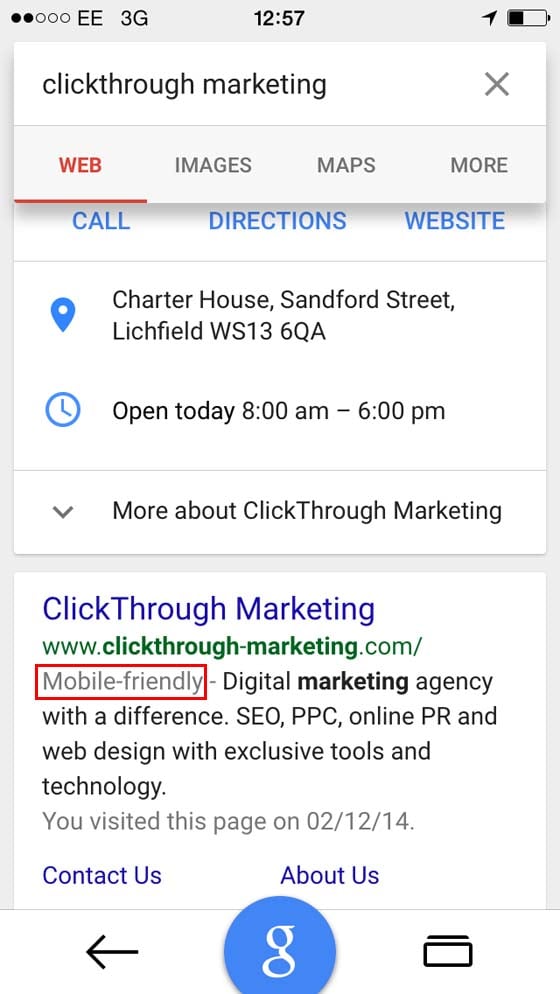 And here's a Japanese example, courtesy of Search Engine Land:

Bing Leads the Way in Safeguarding Kids on Search
On Friday, Bing announced it was adopting a proposed new web safety standard allowing websites to mark up content as child-friendly, and thus make it easier for parents and guardians to provide a safe browsing experience for their children.
The new feature can be switched on in Bing settings, and also requires Windows Family Safety is enabled in their child's account:
The new standard, known as 'safe preference' has been proposed to tackle inconsistencies in the way websites handle their child-safe content – meaning guardians have to visit separate websites in turn to ensure their children can access only appropriate content.
From the draft proposal:
Many Web sites have a 'safe' mode, to assist those who don't want to be exposed (or have their children exposed) to 'objectionable' content.

"However, that goal is often difficult to achieve, because of the need to go to each Web site in turn, navigate to the appropriate page (possibly creating an account along the way) to get a cookie set in the browser, for each browser on every device used.

"If this desire is proactively advertised by the user agent, things become much simpler."
Bing is the first search engine to adopt the standard. However, the usefulness of the feature will be determined by the willingness of webmasters to mark up their content appropriately.
The feature is currently supported for Bing users on Internet Explorer and Firefox.
More SEO News and Views
Read last week's SEO news roundup.
Download your FREE guide to link penalty recovery – including our proven six-step recovery process.