This is a timely question since Google's Universal Analytics was recently announced in Public Beta. In fact, Bryn Firkins, our Director of Analytics & Conversion has written asking a similar question too outlining his advice. I absolutely agree when he says that "90% of Google Analytics accounts I've ever looked at aren't being utilised to their maximum potential" and spend a lot of time myself helping companies customise their tracking and reports. So I would advise looking at opportunities to apply Event Tracking, Custom Variables and Advanced Segments better, independent of Universal Analytics. Since Universal Analytics is such a major change to the analytics offering from Google Analytics, I thought I would give my take too, explaining the main commercial reasons for adding Universal Analytics tags.
if you're creating a new Account on Google Analytics (or a new property on an existing account) you're given a choice of the new service as shown by the example below. For existing site profiles, you may want to consider adding Universal Analytics to your current Google Analytics tracking tags - which you will want to retain for historical data comparison and some features that Universal Analytics doesn't support.
If you're wondering what Universal Analytics offers, then this is also one of the best ways of reviewing the technical differences for those who haven't seen it yet.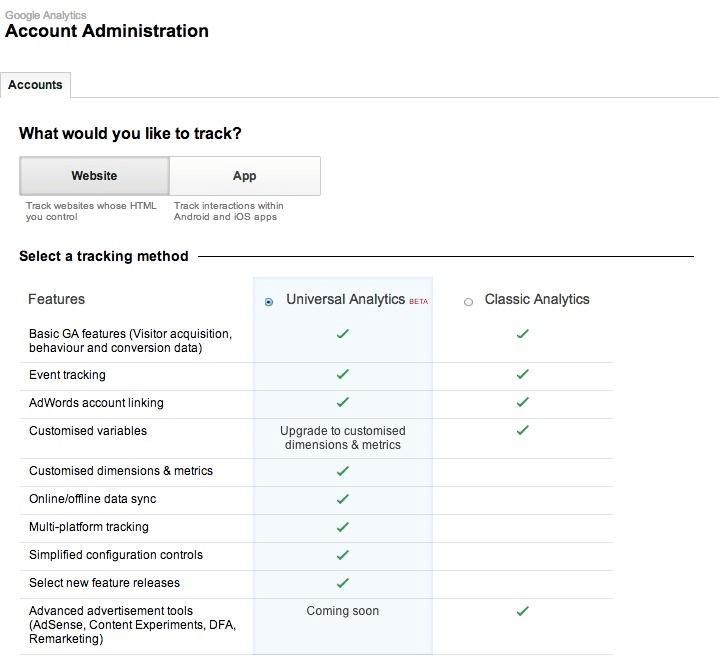 Commercial reasons for switching to Universal Analytics
The image doesn't really explain the commercial reasons why you want to switch. In a word the reason is accountability. That's accountability for media investments given that today's consumer is omnichannel - they may click on ads on different display and social networks across their desktop, mobile or tablet devices. I think there are 3 main reasons outlined below. There are other performance improvements, but those alone wouldn't justify the change.
1. Cross-device tracking
With different tracking cookies placed on each device, it's not possible to readily determine whether initial awareness generated from a user viewing or clicking an ad on one device translates into ROI from a sale on another device. As this post by consultant Damion Brown explains, Universal analytics enables the customer ids for signed-in users to be shared between devices, allowing the influence of different marketing touchpoints on different devices to be assessed. Note the emphasis on signed-in users - this will work best for sites where there are many logged-in users and naturally users often won't be signed-in until they have purchased. So I think it's main value will be to help track cross-channel behaviour of prospects and customers.
2. Integration of offline data
Perhaps even more significant is that Universal Analytics enables data to be integrated from offline interactions too using a data exchange approach called the Measurement Protocol. So if you are a travel or financial services companies where many sales are made by phone, then information about the offline purchase can be stored in Google Analytics. This is already possible if you integrate call-tracking systems with Google Analytics. Some are suggesting that in-store Point-of-Sale systems will be integrated with Universal Analytics particularly interesting where these systems hold a customer id as they do for some electronics or B2B chains.
3. Custom dimensions for analysis of new data types
The third major benefit of Universal Analytics is that custom dimensions and metrics can be defined to store additional information about customers such as demographics or category purchase preference. This is already possible using custom variables and some retailers and publishers use them in this way, but they are limited in number.
So big changes, with potentially large improvements in insight, but we're not talking about changes to the user interface, rather these are changes to data collection which will need a project to be signed-off to implement and will have to be considered alongside other business intelligence, data warehouse and Big Data projects.
Should we implement the Universal Analytics tracking code
At a more practical level, the question remains, should we implement the Universal Analytics tracking code now?? We were recently asked this question on the Smart Insights Answers forum and four consultants chipped in to answer. The advice was Yes, but most acknowledged that they were working with clients currently to improve the setup and customisation in the current Google Analytics.
The reasons for the recommendation to implement the Universal Analytics tracking code now is that it's a separate data store, so if you want to view historical analytics data, as you will, you will only be able to look back as far as when Universal Analytics code was added to the site. So even if you don't use the more sophisticated integrations we have discussed, my advice is to implement both classic and Universal Analytics tracking code as soon as practical.
So, all the best with your installation. If you're at the ClickThrough Future of Search client conference, I look forward to meeting you there, I'm sure this is a topic we will be discussing!