Amy Dugmore brings you all the latest social media marketing news from the past seven days, including Facebook Messenger achieves 800 million users, Twitter launches Conversational Ads, and SnapChat shuts its lens store.
Is Twitter Considering Long-Form Tweets?
Is Twitter set to offer long-form content? According to re/code, the company is testing a tool which will allow users to tweet up to 10,000 characters. The site reports that while tweets would continue to display 140 characters, they would also include a call to action inviting users to click and read more.
Twitter has not confirmed the rumours. However, CEO Jack Dorsey tweeted to explain why extending the character limit could be a positive change – while also trying to appease fans of the current short, snappy character limit. He explained:
We've spent a lot of time observing what people are doing on Twitter, and we see them taking screenshots of text and tweeting it.

Instead, what if that text… was actually text? Text that could be searched. Text that could be highlighted. That's more utility and power.
The 10,000-character limit would bring tweets in line with DMs, Twitter's private messaging feature, which were updated to increase character limit from 140 to 10,000 characters in August 2015.
Facebook Messenger Records 800 Million Users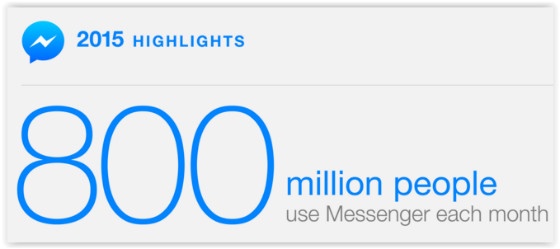 Facebook Messenger has broken the 800 million user mark. David Marcus, Facebook's VP of Messaging Products, took to the Newsroom to break the news, and to share some of his key Messenger trends predictions for the year ahead.
According to Marcus, 2016 will see the "disappearance of the phone number" as Messenger's features will make this obsolete. He also predicts that threads will replace apps, and that the Facebook team will continue to innovate and develop new features for Messenger.
Facebook also posted its predictions for 2016 in an easy to view infographic.
Twitter Ads Get Chatty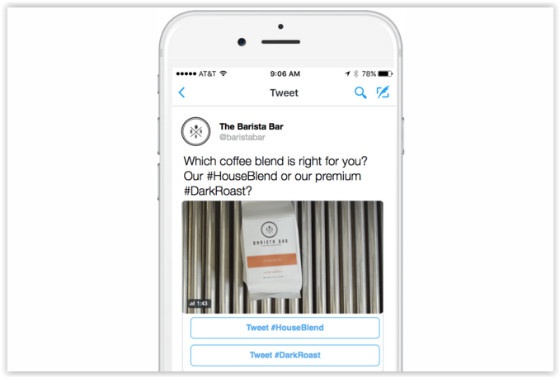 Twitter has started the New Year by launching a new ad type. Called Conversational Ads, the new format is designed to drive user engagement and conversation around a brand. The ads will feature several call to action buttons, each with a customisable hashtag. Users can choose to click on the call to action button which most appeals to them and then retweet the message, complete with the predefined hashtag.
Writing on the Twitter blog, Revenue Product Manager Andrew Blagdon explained the value of this new ad format:
"Each shared Tweet is powerful because it drives earned media for the brand at no extra cost, resulting in higher ROI. Additionally, research has shown that organic conversation about a brand delivers significant value for advertisers."
Twitter beta partners, including Samsung and Lifetime, have already tested the feature.
SnapChat Focuses On Sponsored Lenses
SnapChat is shutting down its lens store. Previously, the social network allowed users to animate their images by purchasing lenses for $1 (£0.68) each. The change will allow Snapchat to focus on its advertising products, including sponsored lenses branded with images and graphics from films or products.
The lens store closes today (8 January, 2016). However, users will still be able to choose from 10 free lenses to use each day.
More Social Media Marketing News and Advice
Read last week's social media news roundup: What Are People Searching For?
Get 2016 off to a great start with a full year of planned content to engage your customers. Download our free eBook Editorial Calendars for Content Marketing and discover the key ingredients of a great editorial calendar.