Amy Dugmore brings you this week's social media marketing news, as Facebook is embraced by 14% of the global population, Instagram gets saturated and new Emojis are unveiled for 2016.
Facebook Breaks 1 Billion A Day Mark
Facebook CEO Mark Zuckerberg announced earlier this week that the social media site had achieved another major milestone, with one billion users logging into the site on Monday, August 24, 2015. That's 1 in 7 humans on the planet or 14% of the global population.
Zuckerberg said:
When we talk about our financials, we use average numbers, but this is different. This was the first time we reached this milestone, and it's just the beginning of connecting the whole world.
Facebook could see further user growth thanks to its new story post format, which it announced it is testing. The new format will allow photo albums to display as an automatically playing slideshow within the News Feed. As yet, there's no news on when – or even if – this feature will be rolled out to all users.
Is Instagram Saturated?
A recent study by Locowise has revealed that Instagram follower growth and engagement have declined. According to the Locowise report, this may be a sign that the photo-sharing platform is reaching its saturation point.
Of course, that's not the full picture. The data Locowise compared was for May vs. July this year and does not take into account seasonality. What's more, as Locowise points out, the launch of paid Instagram advertising for all brands may well have contributed to a decrease in bot account activity. These fake profiles follow and engage with other accounts in order to boost organic engagement. However, the arrival of legitimate paid options is likely to decrease the need for unauthorised tactics.
According to the latest quarterly report from Facebook 300 million people now actively use Instagram. Facebook reports that a user spends 46 minutes per day between Facebook, Facebook Messenger, and Instagram. 32% of US teens see Instagram as their main platform compared to 24% for Twitter and 14% for Facebook.
Facebook Encourages Charity Giving
Non-profits can look forward to increased donations, thanks to the release of a "Donate Now" button by Facebook. The new feature will appear on the Facebook pages and ads of non-profit organisations. Users who click on the link will be directed to the organisation's website to donate. In order to implement the button, Page Managers need to make sure that their Page category is set to "Non-Profit Organisation".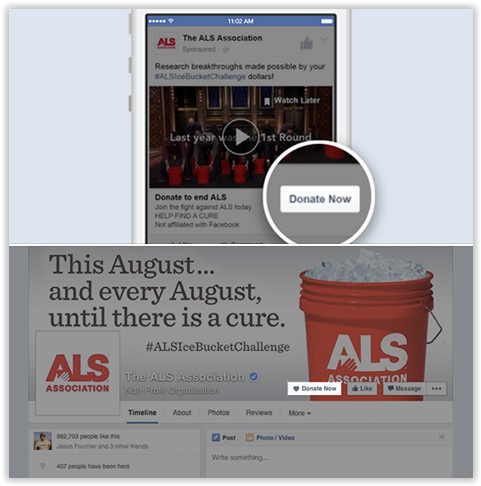 The bad news is this could see a return to favour of the Ice Bucket Challenge. You have been warned!
SlideShare Introduces Clipping Save and Share Option
SlideShare has released a new feature to make it easy for users to save and share their favourite slides. Known as Clipping, it enables users to select specific slides from within a deck and to save them to their own clipboard.
The new feature ties in with a rebrand for the platform, which will now be known as LinkedIn SlideShare to reinforce its connections with the professional network.
TechCrunch has pointed out that the Clipboard shares more than a passing resemblance to Pinterest boards, making SlideShare the third social network this year to try to recreate the Pinterest format. (The others are Google+ and Twitter.) See our previous Social Media News Roundups on this: Facebook Vs YouTube and Google+ Launches 'Collections' – But is it Enough to Save the Social Network?
Welcome the New Emojis
And in other important news… Emojipedia has revealed the 38 new emojis vying for release next year. The suggested additions include nauseated face, clown face and selfie, as well as pregnant lady, fingers crossed and clinking glasses.
All candidates will need to be approved by the Unicode Consortium before becoming available to users in mid-2016. Healthy eating fans will no doubt be eagerly awaiting the launch of the avocado, cucumber and carrot emojis.
Here are a few of the emojis which could be approved:
More Social Media Marketing News and Advice
Read last week's social media news roundup: The Changing Face of eLaughter
Want to learn how to get quality leads and improve engagement with your online content? Download our free Editorial Calendar white paper and take your content by the horns.