Amy Dugmore brings you this week's social media marketing news, including unveiling Facebook's new friends and groups icons, Twitter's new birthday settings, photo size changes at Instagram and selfie opportunities on Mount Fuji
Users Gain Control on Facebook's News Feed
Facebook is giving users even more control over what appears in their News Feed. In the latest change, users will now be able to choose which other Facebook users or brand pages appear first in their feed, while also having the option to reconnect with pages or users whose updates they have previously unfollowed.
Facebook Product Manager Jacob Frantz announced the update on the company's news page. He explained: We've redesigned and expanded Facebook's News Feed Preferences to give you more control.
Users can now set their preferences to select which pages and friends they want to see first, find new pages to connect to, and select which friends and pages to follow or unfollow.
The new preferences are available for those using Facebook on iOS while Android and desktop will be rolled out in the coming weeks. Users need to tap 'More' in the bottom right hand corner of the screen to enter the News Feed Preferences via Settings.
Happy Birthday To You – From Twitter
Twitter hopes to improve ad targeting by adding date of birth info to profiles. Twitter Product Manager Ricardo Castro took to the blog to explain the update to profiles, which will now allow users to add their date of birth to their profiles.
No doubt, the social network will be looking to benefit from the additional personal data, which will allow it to increase the ad targeting options currently offered.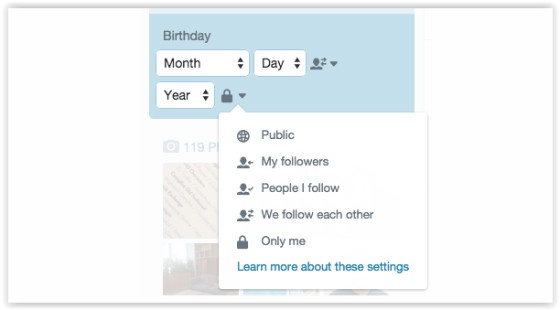 To mark the change, Twitter invited users to celebrate their birthdays using the hashtag #HBD. So far, the hashtag has seen an increase in retweets, to 2,100 on 7th July. Unique tweets peaked on 6th July, at 1,500.
Women Now Front and Centre on Facebook
Facebook is putting women in the driving seat with its latest style changes. Company designer Caitlin Winner has made some visual updates to the icons used to represent friends and groups on the platform, putting women front and centre.
Previously, the icons had been fronted by a male silhouette, but the new icons, which also feature fresh new haircuts, place the woman in front for friends and centre for groups, backed up by two men.
Facebook Makes Changes to Cost per Click Measurement
Facebook has changed the way it defines cost per click (CPC) for its advertisers. Now, CPC will only include clicks to websites and apps, and not likes, shares and comments. The aim, Facebook says, is to help advertisers better understand how their ads perform.
Historically, CPC included any click within an ad unit. The new update will see CPC only taking into account link clicks, which are clicks related to certain ad objectives. These include:
Clicks to visit another website
Call-to-action clicks, such as Buy Now
Clicks to install an app
Clicks to Facebook canvas apps
Clicks to view a video from another website
The change, which is part of the platform's latest API release, will take effect in Ads Manager and Power Editor in the coming weeks.
Instagram Gets the Bigger Picture
Instagram could soon be hosting bigger and better photos as the platform works to change its resolution formatting. Instagram has, until now, posted photos at 640 x 640 resolution. However, Vlad Savov, writing in The Verge, reported earlier this week that photos are now being stored on Instagram at the higher 1080 x 1080 size.
However, don't get too excited just yet. The images may well be stored in a higher resolution, but they are still displaying in the smaller default size for now on desktop. Mobile users on iOS and Android can see the larger file sizes, although this doesn't really transfer across because of the smaller screen sizes.
Take a Selfie on Mount Fuji
Those of us that struggle to get a WiFi reception even at home will be awed by Japan Tourism's new offer to climbers tackling the country's highest mountain. From today, 10th July, until September, Mount Fuji will offer eight free WiFi hotspots on the route to the summit to enable climbers to share their exploits with the world.
The move followed a multitude of requests from tourists who wanted to use the internet while hiking up the mountain. However, it has been met with mixed reviews, with some pointing to the fact that climbing while using a smartphone might not be safe. And the question remains – will selfie sticks be allowed at the summit?!
More Social Media Marketing News and Advice
Read last week's social media news roundup: Leap Second Puts Networks Out of Sync
Learn the six big reasons why your business needs a content calendar. Download our free Editorial Calendar white paper today.