Amy Dugmore brings you this week's social media marketing news, as Instagram takes its advertising offering to 30 new countries, the UK Government launches a parent's guide to social media chat and Facebook updates business pages.
Instagram Adds More Advertising Options
Instagram has opened its advertising platform to businesses of all sizes. The photo-sharing network has also extended its advertising offering to more than 30 new countries, including India, Italy and Spain.
According to the company's blog: "Businesses of all sizes have been testing these new capabilities this summer with positive results, and we're seeing significant demand, particularly in areas like e-commerce, travel, entertainment and retail. We're thrilled to see what brands can achieve in the months ahead using Instagram as their creative canvas."
The photo-sharing site also added a number of new capabilities:
Landscape photo and video
Video ads
Marquee, a new premium product created to drive mass awareness and expanded reach in a short time-frame
Delivery and optimization tools for managing campaigns across Instagram and Facebook
UK Government Launches Parent's Guide to Social Media Chat
If, as a parent, you've ever wondered what "IRL" (in real life) or "KPC" (keep parents clueless) means in social media chat, you're not alone. Fortunately, the UK Government is on hand to translate children's social media chat with its new initiative – ParentInfo. The website is designed to help parents understand their children's online conversations by providing definitions to many of the acronyms used.
By providing parents with the tools to better understand their children's online lives, the aim of the website is to enable parents to have conversations with their children about online safety and social sharing.
The Department for Education (DfE) says that one in five parents feel "ill equipped" to keep their children safe online. The DfE reports that 550 schools have already registered for ParentInfo.
TV Stations Tune Out on Social at Weekends
TV channels who dial down social media activity over the weekend are missing out on reaching viewers at their most engaged. That's according to a recent study by Brandwatch, which found that while weekends were the busiest time for audiences to discuss TV on social media, it was also the least active time for TV channels to post and engage.
According to The Drum, the result of this misalignment of posting activity with audience activity means that TV channels are missing out on the best times to increase their reach and boost their popularity.
The Brandwatch survey included 35 TV networks as well as streaming services such as Netflix.
Facebook Updates Business Pages for Mobile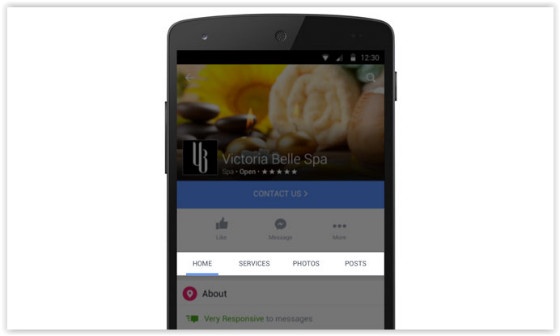 Facebook has updated its business pages for mobile. Updates include prominent new call-to-action buttons designed to encourage users to engage with the brand's Facebook page. In addition to "Contact Us", the network is also testing "Call Now" and "Send Message" buttons, giving brands the control to choose their preferred action and keep their page closely focused on their objectives.
Brand pages will also have the option to choose additional sections for their pages, including the "Shop" section for retailers and the "Services" option for service providers.
Facebook has also announced that it will make improvements to Pages layout in the coming weeks, with Page tabs being added. Watch this space!
More Social Media Marketing News and Advice
Read last week's social media news roundup: Emojis Grow on LinkedIn and Instagram
Struggling to create structured content marketing campaigns that improve your traffic, conversions and social influence? Download our free Editorial Calendar white paper and learn from our expert tips for B2B and B2C businesses.