James Allen takes a look at this week's social media news, including a redesign for Instagram, Facebook stops sponsored streams in live videos, YouTube launches in-app messaging, and Twitter re-categorises in the App Store.
Instagram Redesigns Its Logo and App
Instagram has changed its app logo, and the look of the app interface itself. Instagram did this in an attempt to make the networking platform look simpler, to put focus on users' photos and videos, rather than drawing attention away with the logo and style.
Instagram said in a blog post:
Today we're introducing a new look. You'll see an updated icon and app design for Instagram. Inspired by the previous app icon, the new one represents a simpler camera, and the rainbow lives on in gradient form.

We've made improvements to how the Instagram app looks on the inside, as well. The simpler design puts more focus on your photos and videos without changing how you navigate the app.
Facebook Adds New Restriction For Paid Live Publishers.
Facebook has prohibited paid live publishers from taking payment from other brands in return for featuring them in live videos. The action was taken to stop paid live publishers selling sponsored streams, as part of Facebooks pay-to-stream deals it has with media companies. Facebook is looking into tightening up regulations for live videos, and adding a branded content tag to live-videos that include branded content.
YouTube Releasing In-App Messaging On iOS And Android
YouTube is in the process of testing an in-app messaging feature. The feature allows users to chat amongst each other and share videos directly without the need to use another platform. Currently, the service is being tested by small groups of users, but YouTube hopes word of mouth will extend the user base, eventually leading to YouTube messaging becoming a globally used feature.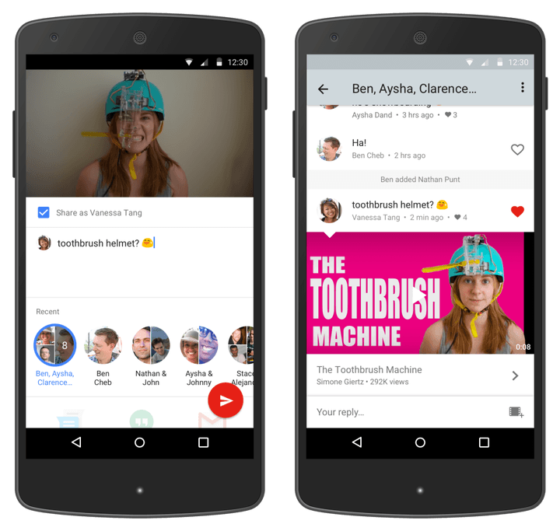 Facebook Retargeted Ads Now Available For Instagram
Facebook has made its retargeted ad feature available for Instagram. Retargeted ads are the adverts that focus themselves on people who have previously visited the site of the advertiser. Facebook first made these available on the social networking platform in February 2015. Now, over a year later, Facebook is making these dynamic adverts available for Instagram.
Instagram described the new feature in a business blog:
Dynamic ads on Instagram let you promote the right products to the right person at the right time. When someone visits your website or mobile app, then later looks at Instagram, they'll be served an ad featuring multiple, related products from ones they were browsing on your site or app.
Twitter Re-categorised Itself in the Apple App Store
Twitter has re-categorised itself in the Apple App Store from a social networking app to a news app. It ranked fifth among free apps on the marketplace, but since its re-categorisation, it ranks number one for news. Journalist, Cory Bergman, posted a screenshot of Twitter in the App Store on Twitter:
Twitter was the one responsible for the switch from social networking to news in the App Store, not Apple. The platform appears to have changed the app to news when it updated it on 27 April 2016.
More Social Media Marketing News and Advice
Get your brand more visibility. Find out about our Social Media Management services today.