In this week's Social Media Marketing News roundup Amy Dugmore covers Periscope's launch on Android - including its new to Android features, considers the importance of Instagram's new email Highlights at driving user engagement and reviews 2015's Social Media trends so far
Periscope Launches on Android with Added Features
Twitter's Periscope video broadcast app went live on Android this week, just two months after its initial launch on Apple devices via iOS.
Available through Google Play for Android users operating Version 4.4 (KitKat) and above, the app will offer all the usual features – public or private broadcast, comments and interaction – as well as some new features unique to Android.
Periscope announced that the application features a 'material-inspired' design, new to Android. Also new to Android users is added control over additional Push Notifications, such as "First Time Broadcast" notifications, which will alert you when someone you follow on Twitter broadcasts via Periscope for the first time.
Twitter bought out Periscope in January 2015. It claims there were more than one million downloads of the Apple version of the app in its first week of launch. It will be interesting to see if Android users embrace Periscope in the same way.
Instagram Email Highlights Designed to Re-Engage Audience
Instagram is working on customer re-engagement using email Highlights to lure people back to the photo sharing site.
Since launching in October 2010, Instagram has shared more than 30 billion photos, with an average of 70 million photos uploaded per day. The sheer volume has created challenges for users navigating the service, as they get overwhelmed with media.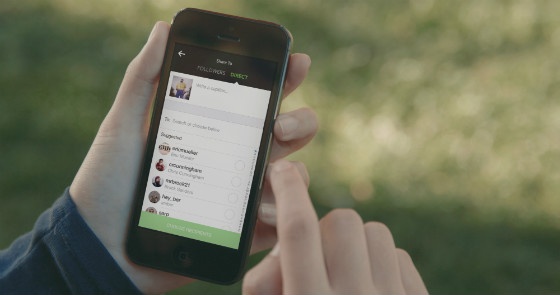 Concerned that the sensory overload may be too much for some users, the Highlights email aims to pull people back in by offering them a showcase of some of the most popular images of those you follow.
This 'see what you're missing' strategy is not new to social media. Facebook and Twitter have both adopted it with some success.
As engadget.com points out: the Highlight email also means you end up viewing more ads, but on the flipside it does save time browsing through a seemingly never-ending image stream.
Snapchat considers adding self-service ad platform
Snapchat's CEO, Evan Spiegel, has announced that the messaging app could soon be offering brands the chance to promote themselves via a self-service ad platform, Marketing Land reported.
Talking at the Code Conference in the US earlier this week he said his aim is to "make it easier for brands to be brands" and that "self-serve advertising is part of that".
Historically, Snapchat has offered ad units within its Stories and Discovery features, with campaigns reported to cost up to $750,000 a day.
Snapchat now has 100 million daily active users.
2015 Trends so far
Social Media Examiner has compiled the results of recent surveys to present its Social Media Marketing Trends for 2015. Check if your social media marketing choices are on track:
Sales via social media are rising – research shows that, in 2014, total social commerce sales reached $3.3 billion, up 26% from $2.62 billion in 2013.
Social Media consumption takes off on mobile – comScore's March 2015 study 'US Digital Future in Focus' revealed that mobile access to the Internet has quadrupled over the past four years.
Podcasting gains traction – According to Social Media Examiner, 44% of Americans are now listening to streaming audio. The March 2015 Edison Research report 'The Infinite Dial 2015' showed that monthly audio podcast consumption increased from 39 million monthly users in 2014 to 46 million in 2015, up 18%.
Facebook domination continues – Gigya reported in Q4, 2014 that Facebook accounts for 61% of all social logins and 72% of all ecommerce social logins.
More Social Media Marketing News and Tips
Read last week's Social Media News Roundup: Domino's Pizza Does 'Emojigeddon' to Promote New Twitter Delivery Service
Download your free guide to creating successful content calendars, which includes a free to download social media calendar template