James Allen runs through this week's social media marketing news, including the arrival of Pinterest Promoted Pins in the UK, increasing revenue form Facebook mobile ads, and Sprout Social releases new report feature.
Pinterest Releases Promoted Pins in the UK
Pinterest has released a new feature known as 'promoted pins' to its UK platform. Promoted Pins are Pinterest's version of paid ads, and allow brands to achieve greater exposure on their content. The new feature is designed for US and UK based businesses, and aims to help them reach their marketing goals via increasing brand awareness, engagement and site traffic.
Facebook Sees an Increase in Mobile Ad Revenue
Facebook has seen significant YoY increases in ad revenue since Q1 2015. Facebook's total advertising revenue grew 57% YoY, hitting $5.20 billion in Q1 2016. A 76% YoY increase in mobile ad revenue contributed to 82% of Facebook's ad revenue, generating a total of $4.26 billion out of the $5.20 billion made by the social media platform in the first quarter.
Weak Ad Business Causes Twitter to Miss Revenue Estimates
Twitter has been struggling to grow its revenue in the first quarter of 2016. Twitter achieved a total revenue of $594.5 million, and although this is a 36% increase on last year's figures, it still falls short of the $607.8 million target that analysts projected. Twitter announced in Q1 2016 that it had made a net loss of $80 million. Twitter stated in a recent earnings letter that the cause for this was its advertising business:
Brand marketers did not increase spend as quickly as expected in the first quarter
Sprout Social Release Task Performance Report Feature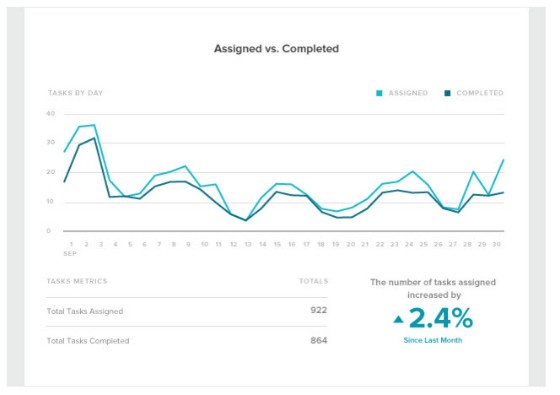 On 27 April, Sprout released its new feature, a Task Performance Report Tool. This tool is designed to measure agent productivity. The task performance report uses an 'Assigned vs Completed' chart to show if your team is staying on track and completing the right tasks in time. It also offers a Task Performance Board that shows which team members have followed a task through from assignment all the way to completion.
More Social Media Marketing News and Advice
To find out how our social media marketing experts can assist you with your next campaign, get in touch today.