Amy Dugmore brings you all the latest social media marketing news from the past seven days, as Twitter Grows 'Buy Now' network, Facebook revamps for mobile and Snowden joins the Twitterati.
Twitter Expands eCommerce Activities
Twitter is making it easier for brands of all sizes to sell their products on the platform. The social network began testing a "Buy Now" button last year among a small number of US retailers and consumers. The button makes it possible for users to buy directly via a tweet.
Now, Twitter has announced new partnerships with several ecommerce platforms, which will make the "Buy Now" button available to a wider range of businesses. The ecommerce platforms include Shopify, Demandware and BigCommerce. According to the Twitter blog, the commerce partnerships are powered by Stripe Relay.
Nathan Hubbard, VP of Commerce, took to the blog to write:
The goal for all our commerce initiatives on Twitter is simple: make it as easy as possible for businesses to connect directly with, and sell to, customers on Twitter. With Buy Now, businesses can drive more conversions and remove much of the friction in the mobile purchasing process.
Currently, the "Buy Now" feature is only available in the US.
Edward Snowden Now on Twitter
Twitter account of the week goes to Edward Snowden. He joined Twitter on Tuesday, with the @Snowden handle. His first tweet, "Can you hear me now?" has so far received 114,686 retweets and 107,727 favourites, while his profile already has 1.16m followers.
The whistleblower – currently living in Russia after being granted asylum – links to the Freedom of the Press Foundation's Twitter account via his page.
The first account to be followed by @Snowden: the National Security Agency's (NSA) official account, of course.
New Look for Facebook Mobile
Ready to get creative with your Facebook profile? The social network is testing video profile pictures as part of a mobile profile redesign project. If the new feature is approved, users will be able to add seven-second looping videos as their profile image.
Other additions to the revamped profile page include the ability to set a profile image with a time limit, enabling users to set a specific date at which the image should revert back to their previous photo. There will also be changes to the About text, such as a short bio area and the ability to use emojis.
Facebook Finally Sees Sense Over RNIB Ad Ban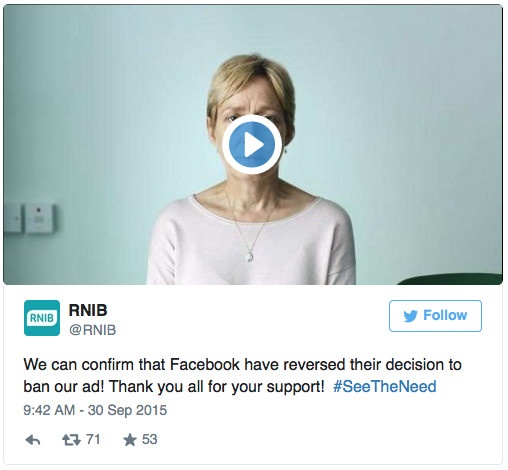 Facebook has reversed its decision to block an advert by the RNIB. The social network had previously banned the ad, which addresses the viewer directly with a voiceover about the impact of sight loss, claiming that it was too hard-hitting.
According to Facebook, users dislike ads that address them directly. A spokesperson for the platform explained the decision in more detail: "Ads should not single out individuals or degrade people. We don't accept language like 'fear of losing your sight, losing your job?' and the like. Instead, text must present realistic and accurate information in a neutral or positive way and should not have any direct attribution to people."
However, following a campaign by RNIB to challenge the decision, Facebook has reviewed the ad content in more detail and agreed to reinstate it.
Facebook Down – Call 999
And finally, frustrated by the Facebook outages this week? Spare a thought for the police. Forces in both the UK and the US received calls to report that the social networking site was down. Kingston Police in Surrey was one of the forces that took to Twitter to explain to residents that they couldn't fix the problem:
The world's second most popular website was down for around 30 minutes on September 24 and again on Monday September 28, causing widespread panic for selfie-takers the world over.
Many of us will look back on this momentous event and be able to pinpoint exactly where we were the moment Facebook dropped out – we were on Twitter.
More Social Media Marketing News and Advice
Read last week's social media news roundup: Christmas Comes Early to Pinterest
Need targeted content to underpin your inbound marketing campaigns? Download your free guide to Content Ideation today and learn from the experts.