Lisa Coghlan rounds up the latest in social media platform updates and news, including Instagram's new 'Videos You Might Like' feature, using Twitter during breaking news, and the changing levels of engagment on Facebook.
Instagram Makes Video Suggestions Part of Explore Page
Instagram's 'Explore' page has had a revamp, with the addition of a new personalised channel for videos: Videos You Might Like.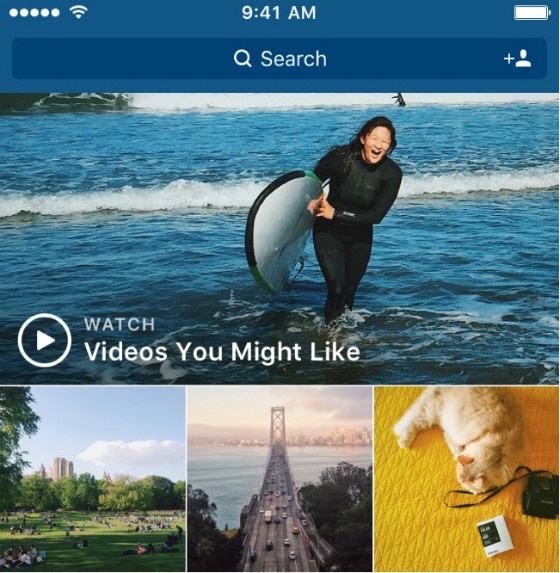 Instagram shared the update in a blog stating that the feature is currently only available to users in the US, adding, "We're working to bring this to the rest of the world soon." The new 'Videos You Might Like' channel is part of the 7.2 Instagram update recently released on iOS and Android.
Instagram stated:
As people share more videos than ever before, we're making it easier to discover the ones you'll love. To begin, you'll find a personalized channel called "Videos You Might Like" that collects videos from across Instagram's global community into a seamless viewing experience. And as you scroll through the Explore grid, you may also see "Featured" channels filled with videos on specific topics.
How To Use Twitter To Engage During Breaking News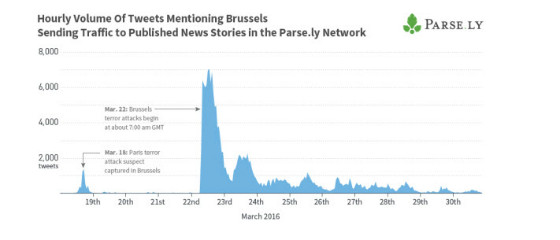 After a recent report from Parse.ly, some of the advantages of Twitter's performance when reaching niche audience during breaking news stories have been revealed and clarified.
On a daily basis, Twitter doesn't refer a significant amount of traffic to publishers, with 1.5 % accounting for publisher's traffic coming from Twitter. However, Twitter can be an excellent source of traffic when harnessed in the right way, at the right time.
In March 2016, users sent out 1.9 million tweets on the topic of the US presidential race, a prime example of a good opportunity for publishers looking to increase engagement with users and win referral traffic. Similarly, in the wake of the Brussels terror attacks, Twitter saw huge amounts of content on the subject.
Parse.ly concluded:
Twitter acts as a "public square" where ongoing conversations happen around long-lived news topics. When it comes to breaking news, Twitter is a place journalists post their earliest reports and seek immediate confirmation of reports coming from other news outlets … News really does "start" on Twitter.
How Long Should Your Best Tweet Be?
Marketingland take a look at the length of tweets and how this can affect performance on the social media platform.
In order to gauge the performance of long/short tweets, Marketingland carried out a study on 300 of the most popular Twitter accounts. These included celebrity and media accounts, as well as a number of brand accounts.
The data from the research suggests that longer tweets (130-140 characters) are popular amongst the accounts that were used as part of the study, however, this does not mean that shorter tweets are any less popular amongst their audience. The results show that short tweets get just as many retweets as longer ones. Take a closer look at the summarised findings from the study below:
Facebook Users Share More, Like Less
Some new research from Rival IQ reveals that Facebook's only post engagement metric with a YoY increase in 2015 was the use of share.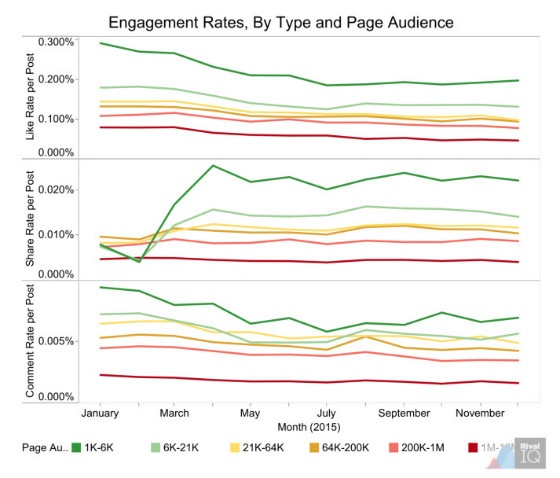 This study revealed that there has been a shift in the way people are engaging on Facebook, with likes and comments decreasing YoY.
The study suggests that Facebook's attempts to decrease spam in the form of false comments, likes and shares has had an impact on the data. With the removal of spam interaction, we may now be seeing a truer view of user engagement on the platform.
The study also suggests that users, and brands, are now more aware of how interaction and good quality content can mean increased visibility within the newsfeed. Upward trends in data at the end of Q1 also suggest that changes to Messenger features as well as the introduction of the iOS share extensions has given users more sharing facilities.
The overall results see users adapting to the Facebook's changes and adjusting the way that the interact on the platform altogether.
Check out the full Facebook engagement study or reach out to our social media marketing experts for more information on making the most out of Facebook Pages.
More Social Media Marketing News and Advice
Read last month's social media news roundup: Facebook Reactions Give Marketers More
Need expert guidance with your social media marketing channels? Contact our social media experts for professional advice.