Launched in 2007, BrightEdge is fast becoming the 'go to' tool for SEO practitioners. In this Technical Spotlight, our experts review the SEO and content performance marketing platform and explain how its keyword database, competitor recommendations and backlink data can help you map out a more productive SEO strategy.
Table of Contents
THE ELEVATOR PITCH
"BrightEdge is an enterprise technology used to automate and prioritise SEO and content marketing for big brands and leading agencies."
Overview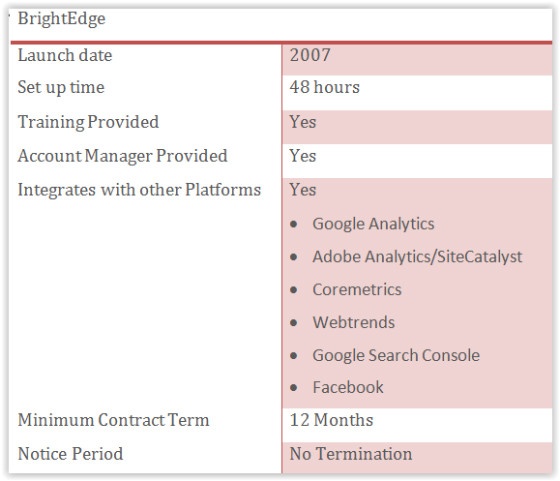 BrightEdge is an enterprise-level SEO and content performance platform. Its software as a service (SaaS) is used by leading B2B and B2C enterprises across a variety of industries, including retailers, hotel chains, banks, tech companies and digital agencies.
Constantly updated, with a database of more than 3 million keywords and the ability to provide in-depth competitor reporting, BrightEdge is fast becoming the 'go to' tool for SEO agencies and digital marketing professionals. It provides extensive SEO reporting, Google Analytics integration, and competitive research, which enable clients and SEO agencies to spend more time on strategy and implementing the many recommendations to come out of the tool. BrightEdge will help you craft better performing content and find niche opportunities targeted to your sector.
BrightEdge Key Features
Data Cube
Share of Voice
Recommendations
StoryBuilder
Anomaly Detection
Data Cube – Keyword and content database with more than 3 billion keywords, including search terms and rich media. The Data Cube enables marketers to conduct URL or keyword based research in real time. Research can be conducted either based on goals or freeform, enabling users to focus on what matters most.
Share of Voice – Patented technology to understand market share at a site, keyword group, topic area and keyword level. This enables marketers to understand and benchmark against their competitors as well as identify gaps in content.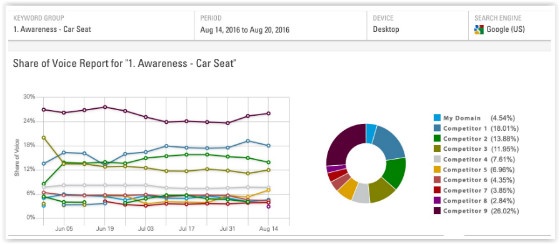 Recommendations – Recommendations for how to improve pages to increase ranking, based on comparison against the top ten ranking pages for the keywords that page is targeting. Along with keyword recommendations, BrightEdge also provides on-page, backlink, internal linking and social recommendations to improve your site.
StoryBuilder - Combine data from Google Analytics, Google Search Console, Backlinks, Social and SEO data together to quickly create customised reports for all relevant stakeholders to show business value. StoryBuilder integrates all content datasets to provide measurable results in real time. Using it, marketers can easily build charts and dashboards, answer questions and compare year on year revenue.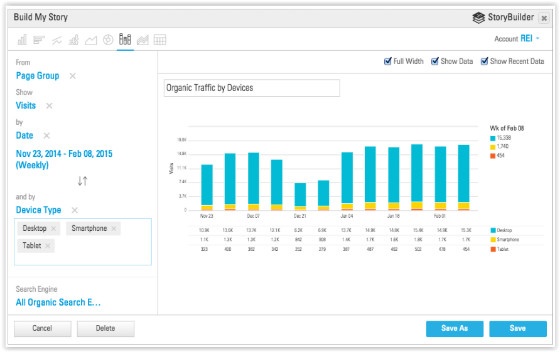 Anomaly Detection - Helps brands and agency partners identify and react to weekly trends on a range of powerful data sets, including analytics, GWT, social signal, backlink, and rank movements.
BrightEdge Advantages
BrightEdge is constantly evolving. As a Software as a Service, BrightEdge typically releases new capabilities every six weeks, ensuring clients are always up to date.
The power of good quality content to boost a website's ranking position has never been higher. As such, there is a flood of new content constantly hitting the internet. BrightEdge, with its huge database of more than 3 million keywords, is able to provide detailed recommendations on new content opportunities, optimising existing content and measuring the results.
Its Share of Voice feature enables companies to truly identify their online competitive set, showing what competitors do well, so that you can do it even better.
The Anomaly Detection feature notifies you of any significant movement in keyword rankings, enabling you to take action straight away.
BrightEdge also provides comparisons at domain and category level, which means that you can produce more targeted data. For example, you can compare a domain page for a homewares brand with the homewares page of a department store brand.
BrightEdge integrates with a number of other platforms, making total account management smoother and easier.
BrightEdge also provides solid customer support for both agencies and clients, with a dedicated client services manager appointed for the lifetime of your partnerships. Full training and an on-boarding programme is provided at the implementation stage, including certification.
BrightEdge Limitations
BrightEdge is better suited to larger companies that have the financial and personnel resources to manage it, as it requires either internal time or agency time investment. If you are not focussing on SEO, or lack the time or resources to use the platform, then this may not be for you.
First-time users may find the dashboard a little daunting. We recommend you take full advantage of all BrightEdge training and on-boarding provided, and continue to ask questions of your client services manager.
BrightEdge is often compared to Moz, Linkdex and Searchmetrics. However, it doesn't offer the online community that Moz does, nor the link building capabilities of Linkdex, both of which can be helpful for businesses.
As with any reporting software tool, you can never fully report on Google, especially from a local level. Discrepancies with live data and other tools will creep in.
Our Recommendations
BrightEdge is a great tool for larger-scale e-commerce retailers and websites with an SEO focus.
Here's what the Technical SEO Team at ClickThrough say:
"The Data Cube is great for a quick overview but also for in-depth research, depending on how far you drill down. I particularly like the Content Strategies section of the Data Cube, which shows keyword performance for images, videos, carousel, places, quick answers and the local 3-pack results.
"To see an overview of overall performance we go to the site visibility chart. This allows us to drill down into different areas of a website with the filtering options.
"Customised reports can be set up in the reporting dashboard, highlighting key areas with the ability to add to these when different strategies are in place. It enables us to create different reports for individual people in the same company, wheere one might require a top-level view on performance an another a more in depth actionable insight report.
"The opportunity forecasting allows us to show the potential revenue gain by keyword group. This allows us to focus our strategies on the areas that will deliver the best ROI." – Jade Coleman, senior technical SEO specialist, ClickThrough Marketing.
"BrightEdge is a great platform. I find it very useful for tracking any major changes in site visibility. As you can always compare to the previous month's data, you can get a very quick snapshot of changes in visibility and then dig further if you need to.
"Also, the facility for the BrightEdge system to automatically sign off changes by testing your website directly for those changes instead of having to rely on additional testing, is a great time saver." – Simon Parker, technical SEO strategist, ClickThrough Marketing.
It does require a sizeable investment, but SEO managers and digital marketing managers will soon reap the rewards thanks to its data insights and detailed reporting metrics.
If you do not have sufficient resources in house to manage the day-to-day SEO execution required to maximise on BrightEdge, then you may want to consider using this in tandem with a digital marketing agency.
Hundreds of agencies currently use BrightEdge, including ClickThrough Marketing. Its keyword database, competitor recommendations and backlink data provide true SEO value to our clients and enable us to provide a more detailed, and therefore more effective, SEO strategy.
Want to find out more?
If you're considering adopting BrightEdge for your internal SEO team, we can help you evaluate BrightEdge independently and discover how it can fit your needs. Contact us via the website or call us on 01543 410014.