Head of web development Alan Rowe has a new trick up his sleeve for those who want to quickly test a website on a mobile device via their desktop…
There's a tool for everything nowadays. But our new free mobile website tester is special.
We developed Responsive Site Checker as a quick and easy way to check if a website was responsive. And we found it so useful that we quietly made it public a few months ago, because we're nice like that.
We're well aware that there are a number of tools out there that let you test a mobile site online (hello Responsinator!), or check how a website will look on different/deprecated browsers (salutations BrowserStack!).
But Responsive Site Checker is one of the only mobile site detectors that not only tests for responsivity, but checks for dedicated mobile domains too.
And as far as we can tell, it's the only one that does it for free.
So we think it's time to make a song and dance about it.
(It only does iPhones and iPads at the moment, but we're going to include support for other devices soon. Watch this space!)
Click the screenshot to try it for yourself.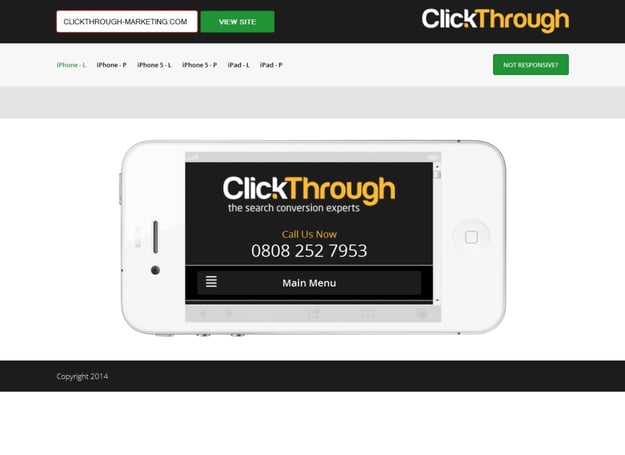 You can use Responsive Site Checker to:
Test whether a site is responsive.
Check whether there's a mobile version of a site.
Test your own site design without taking your phone out of your pocket.
Make sure content is readable on a smaller screen.
You could even:
Cover up the rest of the screen and pretend you've got a floating phone.
Zoom in loads and pretend you've got a gigantic floating phone.
Take a screenshot, print it out and pretend you've got a 2D phone.
The possibilities are endless.