In this post, ClickThrough's insights director Dr Dave Chaffey explains the importance of focus and strategy planning in SEO, and explains ClickThrough's approach: The 10 Pillars of SEO Strategy.
For me, SEO has always been one of the most complex digital marketing techniques for businesses to apply successfully - from technical aspects of on-site markup and making content accessible for search engines' robots, to encouraging the right types of link to pages in order to show site authority for a brand. At the same time, it's also one of the fastest moving digital marketing techniques, since Google's team frequently update the hundreds of factors in their algorithms to return the most relevant content to searchers, and even more frequently update their webspam rules to filter our poor quality content.
Given the complexity and rate of change, there is a danger that managing SEO can lack focus as companies get wrapped up in technical aspects of optimisation. To help give focus to client projects, ClickThrough's SEO teams work to a set of SEO strategy pillars which they review with clients. I'll be explaining success factors for these in a webinar on April 9th. I hope you can join me.
I'll also be talking about the most important techniques to get right in 2014 such as integrating SEO, PR and content marketing and ensuring some social signals. What's more, I'll take a look at some of the latest tools we use to support SEO.
So, what are the 10 pillars of our SEO strategy at ClickThrough? I'll run briefly run through some examples of key issues to consider in the webinar, but in this post, I'll just give the big picture.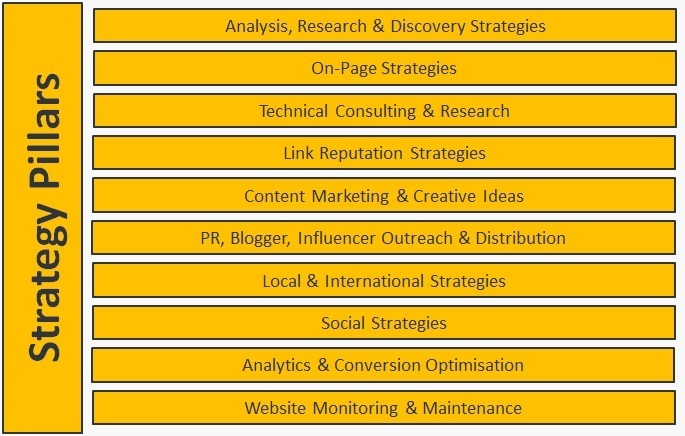 At a broader-level, the three core areas of SEO we manage are:
Content marketing and PR. Ultimately, it's the quality of content that drives SEO today since this is what attracts links (it always has been) and sharing via social media. Given that Google has much more sophisticated assessments for content quality - and competition is now intense - we have to get this right from the start. Content marketing is at the heart of SEO, so SEO strategy has to start here. These 3 pillars are closely intertwined.
Content marketing and creative ideas
PR, blogger, influencer outreach and distribution
Social strategies
Process for review and improvement. Phil Robinson at ClickThrough has developed a reproducible, scalable process for search marketing, and this is what first attracted me to work with ClickThrough. A solid process for SEO is based on deep analysis and research, defining the right commercial objectives and KPIs to review the contribution of SEO to the business and an ongoing optimisation process both to improve SEO and conversion through conversion optimisation. There are 3 more pillars involved here:
Analysis, research and discovery strategies
Analytics and conversion optimisation
Website monitoring and maintenance
Technical SEO. We said at the outset that SEO is complex and much of the complexity lies here. These four factors are effectively hygiene factors, governed by Google's ranking algorithm and webspam rules. But they're a moving target and given the limitations of content management systems and gaps in the knowledge of content editors and reviewers, there are always issues to be improved here for every client. The final four pillars of our SEO sit here.
On-page optimisation
Technical consulting and research to maximise site crawlability and indexing
Link reputation strategies (both internal and external linking)
Local and international strategies
Those then, are our 10 pillars of SEO. It's important to review your current capabilities in all areas of digital marketing so that you can identify gaps and improvements. That's what we do at the outset of new client projects at ClickThrough and on a regular, ongoing basis. Defining the broad categories of success factors to review against is key to this. I hope our 10 pillars give you ideas of how to review your capabilities.