Jade Coleman, SEO account executive, looks at local search – and its place in SEO for 2013.
Back in the early days of the Internet, the big buzz was about bringing the world together through quick communication and easy access. And for a long time, SEO was centred on this philosophy – getting online meant bigger reach, and it was important to get your site seen by as many people as possible, whether they were in Dublin or Dubai.
But after the big bang comes the big crunch. We are all interconnected now, to the point where searchers can suffer from an information overload. Consequently – and with a lot of help from search engines like Google – SEO is going in the other direction. It's becoming increasingly focussed on localised results.
It is now vital for businesses that rely on a local customer base to optimise for local searches. And I'm not just talking about Bob O'Cod with his small-town fishing tackle shop – big brands with networks of local outlets risk being snubbed by search algorithms if they don't consider local SEO.
It's about getting quality visits instead of masses of non-converting traffic – and giving local businesses a chance online, amongst a crowded and difficult market.
How does local search work?
Let's use Google as an example. When it detects a 'local' search it will display a number of results from local businesses (typically seven, which is why you'll sometimes hear local search results referred to as a 'seven pack').
These results are displayed prominently on the page, underneath any top-of-the-page paid ads and the first few natural results: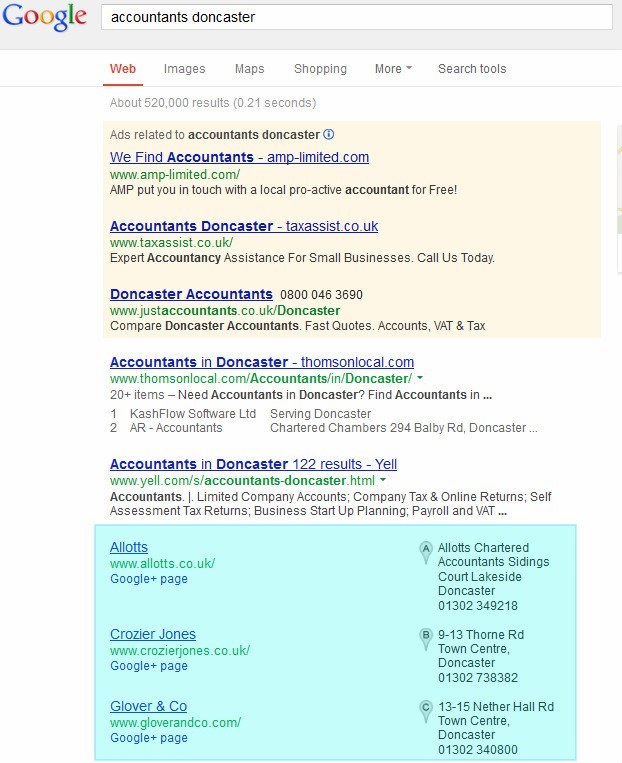 And searchers get a handy map too, to help them see immediately where these businesses are in relation to their location:
Whether or not Google sees a search as 'local' depends on the keywords used. At the most basic level, a search query which includes business sector and a location will, in most cases, trigger a local search.
But it's not as clear cut as this, and we're seeing local searches being triggered for more and more search queries. For example, if I search for 'accountants' without an area name, I get a list of accountants close to our offices in Lichfield, UK: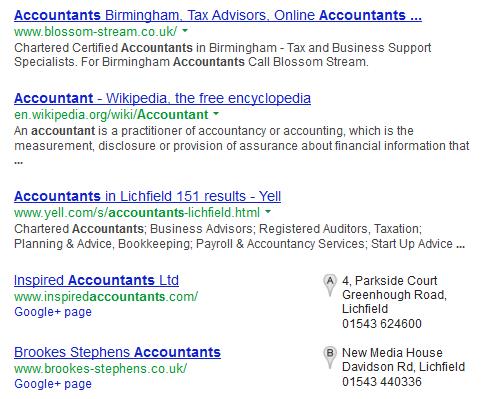 And these aren't limited to the 'seven pack' results – Google is ranking Birmingham accountants Blossom Stream first, without the firm even figuring into the seven pack. And notice Yell.com in the results too – we're increasingly seeing directory sites like Yell, Thompson Local, and 192 ranking highly in these local search results.
Local SEO in 2013
So, with Google clearly putting more importance on local search, local SEO is more important than ever.
If brands don't take advantage of search engine localisation, then they might find it harder to connect with customers.
Conversely, the focus on local can be a huge benefit for smaller businesses – and for brands with multiple locations, it's now easier to offer tailored content for localised audience segments.
Implementing local SEO isn't about tricking Google into finding your site. It's about setting up a few essential 'signposts' which help Google's robots find where you are in the world.
There could be many of these 'signposts' – some are likely known only to Google itself.
But there are a fair few factors which, with little doubt, help Google and customers find a webpage.
Meta titles, for example, are clear signposts. If a location appears in a meta title, search engines will immediately see it as being location-relevant.
Site content, too, can be a big, flashing, neon arrow in the eyes of Google's bots. This doesn't mean it's necessarily a good idea to stuff content full of location-related keywords – but it goes without saying that the content should be relevant to the location that's being targeted. Generic copy is a no-no.
On the subject of content, including an address in the footer of website is also a sensible step to take – as is embedding a Google map into the local branch pages.
Local profiles are also extremely important for local SEO. If a brand wants to be in the 'seven pack' it had better make sure it has a Google+ Local profile – and a Bing Places and Yahoo! Local profile too, for that matter.
These are just a few of the factors which can improve a site's local SEO prospects. We look at these and more whenever we're evaluating a client's site for search engine optimisation.
It's important to remember that local SEO isn't a flash in the pan. These aren't nuisance hoops which we're expected to jump through for the amusement of Google, Yahoo! and Bing until they get bored and decide to throw another obstacle our way.
Search's shift to local has been steady, and it doesn't look like the landscape is going to change anytime soon.
If you don't put your brand on Google Maps, you risk falling off the map altogether.