For this month's featured post, digital marketing expert, Dr Dave Chaffey, gives further insights into the new Advanced Segments feature in Google Analytics. Read on to learn more.
In last month's post I explained how useful it was to use Advanced Segments in Google Analytics to identify the marketing value of different types of traffic and audiences to your website. Rather than reviewing all visitors together, you can isolate visitors from natural search or paid search using standard segments for example. You can go beyond this with custom segments, to look at search visits from brand, non-brand, long tail or other generic terms.
With Advanced Segments you can set targets and report on specific segments and look at the volume of visits and values generated through conversions. You can also drill down to see how groups of visitors interact with your site, for example, which content do first time visitors tend to access compared to returning visitors when they enter the site and browse.
Google's new Advanced Segments features
I was prompted to write the post by the release of a major upgrade to Google Analytics, described by Justin Cutroni, the Google Analytics evangelist as "One of the most important changes ever made to Google Analytics".
This was originally announced in July 2013, but should now be rolled out to all users. You can see whether you have it by seeing whether the "Advanced Segments" button in the top is no longer there, instead it should be replaced by a circle denoting the proportion of site visitors. If you click on the arrow you will see a combination of standard segments and custom segments and you can easily select these or starred preferred segments: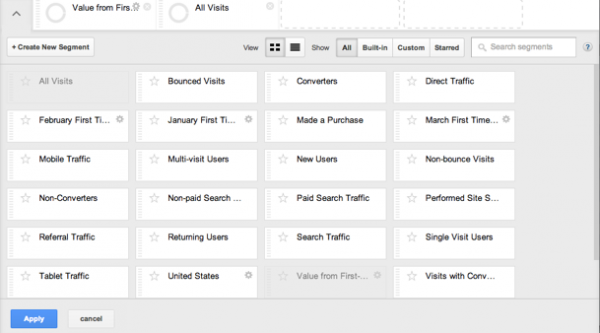 In addition to the visual change, there are more features now available since this is a major change, read he Google Analytics blog announcement to find out more, including these 3 key changes:
User segmentation. In addition to the original visit-based segments you can group users by behaviour across several visits within a date range, for example, users who visit, buy or subscribe within a period (cohort analysis).
Sequence segmentation. Users who perform actions across multiple site visits.
Segment templates. To make it easier to create segments, 6 types of templates are provided as a starting point 'Demographics', 'Technology', 'Behaviour', 'Data of First Visit', 'Traffic Sources' and 'E-commerce' for you to start with.
So, there are a range of new tools available to help you better understand customer behaviour in response to your media investments and optimise customer journeys to increase sales.