How has Inbound Marketing changed over the years? What can we expect from it in the future?
It's now nearly ten years since the concept of Inbound Marketing was coined by Brian Halligan and Dharmesh Shah as defined in their 2009 book; Inbound Marketing: Get Found Using Google, Social Media and Blogs. It was later updated to be less narrowly focused on visibility and lead generation, when it was retitled Attract, Engage and Delight Customers Online.

However you define it, HubSpot has been successful in 'Drinking its own Kool-aid' (I believe the Americans put it) to attract its own customers who, according to their latest annual report, now number 40,000 and revenues are still growing strongly with a 2017 subscription revenue of $356.7 million, which is up 40% compared to 2016.
So how has Inbound Marketing changed (particularly in recent times), and what can we expect in the future? Taking a look at the latest definition of HubSpot's funnel from their annual report, shows some familiar tactics and tools: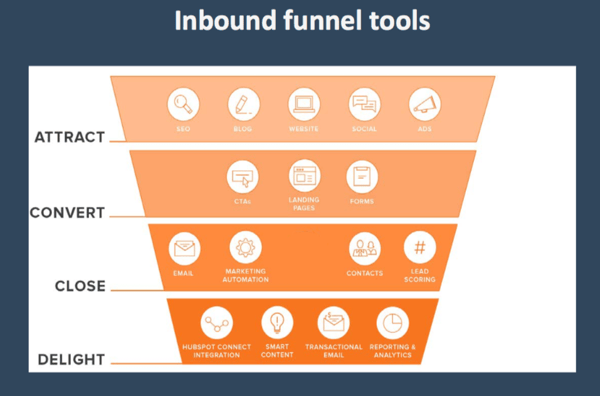 The majority of these aren't new and you will know them. You may not know 'Smart Content', which is HubSpot's label for web-based personalization which recommends relevant content to visitors based on their profile and behaviour. HubSpot's take on 'Inbound Evolution', or the how the tactics are changing, is from:

* Text to Video
* Email Marketing to Marketing Automation
* PR to Social
* Messaging to Chat
* Full-Service to Self-Service
Let's take a look at some of these in more detail, and in relation to these broader digital marketing trends that I have indentified. In particular, the impact of increased smartphone adoption isn't acknowledged strongly in HubSpot's roadmap vision. This perhaps hasn't been identified by HubSpot as a major factor, because many of their customers are B2B marketers where smartphone use lags way behind B2C, for which inbound tactics can be used in many cases, particularly where a brand is offering complex, high value products like travel, financial services or healthcare.
Regardless of whether it is B2B or B2C, smartphone use has major implications for inbound marketing including:
Structured Testing
Most companies now have responsive sites, but there is a need to AB test desktop and smartphone visits separately if both are important to you. Different layouts and content can be considered on each device to give a more 'adaptive' approach to the website design.
Mobile-Specific Content
The days of long PDFs are surely numbered and smart inbound marketers are using shorter form 'snackable' content which doesn't require registration or at least lengthy landing pages on mobile.

Interactive Content
Quizzes and calculators can work well on smartphone to encourage interaction when time and screen real-estate are short.

Chat and Messaging
Although email marketing remains a major channel, there is no getting away from the importance of messaging, particularly to younger audiences, who will soon become older audiences. Messaging via platforms like Facebook Messenger and LinkedIn Inmail is surely only going to become more important. Livechat services like Intercom are becoming more sophisticated and can prompt interactions to site visitors to help them along the customer journey.

Paid Retargeting
This service is used by many businesses across Google and the social networks for the 'Close' phase. You can also communicate with existing customer and prospect audiences through customer lists or find similar audiences via 'Lookalike targeting'.

Machine Learning and AI
For many businesses there are more than enough tactics to work on best practices without resorting to these techniques, which in our view are for more digitally mature businesses. However, rules-based marketing automation and website personalisation is time and experience constrained, which may enable inbound marketing funnels to be improved by machine learning in the future, even in less-advanced companies.

So, this is how I see the latest trends in Inbound Marketing. Do let us know your views about what Inbound trends excite you on Twitter...