Dr. Dave Chaffey takes a closer look at the value of backlinks and links out from site, with some compelling evidence that both should be key considerations for SEO practitioners.
What is your view on the use of links out from site? A lot of discussion of SEO is around the right type of backlinks and links out from site, and rightly so, given their ongoing importance to ranking and Google's efforts to reward sites with a quality backlink profile.
It seems to me as I review SEO practices of different sites, that some businesses and some copywriters seem to have an attitude that all in-line links to other pages on their own site or on other sites are negative, so they don't follow this practice. Perhaps they are fearful of leaking visitors, but to me, the benefit to users of providing relevant links and the benefits of improved rankings will typically outweigh any disadvantages, particularly on blog posts where you can simply link to relevant top 10 searches for the related term. This experiment is interesting since it suggests that outbound links do have a positive impact.
Do You Remember The Bow-Tie Theory of SEO?
It's rare to see research about the impact of links out from a site, so when I saw this experiment, I thought it was worthwhile sharing, since it may make you consider this tactic differently. This research took me way back to the "Bowtie theory of SEO" which those of you who have worked in SEO for a very long time may recall. The study mapped links between sites and found that there are a core of pages with both backlinks and outbound links.
It made an impact upon me at the time since it was logical that search engines would reward pages and sites at the centre, which have a higher than average proportion of quality links-in and out.
In the early days of Google, whitepapers from Google research (and patents) referenced the Hilltop ranking concept related to "Expert documents". This concept hasn't been forgotten though. A recent Moz Whiteboard Friday video asked: "Is external linking good for SEO?"
The Reboot Experiment On Outbound Links
I find structured tests on SEO signals really interesting, so I liked the time and attention to detail to set up this outbound link impact experiment by Reboot Online.
The experiment involved purchasing 10 new domains which mentioned the niche term "Phylandocic". Each article mentioned two authoritative, related websites. On five of the websites, mentions are in plain text while on the other five sites, they are hyperlinked. The domains were all registered at the same time to remove any domain age influence. All domains contained 10 random but pronounceable characters and all domains were confirmed as having 0 search volume produced in Google. All sites were co-hosted to minimise any hosting related bias.
The full research gives more details, but these visual results summaries are compelling. You can see that the ranking stabilised after a period of 8-10 weeks to give higher rankings for the sites with outbound links.

Here are the rankings for the term.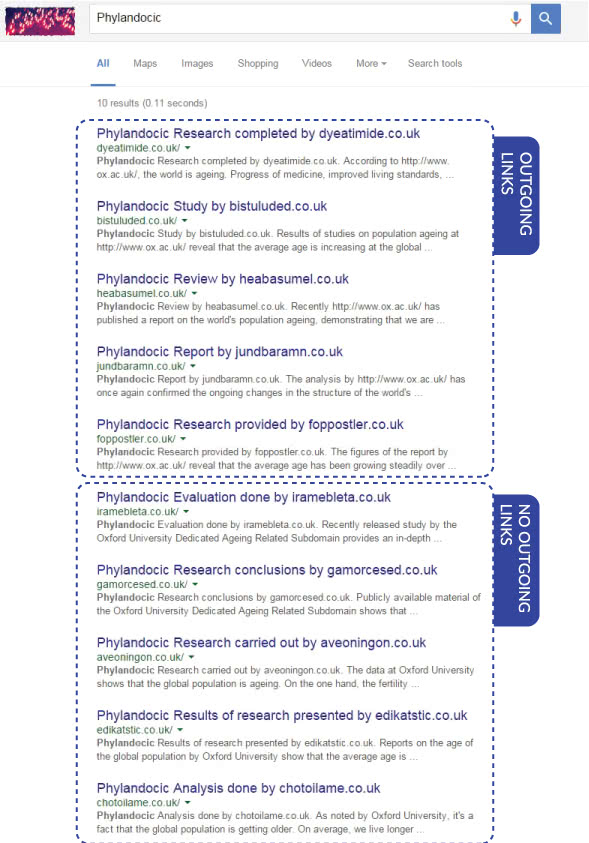 I realise this is only one experiment, but I think there is a clear result which I hope will make you think differently.
Finally, to bring us right up-to-date, a word of warning. These days, Google does have filters related to poor quality external links and a recent case study on Search Engine Land showed an example of an outbound link penalty and Google Search Console warning from Google. This type of warning is included in the recent Penguin 4 real time update and is similar to an inbound link penalty, in that it can be applied partially or site-wide.