Well, we're not far into the year and already Google has made an announcement of a new feature which I believe will have a major impact on SEO, if it stays in its current form. It's already been released in the US on Google.com, if you want to take a look, but hasn't been rolled out to Europe yet.
You can read more about the change in Google's official announcement
The new change is about making Google more personal and integrating social conversations. It's an extension of previous enhancements to personalisation and Google Real Time. Google now effectively has two views - a default view with personalised results included and a non personalised view, that the majority of people are unlikely to click on.
Taking an example of a generic term "fashion", you can see how big the impact is:
This is the personalised view (default):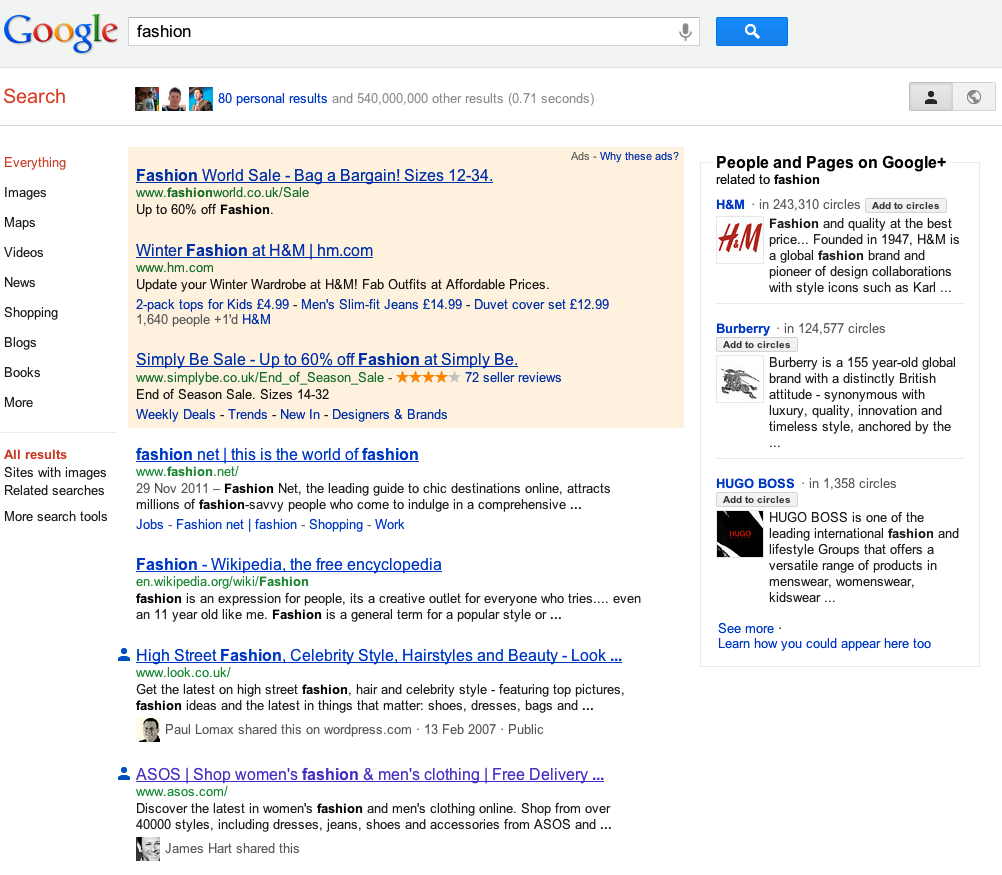 The results with the blue heads next to them are personalised results.
And this is the general view: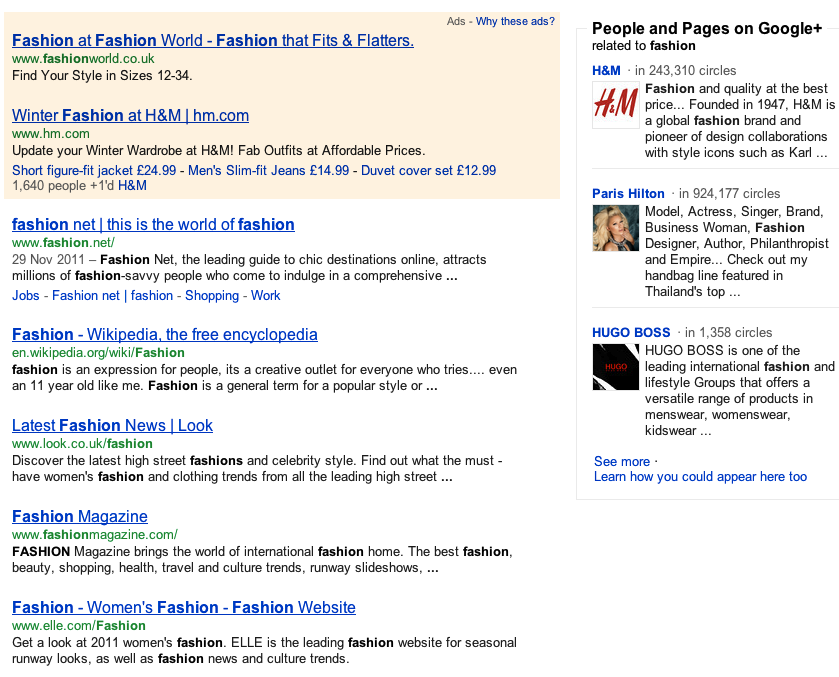 You can see that in both cases there are prominent recommendations for People and Pages who have taken the time to grow their Google+ circle - effectively large ads to encourage adoption of Google+
The implications for SEO?
Well, the implications are obvious I think:
You will get more cut-through with the right hand side recommendations if you are recommended for a term - this will favour large brands.
Companies with larger social networks within Google+ will appear more frequently in the personalised results since there is more chance of a contact in Google+ having recommended the brand
Companies that have engaging, shareable content will be more likely to feature in the natural listings when their content is shared. So it increases, yet again, the case for investment in content marketing.
In short, this change means that it becomes more important for companies to get active on Google+ and build a network based around the content they share.
Of course, the impact will vary by sector. It is greatest in sectors like fashion, media, B2B services and technology where there is a high degree of engagement in Google+ already. But as adoption of Google+ increases in other markets it will have more impact on these.
So, even before this feature becomes live in the UK it's worth reviewing the impact on Google.com on different types of target keyphrases and benchmarking against competitors to see their success in engaging their audiences through content on Google+.
Finally, you may have noticed the caveat "if it stays in it's current form" at the top of my post. There are already rumblings that Google may be subject to an "anti-competitive practices" lawsuit. Twitter are rightly angry. They say:
"We're concerned that as a result of Google's changes, finding this information will be much harder for everyone. We think that's bad for people, publishers, news organizations and Twitter users".
I agree with this and hope we see a diluted version with the default swapped to the non-social view, though that's unlikely to happen.