Thanks to the speed at which digital platforms evolve, there are new opportunities to refresh e-com strategies.
To grow sales of an e-commerce business through marketing, it's all about prioritisation since there are so many opportunities. At a top level you can split the growth opportunities between offsite activities to drive visits, both from new visitors and existing customers and on-site activities which are part of the website experience.
To help drill-down into the detail needed and to help get focus I recommend you do a gap analysis of how well you are using all the different touchpoints within the retail customer lifecycle - here we have defined them across the Smart Insights RACE planning framework: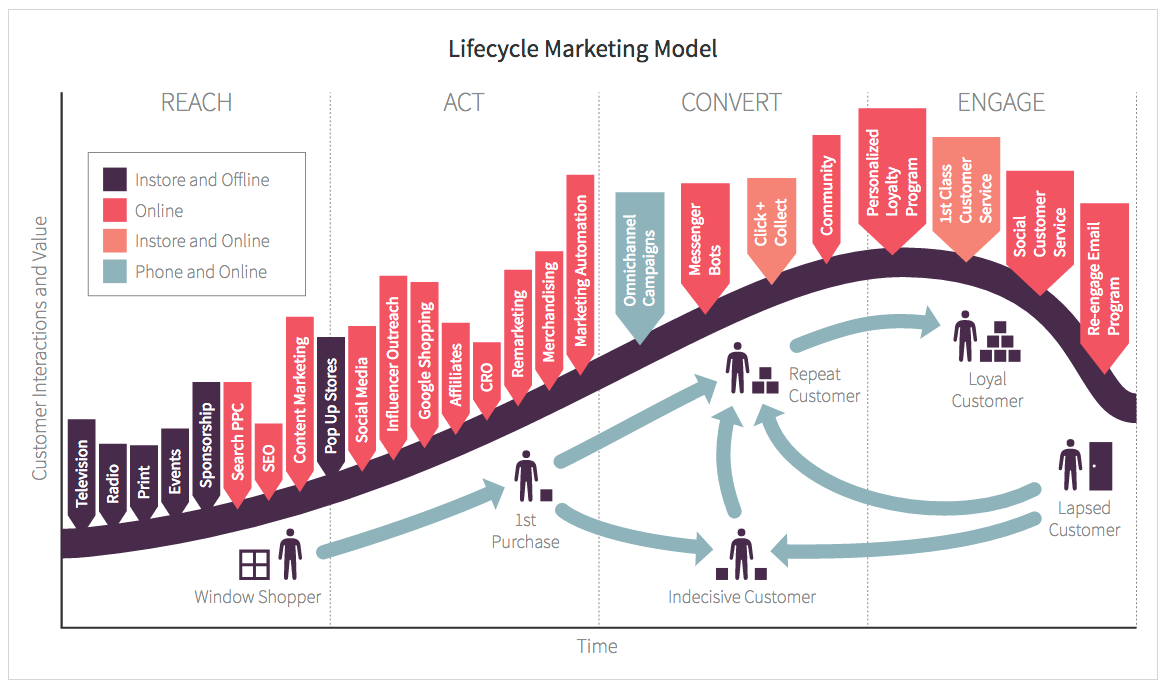 To review the latest options to help develop your strategy, I'm going to look at each area of RACE :
1. Reach: Driving Awareness and Visits To Your Site From New Visitors
Filling the top of your funnel is of evergreen importance and in terms of strategy the evergreen methods aren't going to change for retailers at a top-level - organic and paid search and, of course affiliate marketing, are going to remain important.
It's rare for data to be published benchmarking traffic sources. This data from Adobe of traffic driving visits to e-commerce sites shows that organic search is in the number one position, but declining in importance as Google has made changes on desktop and smartphone search to make organic less prominent.
Paid search has increased as organic has declined. Email remains a strong performer. Due to their lower intent and clickthrough rates, social media and display don't drive significant volumes for these larger businesses. Affiliate traffic isn't shown since it can't be tagged consistently across different companies, but you'll know how important that is.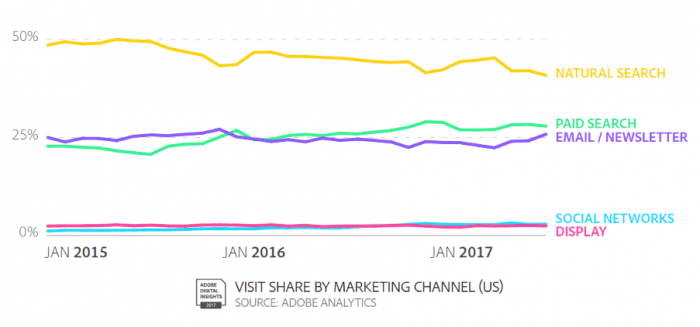 Within paid search, research from the Merkle Digital Marketing report details what's effective. Product Listing Ads (PLAs) now account for more than 50% of all paid search clicks, so clearly you need to be on top of your PLA game, particularly since its benchmarking shows that PLAs produce a 30% higher conversion rate.
Of course increasingly, mobile is accounting for more ad spend, now accounting for 52% of paid clicks compared to 38% on desktop and 10% on smartphone, according to the same report.
Of course, on paid social, the importance of smartphone is even higher since that's where most of access are social media. The Merkle report shows that 80% of spend is on mobile. It's a prompt to check that the balance between your investment in mobile and desktop across all media is right given that conversion rates on smartphone are typically half those of desktop (see 3. Convert).
2. Act: Improving Audience Interaction On-Site
The conversion phase is divided into two within RACE, since it's so challenging to get first time visitors to interact. You'll know this from when you have looked at bounce rates or dwell times for your entry pages, where you will often see that more than half of visits to a blog or product page will dwell less than 10 seconds.
So, Act is about improving the site to get more interactions - it's all about getting your visitors on the right customer journeys and interacting with the right content with the goal of reducing bounce rates from first time visitors, increasing add-to-basket rates and also getting subscribers to first time offers.
It's been commonplace on retail sites for some time now to serve Pop-ups to offer a 10 or 15% discount towards the first purchase, which requires visitors to enter an email to get the code. Today, if you look at retail sites, there are many more technologies and tools being used to encourage initial engagement.
For example, take a look at Pura Vida Bracelets. You will see they are making interesting use of Justuno to offer a mystery offer, a spin on the usual pop-up. Another recent interaction example I saw was on Kate Somerville Skin Care, which offers an interesting tool from Adshoppers, which features run of site (on all pages) to highlight a series of introductory free offers on every page.
In addition to these types of tools, personalisation services are growing in popularity to improve relevance and recommendations as we'll cover in the next section.
So, as part of 'Act' strategy, it's worth seeing whether your site could work harder to get more interactions...
3. Convert To Sale
RACE is for multichannel businesses, so for multichannel retailers the goals of RACE use e-commerce strategy to boost sales whether they are online or offline. We'll focus on the case here where a retailer is online only.
To boost conversion, your e-commerce strategy should have two key areas of attention: retargeting and personalisaton.
As you'll know, ad retargeting is all about reminding people who have visited the site and are browse abandons or cart abandons to come back to the site and make the purchase. Retargeting has been popular in retail via retail ad networks such as Criteo and Struq since before Google (through AdWords Remarketing) and Facebook offered it.
Within retail today, more money is going into Facebook (and Instagram) retargeting since with dynamic product ads, video ads and offline conversion tracking there are more options and retailers in many product sectors like Fashion and homeware are seeing good traction. In the UK, this dynamic ad case study of Pandora, shows the possibilities of dynamic ads. By using Facebook's offline conversion tool, PANDORA gained invaluable insights, such as that 20% of its in-store shoppers were male, and 30% of shoppers aged 18–34 are male.
This will help inform its future holiday marketing campaigns and beyond. Between September–October 2017:
40% of identified purchases during campaign period were attributed to Facebook and Instagram ads

Over 20% increase in revenue attributed to dynamic ads when offline purchases were also considered
As well as ad retargeting there is also the behavioural email retargeting option, which is even more established with browse and shopping cart abandons and nurture sequences all well-established.
Services like Movable Ink which is popular with retailers automatically generate hero offers, or product imagery based on recent interest or intent. Real-time product recommendations to drive awareness or list top-selling or most-viewed items can also be added and real- time inventory or weather info, discounts, or sales trends to drive urgency.
The main part of strategy here is optimising retargeting emails using more sophisticated data, particularly for mobile which is now the dominant email platform according to Litmus.
Many businesses are already using one of the many personalisation software options. For considering website personalisation strategy to support conversion, we find this framework from personalisation provider Monetate useful as a simple framework for reviewing your current and future use of personalisation.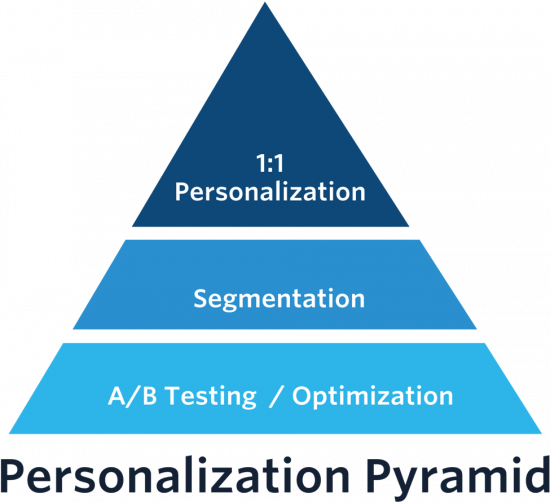 Most e-commerce marketers are already using one or two of those approaches but haven't considering how they relate to one another or the potential of AI. In the pyramid there are three different levels of delivering personalised customer experiences: optimisation, segmentation, and 1-to-1 personalisation.
Level 1: Optimisation (A/B Testing)
The base level of the pyramid is optimisation. This describes the process of testing different approaches, analysing the results to identify the top-performing design, and then implementing the winner. You'll know this as AB Testing or Multivariate testing.
Many businesses already use some version of this method because it can deliver great insights and improved results. The disadvantage is that this cycle takes a long time: a test has to reach significance before the learnings can be analysed and implemented, which creates a lag before the marketer can deliver the enhanced experience. It may also be the case that the experiment doesn't provide an uplift to sales.
Level 2: Segmentation
One level up the pyramid is segmentation, in which the marketer breaks the audience down into smaller "segments" to target each one with specialised content. This allows the marketer to apply the principles of optimisation, but with more precise messaging that takes advantage of obvious distinctions in audience groups.
Brands often see big wins very quickly when implementing this approach because it improves the relevance of most customers' experience. However, it tends to reach a plateau: after the first few groups have been identified, the size of each new segment (and thus the potential impact of delivering an improved experience for that group) decreases.
Each one still requires a creative investment and the returns for this strategy eventually diminish after the maximum sustainable number of audience segments has been reached.
Level 3: 1-to-1 Personalisation
The top of the Pyramid is 1-to-1 personalisation, which leverages Artificial Intelligence (AI) technology to deliver an individualised experience to each customer. This is the most recent trend here. Backed by the power of machine learning, brands can now offer each customer a personal experience based on all the data that is available up to the present moment.
This means that they can continue to improve their experience incrementally, as information about their preferences and behaviour is gathered continuously. 1-to-1 employs some of the same principles as optimisation and segmentation, but by offering a solution to their two greatest limitations – delayed results and inability to scale. This represents a fundamentally different approach.
Level 4: Engage: Customer Communications To Create Loyalty
Engage is about deepening relationships with existing customers. The personalization services you can set up on your website can help here. Some of the other media techniques we have discussed in Reach and Convert can also help here.
We can use retargeting with existing customers if you can isolate these, and there are newer options for creating custom audiences in Facebook by uploading a customer list and similar options within Google's Customer Match.
Similarly, many of the email marketing automation targeting and personalization options are available can be exploited here. Looking towards the future, more advanced companies are considering some of the Artificial Intelligence options for e-commerce marketing shown in the figure.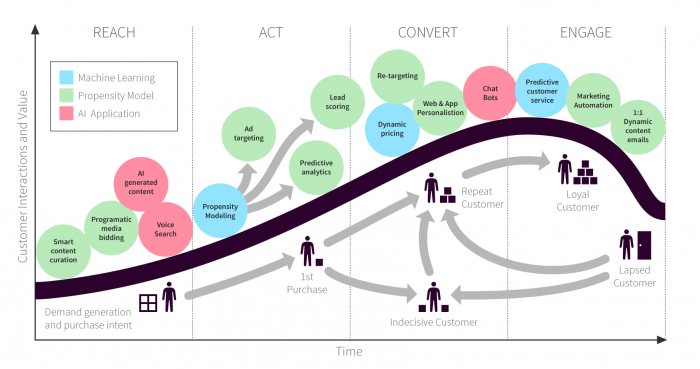 Although the term 'AI' gets all the hype, to best explore the options for applying it within your business, I recommend you look at machine learning and propensity applications since these are particularly effective for engagement to increase value of existing customers.
Propensity modelling can be applied to a number of different areas, such as predicting the likelihood of a given customer to convert, predicting what price a customer is likely to convert at, or what customers are most likely to make repeat purchases. This application is called predictive analytics, because it uses analytics data to make predictions about how customers behave. Relevant messages can be delivered by email, push notifications or web personalisation.
At a practical level, Phrasee is an interesting AI powered tools which generates more engaging email subject lines. Even if you're not ready for that, it's worth checking out their research for which subjects are most effective for retailers.
So, that's our run-down of some of the strategy opportunities currently available within e-commerce. I hope you have found it useful to review against your approach!
Get access to Dave's monthly insights - subscribe below...