New year, new job? Dr Dave Chaffey takes a look at the types of digital skills required by the modern marketer and the modern marketing team.
January is a perfect time to think through how to develop your personal skills in the year ahead. It's no surprise that LinkedIn tells us that January is the month when the highest proportions of its members are searching for new jobs. If you're responsible for others, you will also be thinking through the skills development options for your team.
An interesting starting point is the LinkedIn compilation of the hottest skills it releases at the start of each year based on the major roles which are growing most rapidly in terms of number of ads.
I always find it interesting to see 'What's Hot' across different types of business roles. Looking within marketing, we see that search marketing is still hot, with 'SEO and SEM Marketing' at Number 4, showing the ongoing importance of getting visibility in Google and beyond through remarketing. A breakdown of how many of these roles are agency vs client side would be interesting! More of a surprise, but welcome for experienced marketers is that at Number 3 we see that 'Marketing Campaign Management' is one of the most sought roles. An indication perhaps, that after many years of seeking sector-specialists, there is a need to join up different online and offline activities to develop more integrated campaigns? Also appearing on the list, we see that the related 'Channel Marketing' makes an appearance.
Scanning the non-marketing jobs also gives an indication of what I believe are important skills for the marketer to develop. At Number 2 we see 'Statistical Analysis and Data Mining' and further down the lists, Business Intelligence, which fits in with the requirement I hear from many marketing directors and managers for more numerate, data-driven marketers. You'll notice there are also many software and systems development roles in the top 20, with 'Mobile Development' in the top 10, showing the need for specialist mobile experiences to be created by specialists.
What are the Most Sought After Digital Marketing Skills?
Within Digital Marketing, there are many other roles beyond the ones in the LinkedIn visual. I was involved in designing and writing this research on Digital Marketing Skills by Smart Insights with EcommerceExpo, published in the Autumn, where we looked at the biggest gaps in digital skills.
The research showed a big requirement for improving digital skills in certain areas. 54% of the respondents rated their marketing departments as 'strong in some activities but poor or weak in others', while just 9% did not think they had any areas of weakness in terms of the skills of their marketing team.
Of the many questions we asked, one of the most interesting, to use that word again, is looking at the personal skills gap across the big list of all the digital marketing activities that marketers wanted to learn about.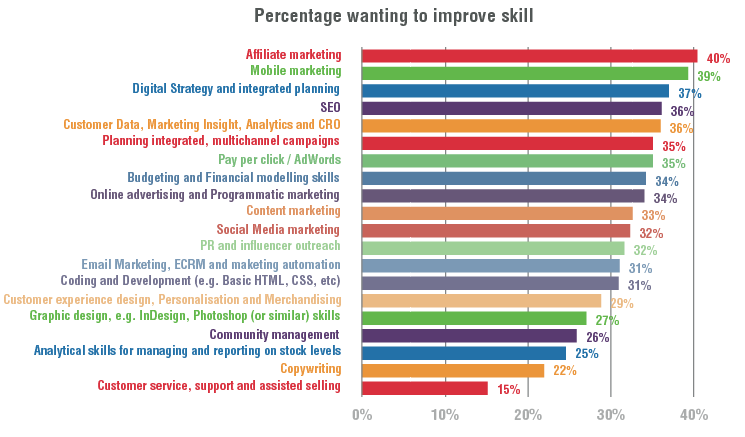 I was surprised that Affiliate Marketing topped the list since it's really a niche activity still important for transactional websites like retail, travel and financial services. However, I do find that this is often an area attendees on training courses are unfamiliar with so, and I think there is interest beyond the narrow e-commerce affiliate marketing, into developing influencer outreach and partnering programmes as part of content marketing. Considering the top 10 in-demand skills, the other two main themes to pick out are a hunger to learn about integrated planning and budgeting and then the main traffic types and drivers - mobile marketing, SEO and Pay Per Click - both above social media and content marketing in the list.
One final finding from the research is the extent of the skills shortage, again not surprising given that digital marketing skills are so in demand. Over half of the sample described getting new hires for digital marketing as 'extremely challenging' or 'challenging'. The clear implication is that a strategy is needed for digital skills development which, where possible, doesn't involve hiring and instead agrees priorities and investment for:
Developing existing skills through in-company or public training courses, e-learning and support for 'on the job learning'
Using agencies which invest in training and through experience are 'au fait' with the latest skills
Recruiting recent graduates who can be trained to develop skills
All the best for developing your skills in 2016, I hope to help in a modest way via my updates and new learning tools!