How can we benchmark the UK' sleep retail brands against each other with digital PR? Jennie Lindehoff shares which brands are ahead of the game in building authority.
As digital marketing specialists in the retail sleep sector, we produce quarterly benchmarking reports on the top-performing brands in the industry to show how they (and you) are measuring up to your competitors.
The latest benchmarking report for sleep retailers (Q2 2022) has just been published, covering the 12 largest national sleep retailers in the industry. In the report, we have included Dreams, Benson for Beds, Mattress Online, Mattressman, Mattress Next Day, Bedstar, Soak and Sleep, Crazy Price Beds, Feather & Black, And So To Bed, Land of Beds and Beds, highlighting their year-on-year digital performance, plus who is currently winning in the battle of backlinking domain acquisition and how they affect performance in Domain Authority, keyword rankings and website trust.
How do sleep retailers' backlinking profiles compare?
Let's look at some examples from leading sleep retailers in the industry and how they compare to each other looking at Domain Authority, keyword rankings and website trust.
Domain Authority and Organic keyword rankings
There is a correlation between Domain Authority, keywords ranking on page 1 and in position 1-3, and the number of domains that link to these brand's websites. In general, the more linking domains a website has, the higher Domain Authority it will have and if these linking domains are pointing to specific pages on the website, with keywords you want to rank for, the more likely they will.
In some instances, looking at Feather&Black and AND SO TO BED, there are exceptions to the rule. The likely reason for these domains to have a high Domain Authority is down to the authority of the domains that link to their websites. The quantity of linking domains is important but more so, the quality of the domains. The higher the linking domains trustworthiness is, the more authority they'll share with your website.
Trust Authority
Domain Authority is a good indication of how trustworthy your site is. The trust builds up by acquiring backlinks to your website, from highly authoritative domains, in different sectors and across different topics. The aim is to have a high authority and trust flow in all fields that match up with your industry and your customers' interests. Trust Flow is a number between 1-100 which gives an indication of how trustworthy your site is, in each sector, and overall.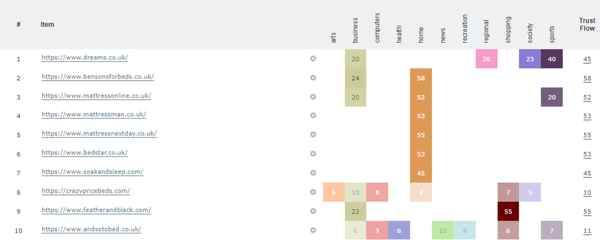 AND SO TO BED, Dreams, and Crazy Price Beds are doing well in broadening out their linking domains across a variety of topics that the linking domains cover. However, Dreams is performing better looking at their trust flow figure. Although AND SO TO BED and Crazy Price Beds are doing well in acquiring links from different topics and sectors, they're spreading themselves thin. Dreams have done a good job expanding sectors once they've gained lots of trust in each one of them. The brands in the middle of the table are doing well in the home market (a very important sector to be in as a bed brand) but have lots of opportunities to expand and compete with the other brands.
Quality vs. quantity
In July (26 June - 26 July), Dreams acquired links from 383 different domains. That's impressive, however, in order to increase their Domain Authority and keywords on page 1 and top 3 positions, they'd want the majority of these to match their current website Domain Authority (62) and above. Out of the 383 domains, only 22 match these criteria. Most linking domains (292) have a DA of 20 or less which equates to 76% of the links acquired during this time.
In comparison, Benson for Beds has acquired 89 linking domains during the same time span. Only a quarter of Dreams amount, however, they have acquired a better ratio of high DA linking domains with 9 matching their criteria of current DA and above, and only 58 (65%) of their linking domains have a DA of 20 or less.
Why does Digital PR matter in an organic strategy?
Digital PR will help your website rank and build up its authority and trust. Your website might be strong from a technical perspective and include fantastic content about everything sleep, but if relevant external sites aren't talking about your brand and linking to your website, you will limit your site's online visibility which affects potential sales growth.
The beauty of Digital PR is that you can get instant results that only get better with time. It's a long-term solution, but the longer you wait to implement a Digital PR strategy, the further your website risks falling behind your competitors.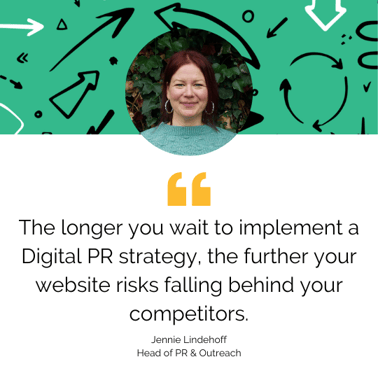 If you want to outrank your sleep retailer competitors in the SERPs and be customers' go-to brand when it comes to everything that has to do with sleep you will need a constant increase of high authoritative backlinks to your website, specifically on sites where your audience is.
Digital PR will help your organic performance, impacting the following metrics;
Backlink growth
Keyword ranking
Domain authority
Website and brand trust
Website traffic
Organic social shares
Sales influences
6 Digital PR strategies for sleep retailers
To build long-term organic performance and competitiveness in the sleep sector, there are multiple Digital PR tactics to use. They work best if done simultaneously, to ensure that your website has a steady increase of backlinks throughout.
Evergreen link acquisition – the quick win tactics such as Unlinked Brand Mentions
Proactive and reactive newsjacking – what's trending in the news around sleep and what can your brand add to the stories
Thought leadership – if you want to become a trusted sleep expert, you need to be sharing your expertise where needed
Product placement – focusing on your products and services
Data-led and creative Digital PR campaigns – what topics have you got the authority to talk about, what does your customer base want to know and what makes relevant publications share and link to it
Influencer marketing – find the key influential people in the sleep sector and get them to talk and advocate your brand
How can we help you accelerate your organic performance with Digital PR?
Digital PR is part of organic digital performance. The Digital PR service helps build brand awareness, gain new customers and improve trust and rank in organic performance through a variety of strategies.
If you already work with a traditional in-house or external PR agency, no problem. We work alongside clients who already have these in place as we look at PR slightly differently, focusing on organic performance, building on technical SEO and optimised content.
If you already have a team improving your technical SEO performance, and a team optimising and creating new content for your website but haven't got a strong brand presence externally or focus on link building, Digital PR is crucial. We work with brands and clients that have the technical structure and optimised content already in place but want to reach new audiences and build on their website trust and rank.
What we can do for you – next steps!
Get in touch with us to find out how our CIPR accredited team of PR professionals can help you and your website to outperform your competitors by building a personalised strategy for you and your brand.
Digital PR Retainers - Starter, Pro and Intermediate
These include competitor analysis, PR plan and strategy creation and Quick Wins in the first month, followed by ideations, creative PR campaigns and tailored outreach.
This option is for brands and marketers who already know Digital PR is crucial for gaining organic performance and have no time to waste in getting started.
Our Digital PR Accelerator is an initial project designed to help you make the best start in digital PR and outreach. We run through an initial project & campaign and give you the foundations for building on this further, beyond the accelerator.
This option is for marketing leaders who would like to learn more about how their brand is performing against competitors, create solid benchmarks to work from and identify what actions they need to take to catch up.
Get in touch today to request your copy of our full benchmarking report and find out which PR option is most suitable for your brand and your goals.