Which UK care homes have their keyword strategy in order, and which need to work on spotting those high-potential opportunities?
Keywords. The term can instil a slight sense of panic but there is no real mystery behind them. You need to match the keyword, or phrase, people are searching for to your product either from your website, blog or your Google Ads campaigns. If a potential customer types "Care Homes Birmingham" you want to make sure that keyword is in your copy so it can be found and featured by Google. Of course, there is also lots of technical wizardry too but there is the nutshell!
I've been looking at the care sector a lot recently, specifically care homes, and found that whilst some of those I looked at are doing well with getting their keywords in the top 3 they could be doing a lot more!
Which UK care homes are ranking for the most keywords?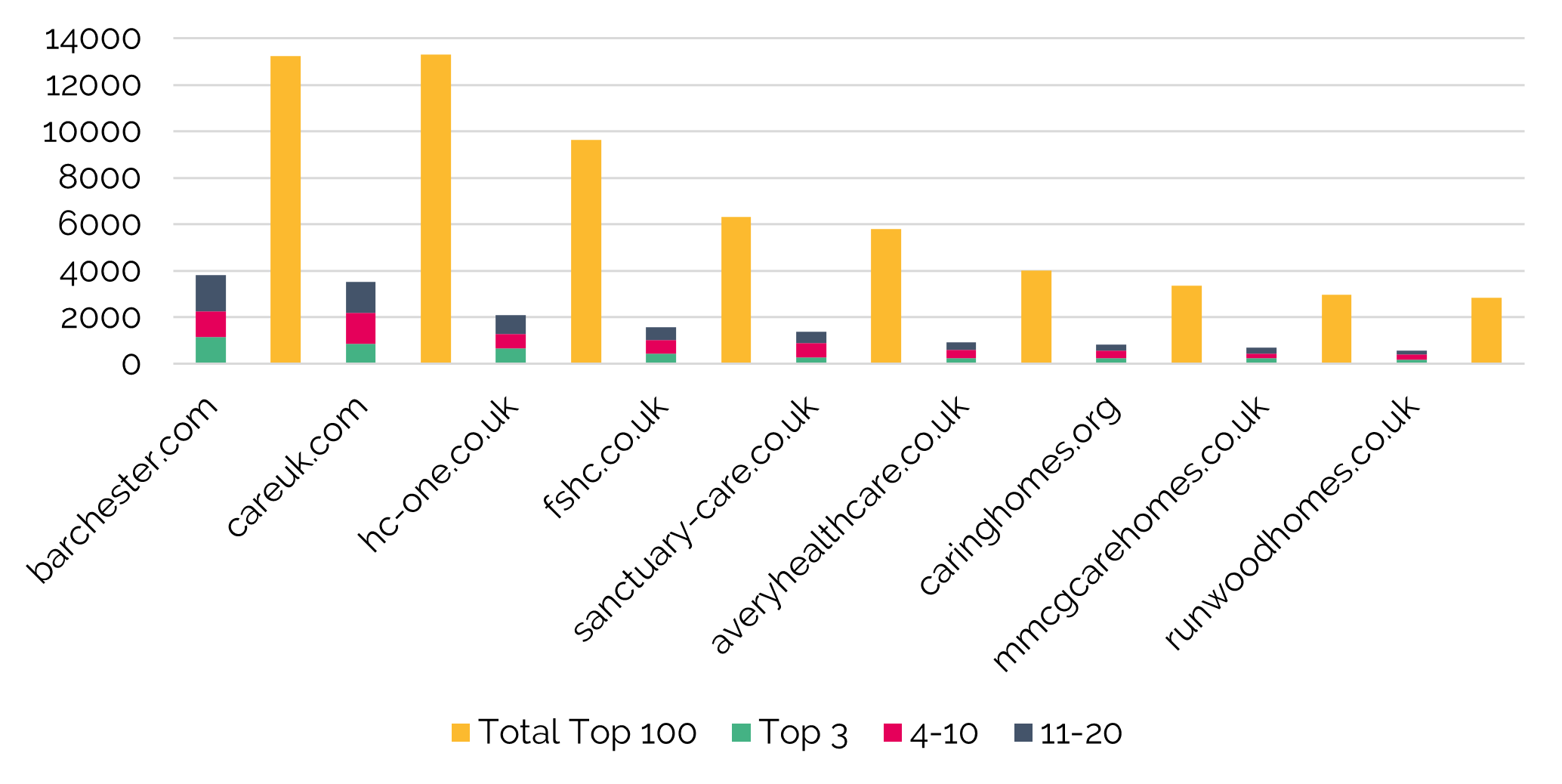 Barchester has over a thousand keywords appearing top 3 and nearly 4000 in the top 20. Care UK are not far behind them with 854 in the top 3 and 3500 in the top 20. However, they both have nearly 9,500 keywords appearing in the top 100 but outside the top 20. This seems to be a missed opportunity, as all these keywords will have ready-made content that simply needs optimising to appear stronger. For any of our Care Home brands, it would be worth having a close look at which of these keywords present the best conversion potential and prioritise these in an optimisation strategy.This sentiment it also true for those at the other end of the scale like Runwood homes who only have 28 keywords in the top 3, while Avery HealthCare has 92 and Sanctuary Care only 323.
How can UK Care Homes make their keywords rank higher?
So what should UK care homes do to improve their keyword rankings? There are some simple steps each brand can take to prepare a solid strategy for organic performance;
Do some keyword research – make sure the ones you use are relevant and likely to convert users,

Look at your site structure – ensure it 'makes sense' and is easy to navigate,

Conduct a content audit – have a keyword clear out to identify content that isn't performing well or is flat in terms of search rankings,

Create and optimise new content – new relevant content optimised correctly will boost rankings for high-potential keywords if you don't have anything already in place,

Earn some backlinks – make your content relevant to others to make them more likely to share it, and build your backlink profile,

Make it social media ready – just as gaining links helps improve authority anyone sharing your content signals a level of quality to search engines,

Review, review, review!
GET THE FULL 70-PAGE Q2 2022 REPORT
Our full report features HC-One, FSHC, Sanctuary Care, Caring Homes, Avery Health Care, MMC Care Homes, Barchester, Care UK and Runwood Homes. To get your copy, please complete the enquiry form. If you want to talk to us about accelerating your digital performance, please call us on 01543 410014 or schedule a call with me, Phil Robinson.
Photo by Danie Franco on Unsplash