Why should convenience stores care about their website's readability? We review 8 of the UK's top chains to see who's site is easiest to use.
It's possibly not often that we look at our local convenience stores website but, when we do, it goes without saying that we want to be able to understand it. It needs to be easy to navigate, read and digest. If that's opening times, location information, recipe ideas, or recruitment pages – whatever the content, it needs be 'readable'.
When analysing our latest benchmarking report for Convenience Stores, I noticed that the average Gunning Fog Score for the 12 companies in the report was 10.7. What's a Gunning Fog score, I'm hearing? It is a formula used to generate a grade level between 0 and 20 from the text on your website. Text aimed at the public should aim for a grade level of around 8. Text above a 17 has a graduate level.​ 10.7 sounds good when reading this right? Wrong.
Webfx.com tell us that 'A Gunning Fox Index score of 7 or 8 is ideal, and anything higher than 12 is too complex for most people to read. Popular magazines, such as TIME and the Wall Street Journal average Gunning Fog scores of 11.'
We certainly don't want our recruitment or recipe pages to be as complex as these institutions to read so, actually, a score of 10.65 is high! In fact, McColls score was a whopping 13.5. Whilst the other companies are not breaching the 'too complex to read' barrier, only Budgens comes near to the goal with a score of 8.1.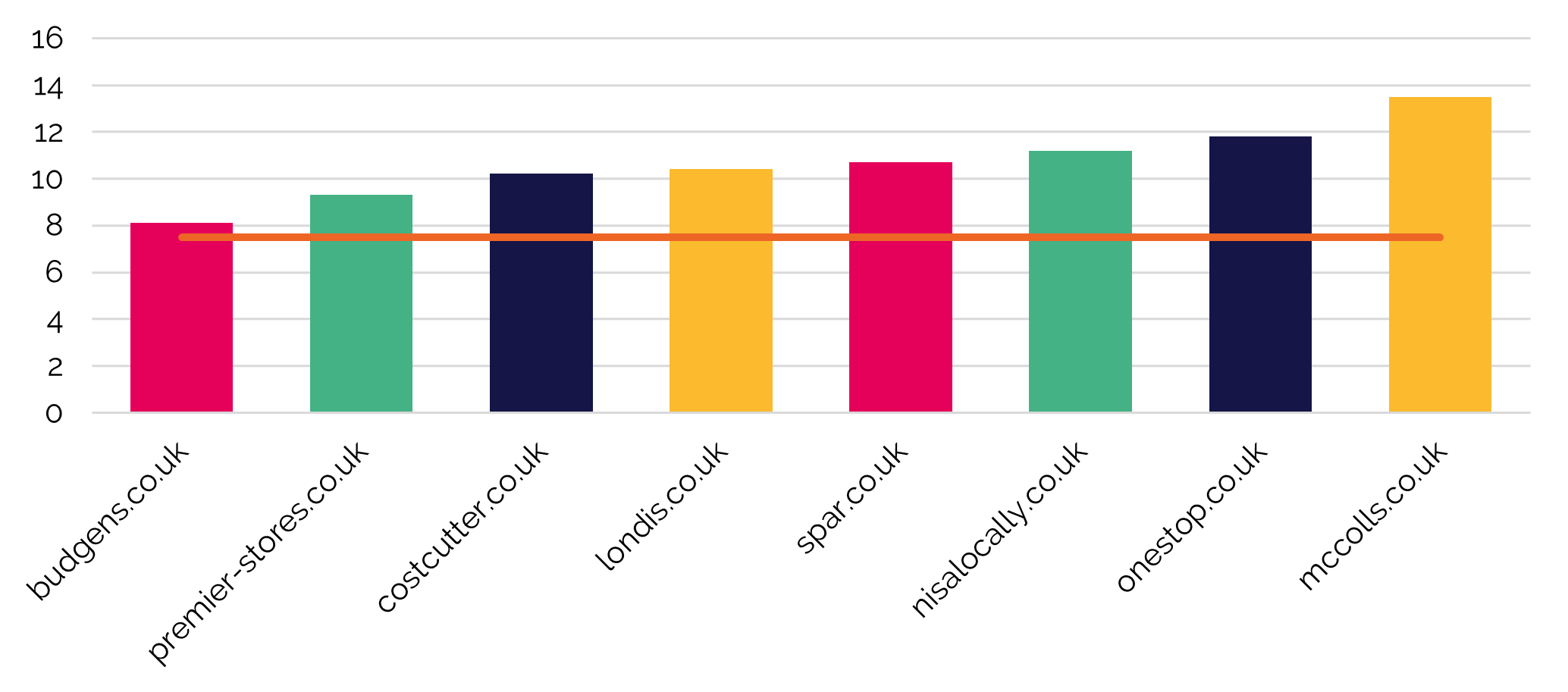 How can convenience stores improve their readability?
Our content team have come up with a few simple top tips for improving readability. These are –
Use short easy words in Plain English,
Don't make your sentences or paragraphs too long,
Use lists and bullet points to break up your copy,
Utilise the power of headings and subheadings, as many people skim read,
Try to avoid jargon, acronyms and overly complex adjectives,
Test your writing on readability tools and adjust accordingly.
Don't underestimate how off-putting overly complex language is to users. From the grammar that you use, to the tone of voice and the complexity of words, all contribute to the engagement and conversion potential of your content. Therefore, measuring website readability is crucial to your long-term success and growth of your brand.​
GET THE FULL 70-PAGE Q2 2022 REPORT
Our full report features Budgens, Premier Stores, Costcutter, Londis, Spar, Nisa Local, One Stop, McColls. To get your copy, please complete the enquiry form. If you want to talk to us about accelerating your digital performance, please call us on 01543 410014 or schedule a call with me, Phil Robinson.
Photo by Viki Mohamad on Unsplash