Which footwear brands thrived in lockdown? We dive into how athletic and sports brands flourished and why their popularity is here to stay.
Rob Allen, Clothing & Fashion Specialist
It's no secret that footwear sales fell dramatically over the lockdown period. Whereas the footwear industry was worth £11 billion in 2019, this more than halved to £5 billion over the following year, as lockdown took hold.
But which footwear types rode out the storm?
With outdoor exercise being one of the few activities that were permitted in lockdown, search interest soared in products such as "running jacket women" (up 445% from 2019) and "best running shoes for men" (up 311%), whereas interest fell in team and indoor activities such as "gym clothing" (down 29%) and "squash shoes" (down 82%) (Salience Search Marketing, Sportswear 2021 - Annual Insight Report).
While the footwear industry as a whole more than halved in its profitability, when we look at leading sports shoe brands, their loss of consumers over lockdown was comparatively minimal;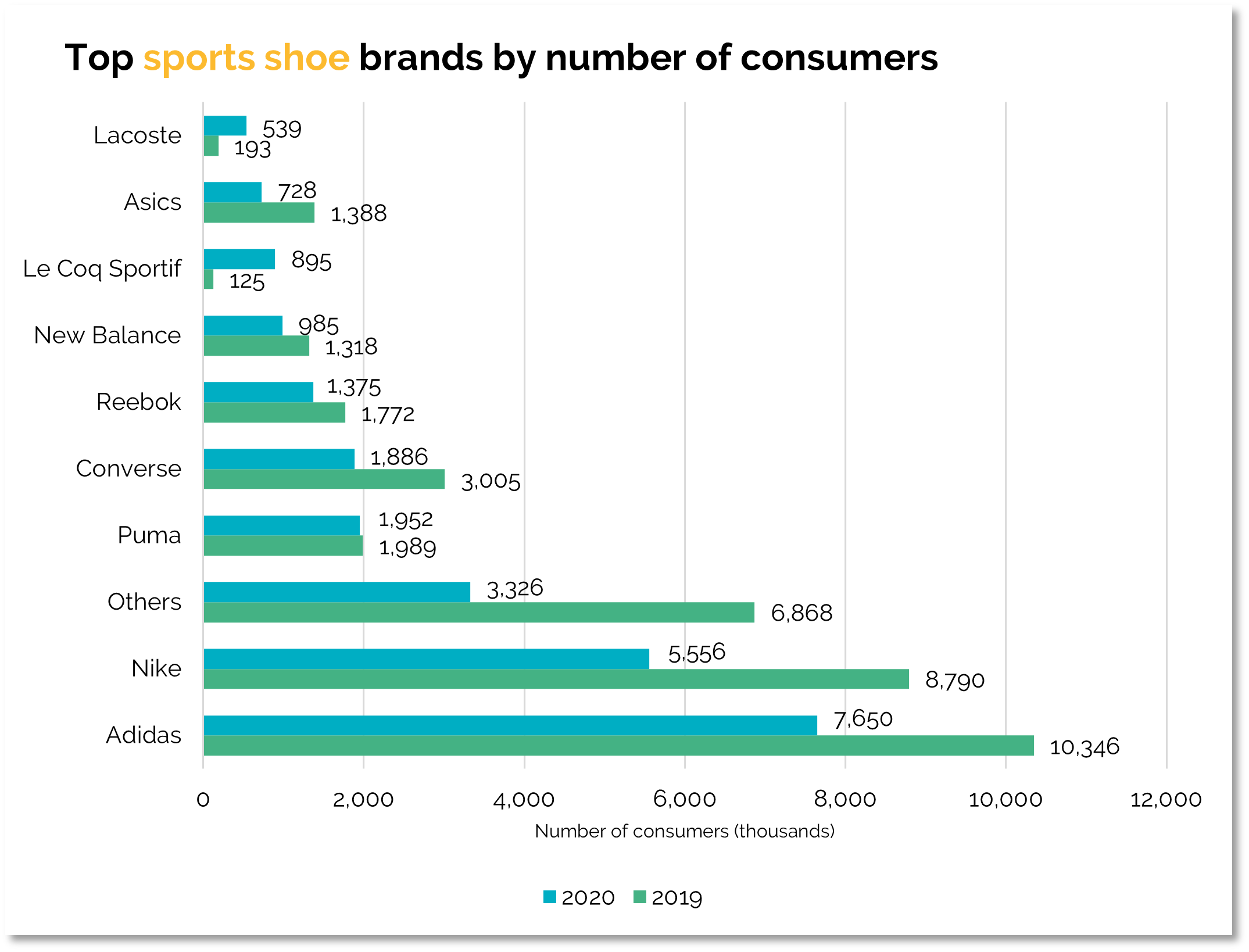 As trainers and athletic shoes serve a dual purpose of being both fashionable and comfortable, sports footwear brands have enjoyed a lasting impact of dominating the footwear market.
The lasting impact of lockdown
Though we're no longer restricted, and social events now happen in similar ways to pre-lockdown levels, Covid has left residual changes that will continue to impact the footwear market as, with 57% of UK workers preferring to work from home at least some of the time, comfortable, less formal footwear is set to maintain popularity among British consumers.
Naturally, we can still expect seasonal rushes on particular footwear types (such as August being the peak for children's school shoes and summer weddings causing increased purchases in formal footwear), but thanks to both fashion and function, athletic and casual footwear is here to stay.
What does this mean for retailers?
Footwear retailers, particularly brands such as Schuh or Office, need to maintain visibility and performance around non-owned brands. While we can see that Adidas and Nike hold significant shares in the total number of athletic footwear consumers (7.7m and 5.6m respectively), retailers stocking these brands must ensure they can capitalise on brand interest to drive sales over, not only Nike and Adidas's own retail efforts but similar re-selling rivals in the footwear space.
So what can footwear retailers do to win their fair share?
So, what can all footwear retailers do to ensure they're making the most of this increase in interest in athletic and comfortable footwear?
Retailers such as Schuh or Office should be focusing on how they advertise and optimise for sector-leading brands such as Adidas, Nike, and Puma, in order to capitalise on brand awareness.

Adidas, Nike, and other sportswear brands themselves must ensure they make the most of their owned brand keywords and be able to compete with one another to come out on top.

Sports brands should continue to focus on improving brand awareness in both the sportswear and fashion sectors, ensuring they are a footwear option for both activewear and day-to-day fashion.
GET THE FULL 70-PAGE Q2 2022 REPORT
To get a copy of the full report, please complete the enquiry form. If you want to talk to us about accelerating your digital performance, please call us on call 01543 410014 or schedule a call with Phil Robinson.