Read more on how we achieved a 171% increase in leads and traffic for a leading global payment processor.
CLICKTHROUGH MARKETING INCREASE ORGANIC TRAFFIC AND LEADS BY 171% FOR PAYVISIONS WEBSITE IN JUST ONE MONTH.
We have been working with Payvision, a leading global payment processor who supports merchants in Europe, USA, Asia and the Pacific. With their secure data-driven processing platform, they deliver multi-channel payment solutions. Their aim is to be the most trusted and original payments partner.
Objective
In February 2021 they asked us to help them generate increased website traffic and leads to their new 'Mobile Payments Report' during March 2021.
Solution
In order to generate this increased traffic volume, in a relatively short space of time, we focussed on building links to high qualitative websites relevant to our client's target audience and industry.
To be able to do this we methodically wrote a powerful press release to highlight the main findings and predictions from the report. We then shared this with relevant websites, publications and journalists who we knew wrote informative articles targeted to people working in the finance, mobile and retail industries. We knew we'd targeted the correct people after we carried out extensive research and by capitalising on already formed relationships with journalists in the relevant sectors.
This focus on high quality websites enabled us to improve the backlink profile for the client and increase the site authority. By enhancing site authority, this would impact the client's SEO and improve visibility for the page when it comes to organic search.
Results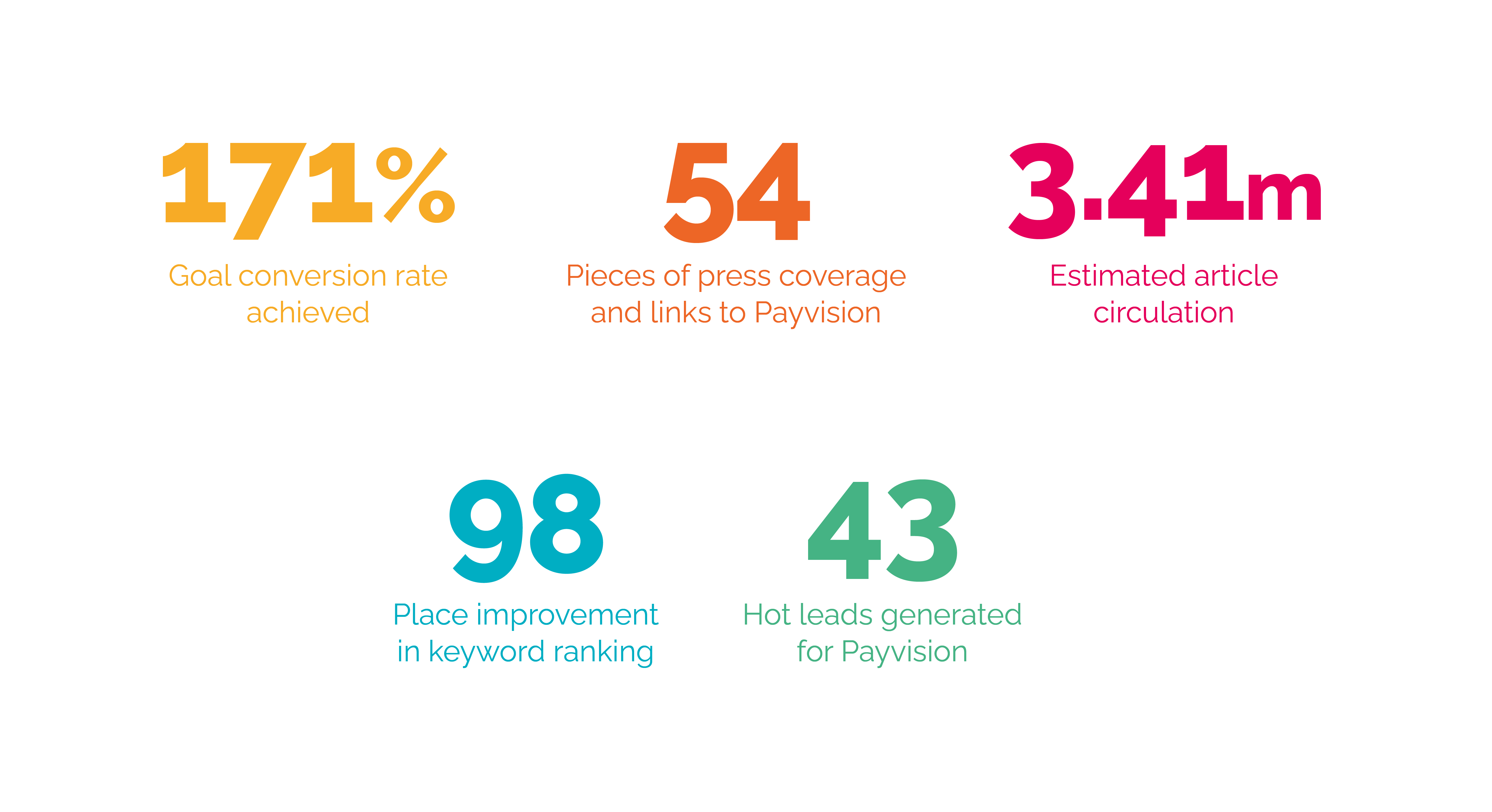 Using our Public Relations team in this way is a new service at ClickThrough and we couldn't be happier with the coverage and links generated, a 171% goal conversion rate within a month of first brief is phenomenal.
171% Goal Conversion Rate
54 pieces of press coverage, of which 47 included links to the Mobile Payments Report, including Yahoo Finance, Payments Journal, The Fintech Times and Payments Dive
86 social shares across Twitter and Facebook
27B online readerships and 3.41M coverage views across all articles published online
The report was the 3rd most visited Payvision landing page during 22 March – 18 April 2021
The 4 tracked mobile payment keywords have improved SERPs rankings by climbing 98 positions in just one month, all now feature on page 1
43 hot leads generated for Payvision

What The Client Said
"Clickthrough delivered outstanding results on the campaign and helped us to not only achieve but also exceed our objectives. Their approach to press release distribution and link-building enabled us to push our targeted keywords into top-3 and generate valuable MQLs. Aside from performance, I would like to note great communication that ensured the campaign's success."
Viktor Rovkach, Online Marketer
Looking for help in raising your digital profile? Contact us to find out more about our digital PR services.