Find out how ClickThrough's PR & Outreach experts achieved coverage for Dormeo mattresses in 50 articles across national and regional press.
ClickThrough have worked with Dormeo, one of the UK's leading mattress specialists, since summer 2021. In an increasingly competitive market (that can only occasionally rely on repeat purchases and customer loyalty to drive revenue), we were tasked to help Dormeo become the most trusted and visible mattress and sleep experts in the country.
To ensure the excellent quality of Dormeo mattresses became widely known, and to reach new potential customers, we supported them with our Digital PR services to get creative and help them stand out from competitors.
By enacting our strategy, we achieved;
86 fresh backlinks to Dormeo's website
50 press articles featuring sleep expert quotes
These backlinks and articles reached:
1.68B online readership
2.6M views
300+ social shares across Twitter and Facebook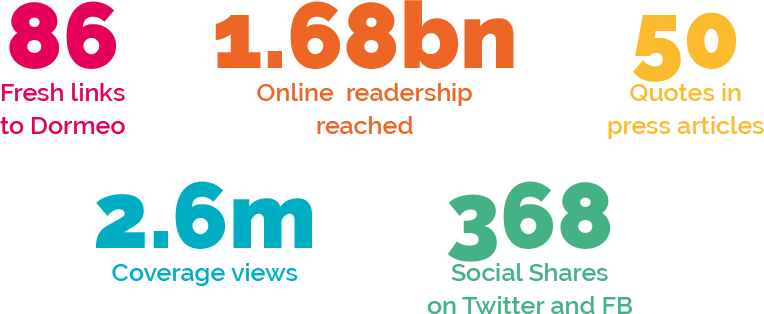 Dormeo's objectives
Dormeo's objectives for our PR team are to:
Position them as sleep experts in press and media publications.
Increase their website's Domain Authority.
Acquire backlinks to bridge the gap with their competitors
The set up
To meet Dormeo's expectations, at the start of our work together, we put together a PR plan with a mix of activities that would (individually or combined) generate brand awareness, acquire high qualitative backlinks which in return helps boost Domain Authority.
The plan included a mix of tactics, from quicker wins through to longer term strategies set to build a buzz around the brand.
Spotting Unlinked Brand Mentions and relevant business directories listings.
Tailored PR campaigns relevant to the industry and current media trends.
Supplying journalists with sleep specialist insights and quotes.
Our results
Over the past six months of working with Dormeo, we have been able to acquire 103 pieces of coverage and links for the brand. These have all helped achieve our overall goal of generating brand awareness, backlinks and a higher Domain Authority.
Spreading Sleep Expertise
Dormeo's internal Sleep Expert has been quoted in 50 articles across national and regional press, as well as interior and home publications. The quotes and sleep specialist insights cover a range of different topics, from how to help if you suffer from sleep insomnia to how beneficial it is to let your pets sleep in the same bed as you.
Increasing Domain Authority
When Dormeo started with us, their website had a Domain Authority of 46. Come January 2022, this has increased to a Domain Authority of 48, thanks to targeting publications with a high Domain Authority (64 on average).
Achieving High Profile Links and Coverage
We have been able to acquire 86 new fresh links pointing to Dormeo's website, from publications like The Standard, House Beautiful, The Spruce, The Sun, Woman & Home, MSN and Wales Online.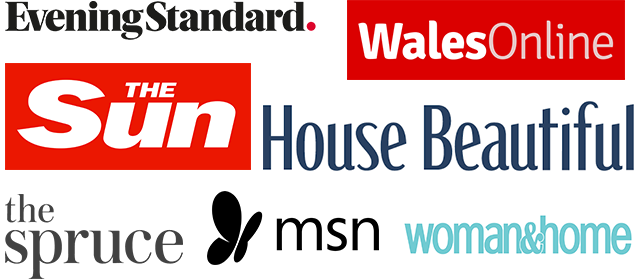 Combined, these publications represent;
A 1.68B online readership.
An estimated 2.6M coverage views.

368 social shares

across Twitter and Facebook.