What are long-tailed keywords, and why are they so important for homeware brands? We look into which brands are ranking highest for these top-converting keywords.
Rob Allen - Home Improvement Specialist
If you're anything like me then you can probably picture what you're looking for before you embark on 'a quick Google'. Typically, my searches are pretty long - I use lots of keywords to try and really hone in on what I'm looking for (ie 'comfy green velvet sofa' or 'tall oak shelves 90cm uk') then I look at the pictures and hope to see what my imagination has conjured! This is called using 'Long Tail Keywords'.
In this consumer-led world, it is important for companies who sell online to optimise their longtail keyword opportunities to help people find what they want. This is a great approach for FAQ pages, blogs and product pages, in the case of the latter these terms can often include product codes, sizes and colours. Many sites find that their top landing pages are category pages, where heavier content allows easier optimisation of longtail keywords. This is also a good indicator of a site's optimisation for wider transactional and informative terms. Optimising for longtail keywords puts your content strategy in a strong position to rank for brand new search terms as they enter Google's index - we know that 16-20% of all google searches have never been searched before.
Which homeware brands are ranking for the most long-tailed keywords?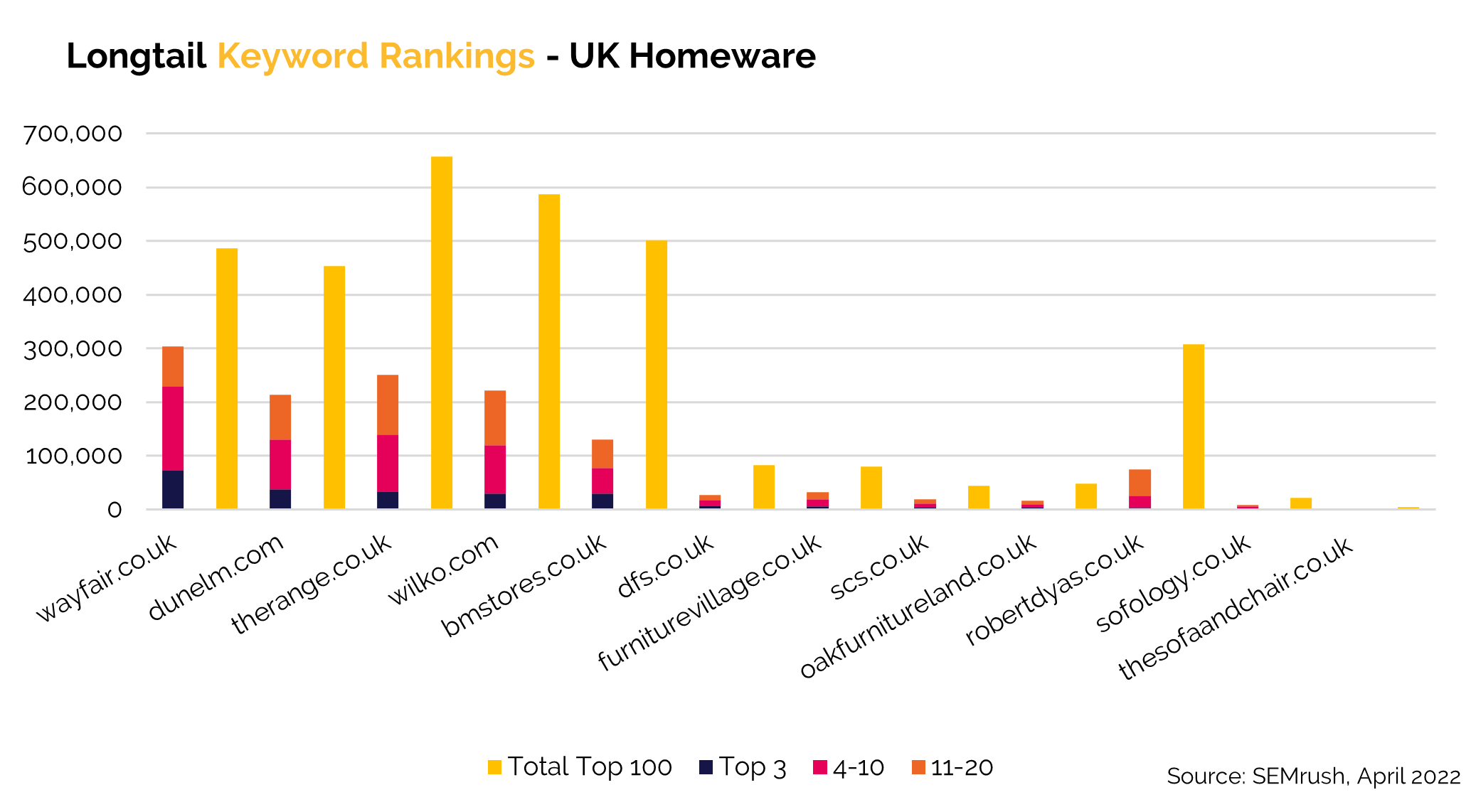 Within our series of industry investigations, we looked at the 'Home Furnishings' sector and found that even the market leaders are not fully optimizing their longtail opportunities. Whilst Wayfair, Dunelm, The Range and Wilko each have over 200,000 longtail keyword phrases appearing in positions 1-20 they have between 38-60% of remaining phrases only appearing top 100. This is a huge, missed opportunity for them. At the other end of the keyword volume spectrum Oak Furniture Land, Sofa and Chair and Robert Dyas have over 65% of their longtail keywords appearing outside the top 20. One of the brands with the most left to gain as far as keyword rankings go is B&M, who are currently seeing 74% of all their long-tail keywords ranking in position 20-100. Though they don't have an ecommerce function on their site, ensuring visibility of the products they have on offer is essential to drive footfall to stores.
Homeware brands – % long tail keywords in positions 20-100
Wayfair – 38%
Dunelm – 53%
The Range – 62%
Wilko – 62%
B&M – 74%
DFS – 67%
Furniture Village – 60%
SCS – 57%
Oak Furniture Land – 65%
Robert Dyas – 76%
Sofology – 60%
Why long-tail keywords mean more conversions
These search terms are often considered high intent and potentially more likely to convert as a searcher is being more specific, their user journey is probably quite evolved and they could be close to completion. They also provide a superb opportunity to gradually gain increased site traffic and help new and motivated consumers find your product. With an average 36% conversion rate and the massive increase in voice-activated searches the rise of the value of longtail mustn't be ignored.
GET THE FULL 70-PAGE Q2 2022 REPORT
To get a copy of the full report, please complete the enquiry form. If you want to talk to us about accelerating your digital performance, please call us on call 01543 410014 or schedule a call with Rob Allen.