Which UK car leasing companies have the best backlink to referring domain ratio? We look into which brands have a healthy link mix and which need to take action!
Mike Movassaghi - Automotive Specialist
How important are backlink profiles to UK leasing companies? With organic visibility being more competitive in the automotive sector than ever before, being able to demonstrate that you are a high value, authoritative site will give you a much-needed boost ahead of your competitors. Sites should be aiming for diverse high-quality backlinks, not getting hundreds of links from just a handful of sites - high numbers of links from one site could indicate site-wide link issues, which goes against Google's best practices.
As part of our ongoing research into the wider automotive industry, we've deep dived into 12 UK leasing companies to see whether their backlink profiles could be having a negative impact over their digital performance.
Which UK leasing companies have the best backlink profile?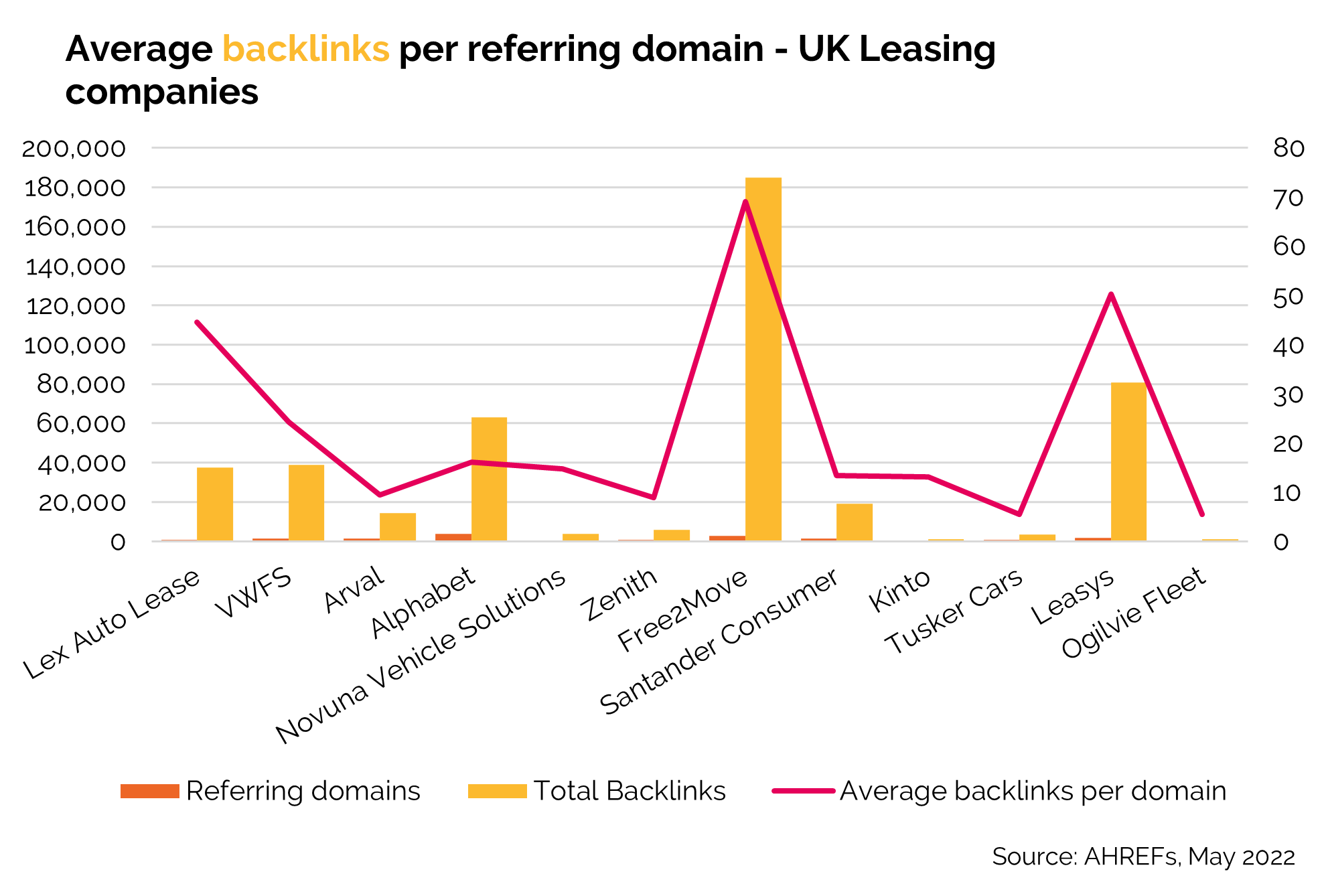 Looking at the performance of these 12 UK leasing companies (when it comes to volume of backlinks, at least), we can see there's a stark difference between the front runners and those further behind. Tuskers Cars and Ogilvie Fleet are both achieving an average of 5.2 links per referring domain. In Tuskers case, this has come from 3,466 links across 636 domains, while Ogilvie Fleet have achieved 1,212 links from 223 domains.
Zenith also have a strong backlink to referring domain ratio, with a total of 5,870 backlinks from 664 domains – an average of 8.8 links per domain. Similarly, Arval are doing well, with an average of 9.5 links per referring domain.
The brand in the most trouble is Free2Move, who have achieved a massive 184,830 links across only 2,676 domains – working out at an average of 69 links per referring domain. Free2Move should be looking at how healthy many of these links are, and disavowing any that are coming from low-authority sites which could be harming their profile.
Average backlinks per referring domain – UK leasing companies
Lex Auto Lease – 44.6

VWFS – 24.3

Arval – 9.5

Alphabet – 16.1

Novuna Vehicle Solutions – 14.8

Zenith – 8.8

Free2Move – 69

Santander Consumer – 13.4

Kinto – 13.1

Tuskers Cars – 5.4

Leasy's – 50.2

Ogilvie Fleet – 5.4
How accurate are backlink profiles?
Naturally, this is just an overview of these 12 leasing brands backlink profiles. While, to get a completely accurate indication of performance, you can dig deeper into a backlink audit, identifying which of your backlinks are high value and which would be better being removed, looking at the ratio of your total backlinks to referring domains is a good way to indicate if you need to improve in this area.
To build backlink profiles, we use Ahrefs' FRESH data crawl. This FRESH index consists of all "live" backlinks plus "lost" backlinks that had "live" status during the last 3-4 months. A link is considered "lost" when we don't find it on the referring page while re-crawling it, or the referring page itself is not available for some reason.
Ahrefs' backlink index is updated every 15–30 minutes. Not only do they crawl new pages, they also re-crawl the old ones. Therefore, some of the links that were seen live might disappear by the time we re-crawl them.
Want to know more about the current state of play for UK leasing companies and the wider automotive space? Visit our automotive hub to read more articles based on our industry reports.
GET THE FULL 70-PAGE Q2 2022 REPORT
To get a copy of the full report, please complete the enquiry form. If you want to talk to us about accelerating your digital performance, please call us on call 01543 410014 or schedule a call with Mike Movassaghi.
Photo by Ivana Cajina on Unsplash