What does the footwear industry look like when stepping into the new financial year? We give the run-down on who is in prime position and where brands are facing challenges.
Rob Allen, Clothing & Fashion Specialist
How often do you wear shoes? This might have seemed like a strange question a few years ago, when most of us were leaving the house daily for work and social events, but with post pandemic work places generally embracing hybrid models, nowadays it's not uncommon to go several days a week without wearing outdoor footwear.
So how has this unexpected disruption affected the footwear industry?
The turnover for the UK footwear retail market was worth £11 billion in 2019, falling to £5 billion in 2020 with the onset of the pandemic and set to decline over 2022 to £4.8 billion. With such a significant drop in the industry's profitability, footwear retailers are facing more challenges than most industries when it comes to post-pandemic recovery.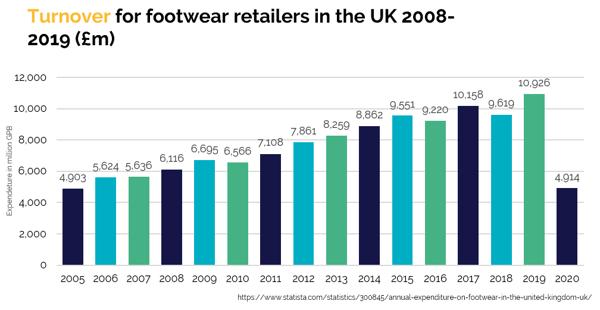 With increased competition for footwear retailers from;
Fashion ecommerce,

Supermarkets,

The second-hand market,
Brands are are now facing challenges in regaining lost ground.
Competition from digital-first fashion ecommerce
Footwear retailers are faced with fierce competition from fashion brands, with clothing and online only retailers such as Missguided, Hype or ASOS being better placed to make the digital advances needed to keep up with changing consumer habits.
To stay competitive and keep the edge over fellow retailers, shoe and footwear brands are turning to competitive pricing and attractive shipping options. Where fashion brands offer footwear in keeping with current trends at low prices, footwear retailers often come in at higher prices (although with higher quality products). Supermarkets are also moving into this space, offering low-cost footwear to customers in a high-footfall setting.
For Schuh, keeping up with the likes of ASOS's range of products and convenient delivery has come in the form of extending the next day delivery cut off to 10pm, as well as offering a 'Choose Your Delivery Day' option alongside a range of click and collect locations. However, these options come at a cost to the retailer, leaving many brands unable to offer the comparable services needed to compete.
A squeeze in the middle – mid-range brands see the pinch
Numerous factors are impacting economical certainty with consumers, leading to fewer impulse purchases and more frugal shopping habits. Both consumer shopping habits and manufacturing processes have been impacted by factors such as;
Ongoing uncertainty following Brexit,

Cost of living crisis,

The current war in Ukraine.
Combined, this is leading to an increase in price sensitivity for customers that is hitting mid-range brands hardest of all.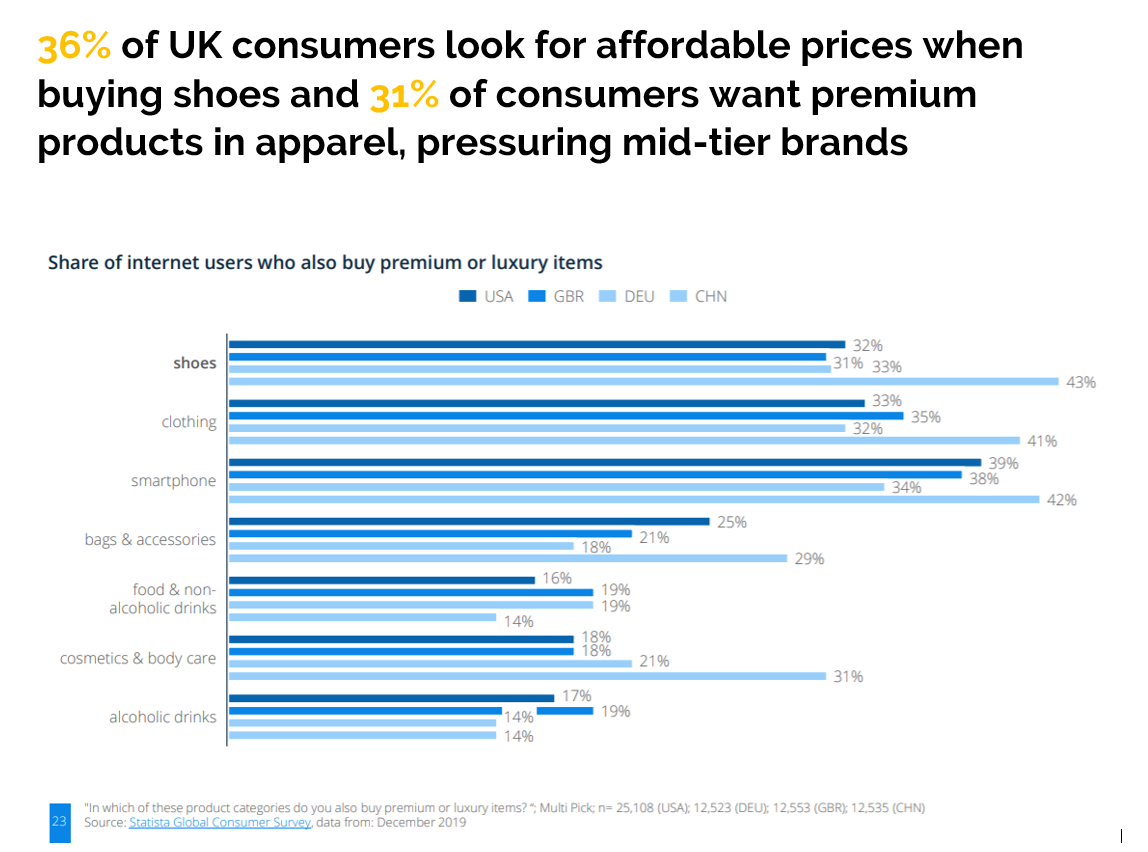 While 36% of UK consumers will primarily look for affordable prices when buying shoes, there are also 31% of consumers who want premium products in apparel. The pressure on mid-range brands is to either move into a premium space or lower prices to appeal to more frugal customers. While lowering prices risks drastically reducing profit margins without the immediate payoff of increased sales, remarketing a product range as premium poses a significant challenge for brands with no experience of entering the space.
Additionally, shoes are the third most frequently purchased secondhand item in the UK. While a strong presence in the secondhand market benefits brand awareness and can translate into a higher interest in new products, there is no short term financial benefit for brands seeing a rise in second-hand purchases.
Brand recognition – cornering the market
Despite the pinch on mid-range footwear retailers, brand recognition in shoes is second highest among all industries in the UK. While this is a strong position to be in when it comes to competing against brands of a similar level, it poses issues for any brands looking to remarket themselves as a more affordable or premium option to win new customers.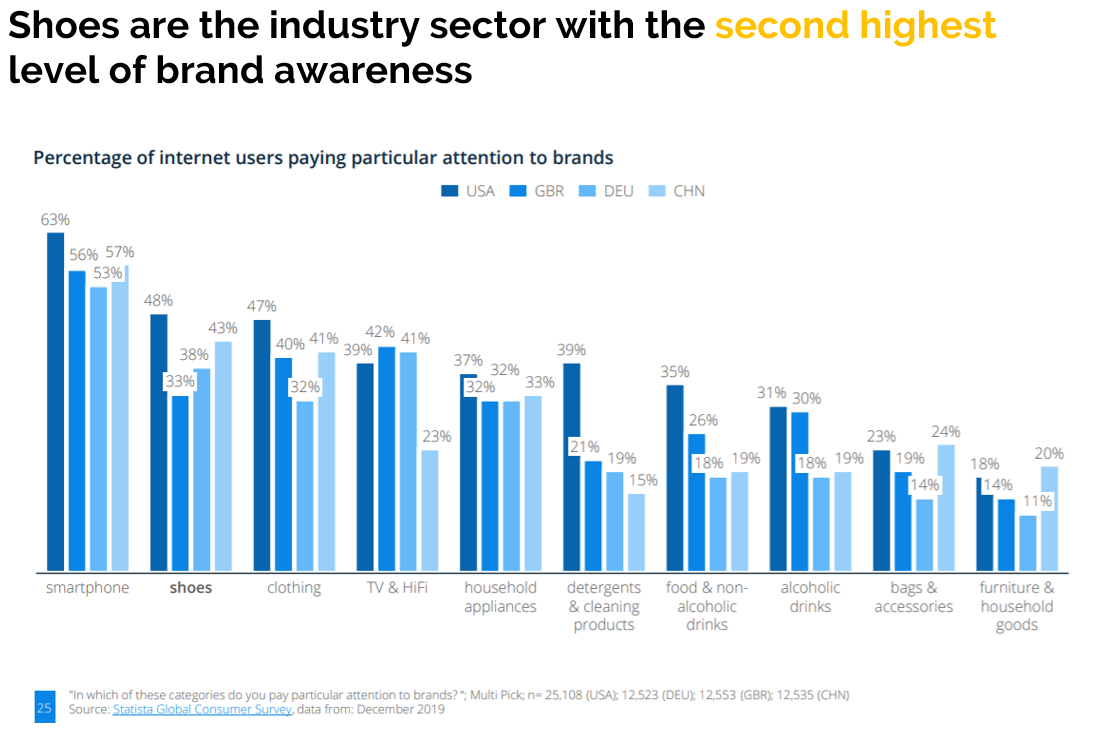 A significant portion of this comes from sports shoe retailers, such as Nike and Adidas, who have an additional brand dominance in the fashion and sportswear markets. Additionally, sports footwear maintained performance throughout the pandemic as exercise was among the only activities permitted.
However, Clarks are also showing a strong brand share in footwear retail value (equating to roughly £6m of the UK market), clocking in second to Nike's 17% (£15m) share and ahead of Adidas's share of 6.5% (roughly £5m).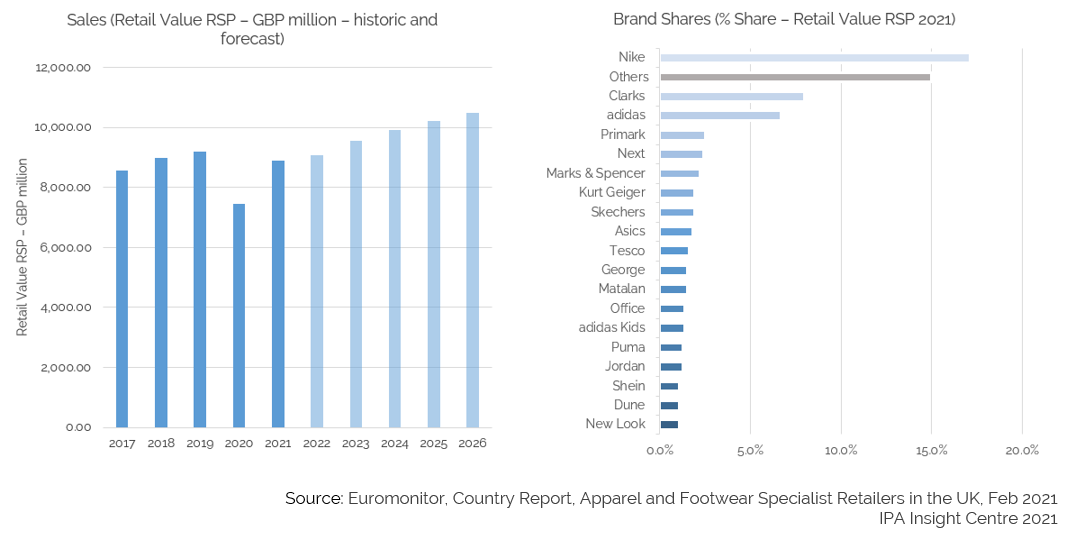 Clarks' success in maintaining brand awareness can be considered two fold – while they can be considered a strong heritage brand for the UK (after all, who doesn't have strong memories of being measured for new school shoes every August at Clarks?), we also know that they excel when it comes to their organic digital performance and have a fairly even split between traffic from branded and non-branded keywords. For a retailer only stocking their own brand, they benefit significantly from ranking highly for relevant, generic keywords, an area other footwear brands must compete with in order to stay digitally relevant.
What footwear brands can do to win back lost ground
With industry revenue expecting to recover over the next 5 years, footwear brands (especially those only selling footwear) must be able to compete against fashion retailers to win their fair share of retail value.
To ensure they remain competitive in the market, footwear retailers should be focusing on technological advancements that help enhance the digital shopping experience online. Brands who truly embrace playing in this digital space will see themselves able to compete against online fashion giants such as Hype and Missguided.
GET THE FULL 70-PAGE Q2 2022 REPORT
To get a copy of the full report, please complete the enquiry form. If you want to talk to us about accelerating your digital performance, please call us on call 01543 410014 or schedule a call with Phil Robinson.